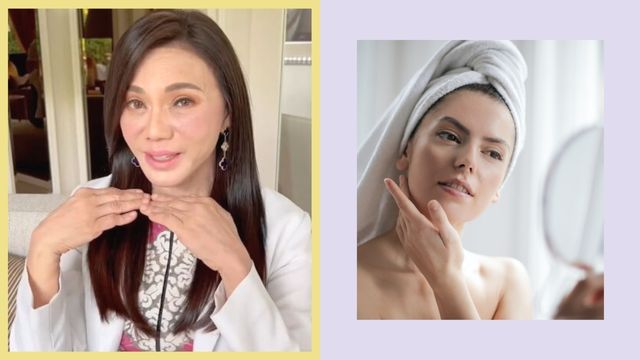 Like some relationships, there are skincare habits that are better left in the past, especially if one of your personal goals this year is to achieve healthier skin. Luckily, Dr. Vicki Belo is here to help! In one of her latest TikTok videos, the trusted celebrity dermatologist spilled a few skincare steps that can actually do more harm than good.
The Skincare Habits You Should Ditch In 2023
1. Using nose strips! 
Girl, it's 2023. Peeling off a pore strip to get rid of blackheads isn't worth the pain. It may be satisfying to see all the gunk it can remove. However, its effects are only temporary—it won't keep you from getting blackheads. "When you peel [it] off, yes, some blackheads will go along with it but so will your skin," Dr. Vicki explained. "It will create wounding" and it may even leave you with an uneven complexion. (READ MORE: All The *Best* Ways To Remove Blackheads On The Nose)
ADVERTISEMENT - CONTINUE READING BELOW
2. Cleaning your face with a cleansing brush. 
Admittedly, Dr. Vicki loved using cleansing brushes. "It exfoliates dead skin and makes your skin feel good," she shared. The problem with this type of cleansing device is that no matter how much you clean it, the brush harbors a lot of bacteria. "As you clean your face, the bacteria is being [pushed] deeper into your pores and you end up getting irritated. It destroys your skin barrier," the dermatologist said. What's worse, it may cause breakouts, too. P.S. You might want to try using silicone cleansing devices instead, which are easier to clean! 
3. Exfoliating your face with abrasive scrubs. 
Dr. Vicki pointed out that apricot scrubs, in particular, aren't good for the face. "If you will look at it under the microscope, apricot scrubs are sharp. Now, when you rub them into your skin, they create micro-tears and wounds on your face," she noted. 
When it comes to removing dead skin, the beauty expert previously recommended using skincare products that contain chemical exfoliants such as alpha-hydroxy acid (AHA) or beta-hydroxy acid (BHA).  
This story originally appeared on Cosmo.ph.
* Minor edits have been made by the Female Network editors.
Load More Stories