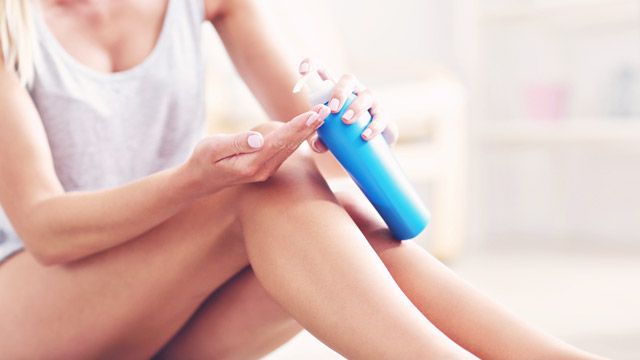 Myths about skin care are everywhere, from the almost believable, like how chocolate causes acne, to the downright dubious. We've actually read somewhere that moisturizing with menstrual blood can give you clear skin. (Please don't.) To help you sort the fact from fiction, here are a few skin myths you should stop believing: 
ADVERTISEMENT - CONTINUE READING BELOW
1. Antibacterial soap is better because it kills germs
Antibacterial soaps are no more effective than regular soap in keeping yourself sick-free. It's actually regular hand washing that prevents the spread of infection, not the kind of soap you use. Soap makes it easier to scrub away germ-carrying dirt, and that's what makes it an important part of handwashing. Killing off bacteria isn't necessary. 
Last year, the Food and Drug Administration in the U.S. has banned antibacterial products from being sold in stores as they may actually have long-term negative effects. "Many experts are concerned that the use of antibacterial soap could lead to more antibiotic-resistant bacteria," according to Harvard Health, a division under the Harvard Medical School of Harvard University.    
2.  Sunblock? Always go for the highest SPF
"Above a certain level, a higher sun protection factor (SPF) has little added benefit compared with a lower SPF," according to Harvard Health. Experts generally recommend sunblock with an SPF of at least 30. If your family will stay under the sun for more than three hours especially around 10 a.m. to 2 p.m., then going higher may be worth it. "But in most circumstances, a higher SPF may not be worth the extra cost," Harvard Health adds.
CONTINUE READING BELOW
Recommended Videos
Choose sunblock with the label "broad spectrum," which will provide protection for both UVA and UVB, and reapply every two hours (don't forget!). 
3. Vitamin E will lighten scars
There is little evidence that vitamin E can lighten scars, according to Harvard Health. But, both young and old need a daily dose of it. Vitamin E acts as an antioxidant that helps protect cells from damage, according to the National Institutes of Health in the U.S. This may be why it's often touted as an anti-aging vitamin. In addition, it's also needed by the body's immune system to be able to fight off bacteria and viruses.
Vitamin E is naturally found in a variety of food including green vegetables like broccoli and nuts and seeds. You may also be able to find foods in the supermarket, like juices and cereal, that have been fortified with vitamin E.  
4. A good surgeon can make a c-section scar barely noticeable
A scar tells you very little about the skill of a surgeon. Surgeons may pay more attention to incisions on the face as to make a scar less visible (by using thinner stitches, for example), but the true mark of a good surgeon is not seen in the scar the operation leaves. What's more important is what happens during the surgery itself.
ADVERTISEMENT - CONTINUE READING BELOW
However, there are ways to make your c-section scar less visible and proper wound care is at the top of the list. Wash your wound properly and replace bandages regularly. Plus, think about what you eat too. "Aside from eating a well-balanced diet and food that are rich in iron and calcium, take plenty of ascorbic acid to speed up the healing of the incision," Dr. Teresa Bongala, an ob-gyn at St. Luke's Medical Center, told Smart Parenting.  
5. Crossing your legs causes varicose veins
There are several things that can cause varicose veins—crossing your legs is not one of them. "Heredity is one of the most important—an estimated 80% of people with varicose veins have a parent with the same condition."
Other things that make a person prone to varicose veins include smoking, inactivity, high blood pressure, pregnancy, obesity, and having a job that requires prolonged standing," said Harvard Health. Have painful and swollen varicose veins? Try wearing compression stockings, elevating your legs after a long day of standing, soaking the affected areas in warm water, and lots of rest.  
ADVERTISEMENT - CONTINUE READING BELOW
This story originally appeared on Smartparenting.com.ph.
* Minor edits have been made by the Femalenetwork.com editors.
Load More Stories