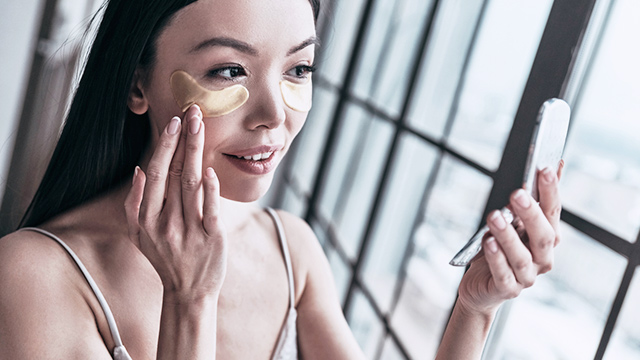 Holding on to the bouncy skin from your youth is all about prevention. Instead of smoothing out those lines later, adopt habits that could help you slow down your complexion clock as early as now—we swear you'll thank yourself later. For tips on how to do just that, keep scrolling!
1. Take off your makeup properly.
The moment you hit your prime, relying on makeup wipes is no longer enough to keep your pores clear. Aside from the constant swiping being too harsh and drying for your skin, it doesn't guarantee that all traces of foundation and mascara will be removed. Switch to a cleansing oil, milk, or balm that'll gently and completely melt the makeup off your skin with little to no leftovers. Don't forget to follow up with a face wash right after for a thorough double-cleanse to wash away excess oil and dirt.
2. Use a gentle cleanser.
Our skin becomes more dehydrated as we get older, so the last thing we want to do is dry it out. It's time to toss your harsh and stripping face cleansers and opt for gentle, pH-balanced ones that could do the job without leaving your pores parched. Aside from getting rid of potential irritants, gentle cleansers help preserve your moisture barrier, which is a layer of lipids and cells that naturally protect you from breakouts, UV damage, and sensitivity.
ADVERTISEMENT - CONTINUE READING BELOW
3. Start exfoliating chemically.
Making the switch from abrasive scrubs to chemical exfoliants is one of the best decisions you can make for youthful, glowing skin. Beta hydroxy acids (salicylic acid), alpha hydroxy acids (glycolic acid, lactic acid), retinoids, and more exfoliate much gentler than most scrubbing products do—not to mention more effectively. The best chemical exfoliant to use depends on your skin concerns, so it's important to learn the difference. Read all about that below:
4. Avoid tugging and pulling at your skin.
Actions you usually never think twice about, like rubbing your eyes and scrubbing your face too roughly while washing it, affect your skin more than you know. Habitually pulling at your skin that way causes premature wrinkles to form in the long run, so be as gentle as you can with it. For one, pat on your skincare instead of rubbing, and stop tugging your eyelids when applying eyeliner. We know this one's easier said than done, but knowing its effects should make dropping your bad habits a little easier! However, should you need more friction (like with heavy creams), do so in an upwards motion to counter gravity's toll on elasticity.
5. Hydrate your eyes.
Unlike the rest of our face, the eye area doesn't have oil glands that'll keep itself hydrated, so it's more prone to dehydration and fine lines by default. The solution? Hydrate. Incorporate an eye cream or eye serum in your skincare routine to both moisturize and address other concerns like dark circles. When in a pinch, applying a little extra moisturizer on your eye area works, too!
ADVERTISEMENT - CONTINUE READING BELOW
6. Moisturize.
One of aging's unfortunate side effects is dull, dehydrated skin, and with dehydration also comes being more prone to fine lines and flakiness, which you can easily dodge by making moisturizing a habit. Find a product that matches your skin type and make sure to apply it both day and night. The plump and bouncy skin that'll result from it will be worth it, we promise.
7. Sunscreen, sunscreen, sunscreen.
Perhaps the best anti-aging tip out there is this: Stay out of the sun. Exposure to UV rays is a leading cause for signs of aging, and overexposure can even lead to skin cancer. That said, since avoiding the sun isn't always an option, the least you could do is protect yourself by wearing sunscreen. Apply a broad spectrum SPF of at least 30 before going outdoors, and reapply every few hours to stay shielded!
This story originally appeared on Preview.ph.
* Minor edits have been made by the Femalenetwork.com editors.
Load More Stories