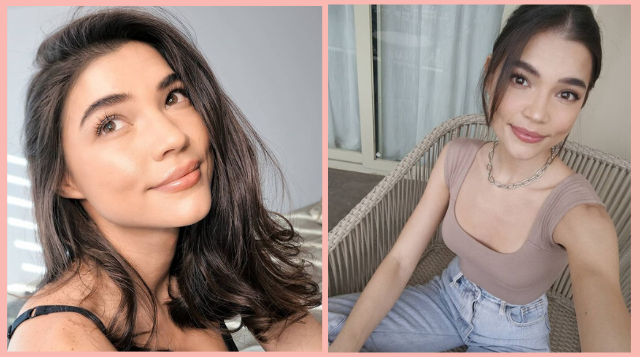 Rhian Ramos admits to always feeling the pressure of looking "fresh and youthful." 
READ MORE ABOUT SKINCARE TIPS FROM CELEBS
ADVERTISEMENT - CONTINUE READING BELOW
"There is a part of me that had a hard time, I suppose, getting used to it," she said at a virtual press launch held last Monday, November 30, 2020.
But over the years, Rhian has learned not to let this pressure get to her. The 30-year-old Kapuso actress said this is one of her secrets to aging gracefully.
Rhian, who was launched as the brand ambassador of FillMed Laboratories Philippines that day, said, "The wonderful thing about aging, and this is why I'm so not afraid of aging. I noticed that with every year that you add to your life, there's so much that changes internally also.
"So the older I got, the less I cared about other people's standards of beauty." 
The I Can See You actress continued, "What mattered to me was that I was happy and I like what I see and how I feel. Those are the two most important things to me. And the more you value your opinion of yourself, the less you will value other people's opinion.
"People can get really critical. You'll see it on social media, I guess, all the time. You could post the most perfect photo and someone will find something to say. And yeah, the more you listen to yourself, your own voice drowns out other voices that you shouldn't be listening to."
View this post on Instagram
Rhian's skincare routine and treatments
Aside from letting go of negativity, Rhian is aging gracefully by taking good care of her skin.
The GMA-7 talent had to tweak her beauty routine during the pandemic, and revealed that it is now "more realistic," something other people can easily do.
She said, "It has changed a lot probably because, during the lockdown, everyone had to isolate, everyone had to do every single thing themselves. And I found myself to have a very busy lockdown. So what I did for my regimen was it simplified things.
"I couldn't do 10-step, 15-step skin-care routines anymore. So I ended up choosing products that had everything in them so that I could go down to a three-step or four-step, maybe."
ADVERTISEMENT - CONTINUE READING BELOW
Rhian also began focusing on her eyes since this is what people always see now that wearing face masks is being strictly implemented.
The former Taste Buddies host tried new treatments and products over the past few months to refresh her skin and address her "quarantine-y" or tired eyes.
Last October, Rhian underwent a treatment which uses the New Cellular Treatment Factor (NCTF)-an ultra-nourishing solution packed with 50 active ingredients that are directly injected into the dermis of the skin. This helps fill fine lines and improve the quality of the skin.
During the press launch, she said, "My eyes were starting to look quarantine-y. This just freshened them right up and I'm so grateful for that."
The price range of this treatment starts at PHP18,000.
ADVERTISEMENT - CONTINUE READING BELOW
At home, she uses the Skin Perfusion Eye Recover Mask, which is available in a pack of four pieces for PHP8,300.
She said, "In an emergency situation, if you need an instant eye refresher, it's just fifteen minutes and it gives a huge difference."
Currently, Rhian is obsessed with the Lift Booster, which improves the elasticity and firmness of her skin, giving it an instant lifting effect.
Rhian said, "I use it every night and I'm going to be doing it for the rest of this month. I am somewhere in the middle of my one-month treatment. But just this morning before I put any make-up on for work, I was so touched because I got my first compliment. My manager was, 'Your skin, what have you been doing? Your skin looks great,' and I wasn't wearing any make-up."
READ MORE ABOUT SKINCARE TIPS FROM CELEBS
ADVERTISEMENT - CONTINUE READING BELOW
The Lift Booster will soon be available for PHP8,800.
Gusto mo bang lagi kang una sa showbiz news at scoops? Subscribe to our Viber Chatbot here para lagi kang updated, and join our community for more pakulo!
Load More Stories