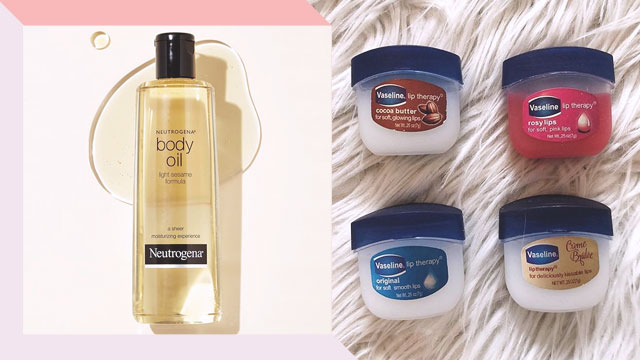 Ever wondered why colognes come with matching lotions and body washes? These body products' sole purpose is to make the cologne's scent last longer. "Molecules in fragrance bind to the oils in your skin when applied," explains Telegraph, so the more hydrated your skin is, the longer your favorite scent will stick around. Unfortunately, not all perfumes are available in lotion form. So here, we listed a couple of unscented products that you can layer any of your perfumes with: 
ADVERTISEMENT - CONTINUE READING BELOW
1. Vaseline Petroleum Jelly
P125/.025 oz, available online
A classic layering ingredient! Rubbing the ointment on your pulse points like your wrists, inner elbow, and neck helps create a sticky base for your perfumes to cling onto. 
2. 
Aveeno Daily Moisturizing Lotion 
P160/71mL, available online
If you don't like the feeling of having sticky areas, unscented lotions work well, too! Apply this non-greasy, oatmeal-infused lotion all over the body before spritzing your perfume. It's particularly beneficial for those dealing with dry and sensitive skin. 
3. Juliette Has A Gun Not A Perfume 
price available upon request, available in Art of Scent, Shangri-La Plaza.
As its tagline connotes, this bottle isn't exactly a perfume; it acts like a "perfume base" (think of it as a makeup primer but for perfumes) that you can layer with your favorite fragrance for a longer-lasting scent. Cetalox is its heart and main notes, which is often used as a base note in many scents. What makes it unique is its intrusive scent smells different on different people. 
ADVERTISEMENT - CONTINUE READING BELOW
4. Neutrogena Body Oil 
P538/250mL, available at Watsons
Fun fact: perfumes with the highest concentration of oils (a.k.a. Eau de Parfum) last longer on the skin. That means they're also the most expensive ones. If you want to make your more affordable perfumes and colognes last, why not slather some body oil before spritzing your perfume? Though it may sound sticky, body oils are absorbed quickly by the skin, making your body feel a lot smoother to touch. Neutrogena's Body Oil quickly dries down to a matte finish so you're never left with a greasy feeling. 
ADVERTISEMENT - CONTINUE READING BELOW
As one Pinay body oil user previously shared with Female Network, it's best applied right after showering "when there are still droplets of water on my skin," as water helps the oil deeply penetrate the skin. 
Load More Stories