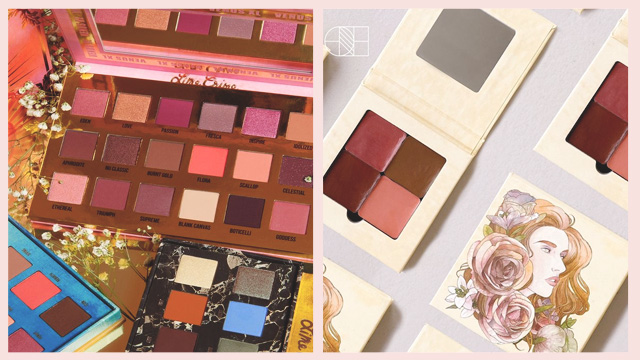 There's nothing like browsing through rows and rows of makeup in malls, but since we're in the middle of the pandemic, that's not really that much of an option. The upside is that since everyone has gone online, many brands are now more accessible locally—even those that are not usually available in physical stores. Here are a few you can easily buy online:
ADVERTISEMENT - CONTINUE READING BELOW
Colourpop
Probably one of the most well-known and well-loved makeup brands on the internet, Colourpop has garnered fame with its beautiful palettes often done in collaboration with a television show, movie, or game with a huge following.
From Bambi, to Sailor Moon, to Animal Crossing tie-ups, Colourpop has indeed found that sweet spot between affordable beauty and fandom. That's not to say that it's all they have going for them—on the contrary, Colourpop products are often so pretty and so pigmented that you can't just have one of any collection!
Locally, you can buy Colourpop at BeautyMNL and MUPstore.com.
Perfect Diary
Perfect Diary has slowly been gaining popularity. Hailing from China, the brand has hopped on the wave of aesthetic packaging, themed and seasonal lines, and, similar to Colourpop, collaborative collections. Heart Evangelista has even gone ahead and copped the looks of Jenny from Blackpink using some of their recent offerings (you can check out her video here).
In celebration of the Lunar New Year, Perfect Diary has launched its limited-edition Reunion Gift Box Makeup Set:
ADVERTISEMENT - CONTINUE READING BELOW
You can get this and Perfect Diary's other products from its official store in Shopee.
Lime Crime
What we love about Lime Crime is that its vegan and cruelty-free, plus it offers so many colors and shades, anywhere between basics nudes to unicorn tints (they've got apple green mascara!). There's a reason why a Lime Crime product is usually in the kikay kit of your favorite drag queens—its long-wearing, and the pigment is incredible.
ADVERTISEMENT - CONTINUE READING BELOW
Sadly, Lime Crime is still a bit scarce locally, but you can get a few palettes from MUPstore.com.
Ellana Mineral Cosmetics
Sure, there are a lot of Ellana kiosks in malls, but they've got a full-on online store as well, so best add their palettes to cart! And speaking of palettes, they're pretty much environmentally-friendly, as you can re-use them and mix-and-match trays. What's more, their packaging is always so pretty; you'd want to collect everything!
ADVERTISEMENT - CONTINUE READING BELOW
FN Tip: Ellana isn't only about tints. In case you haven't yet, try out their serums, too!
Load More Stories