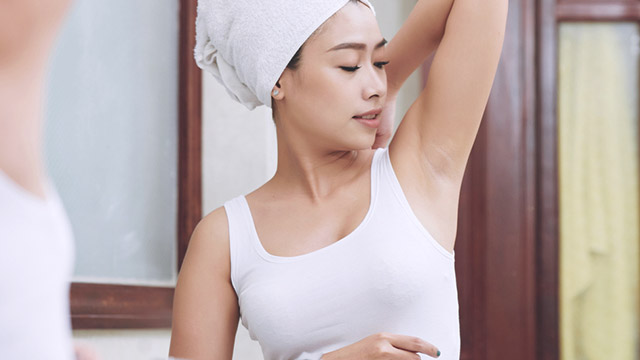 Here's the thing: Dark, bumpy kilikili is a very normal thing to have. After all, most of us were introduced to the world of "armpit removal" through shaving (a.k.a. the main culprit of darkened pits, especially if you don't do it the right way) in our teen years. So what can you do to reverse the effects of shaving? 
ADVERTISEMENT - CONTINUE READING BELOW
Before we begin, here's how frequent shaving actually damages your skin—plus, read on for a quick guide on the different underarm whitening treatments you can avail of in the metro! 
The most common causes of dark underarms 
1. Constant shaving
Because shaving only cuts your hair off right at the surface of your kilikili, the remaining hair follicles that your shaver couldn't reach are casting a shadow from underneath your pits, which makes them appear darker than they actually are. Carlos Charles, M.D., founder of Derma di Colore, also pointed out in a feature on Self that "whenever there's any repetitive friction on the skin [such as when you shave], the skin responds by becoming a little bit thicker, and thicker skin is often a little bit darker, or hyperpigmented."
If you absolutely need to reach for that razor, though, like say, you missed your waxing salon visit and you've got a wedding to attend to the next day, just don't forget to apply a layer of shaving cream and to use a new razor. New razors come with cleaner and sharper blades that aid in getting a deeper shave. Older blades often require a bit more pressure, which could cause an irritation. 
2. Skipping exfoliation 
Yup, like your face—and the rest of your body—your kilikili accumulates dead skin cells, which is another culprit for the darkness in that area. While you probably wash your pits with soap and water everyday, this isn't enough to slough off dead skin cells and the remnants of your deodorants; a proper, weekly exfoliation is necessary. 
FN Tip: Apply a charcoal clay mask to your pits at least once a week and let it suck out all the impurities, product buildup from your deodorant, and other deep-seated gunk that also cause body odor. 
3. Wearing tight clothes 
Your underarms are one of the most sensitive parts of your body, so it easily reacts to any kind of friction, whether it may be caused by shaving or even your clothing. Tight, ill-fitting clothes tend to create friction between your top and your underarms, which is a cause of discoloration. 
ADVERTISEMENT - CONTINUE READING BELOW
4. Using antiperspirants and deodorants
Deodorants effectively block body odor; over time, however, the ingredients like alcohol and fragrance which are found in most commercialized deodorants can backfire on your underarms, causing discoloration. This is one of the many reasons why there is growing popularity of "armpit detox," where one would slowly but surely transition to using a natural deodorant to "reduce the capacity of sweat glands and the amount of odor they produce," reports Medical News Today. 
If you're wondering what it's like to go on a full-on armpit detox, FN's Associate Section Editor Charlene Owen previously shared in an article that it initially made her feel icky and praning of the fear of having underarm odor, but it soon made her pits look smoother and brighter (you can read more about it here).
The underarm whitening treatments you can invest in 
There are tons of affordable over-the-counter creams, soaps, and other treatments out there that can effectively whiten the pits, but if no whitening product seems to work for your kilikili, a more intensive, dermatological treatment might be what your underarms need.
ADVERTISEMENT - CONTINUE READING BELOW
You can pick from laser treatments to chemical peels; both of which do wonders to the skin. The only difference is peels are more affordable compared to lasers, and laser treatments arguably lighten the underarms faster. As aesthetician Jordana Mattioli notes in an article on Elite Daily, "...peels are great for superficial skin irregularities, but for deeper wrinkles, stubborn pigment, and vascular issues (like broken capillaries), we need to go deeper into the skin with lasers," she says. If you're a little uncertain on what to get, it would be best to consult your dermatologist. But, to already give you an idea on how much cash you'll need to shell out, scroll down for a list of various whitening treatments! 
(Ed's note: Rates may change without prior notice) 
ADVERTISEMENT - CONTINUE READING BELOW
Wink Studio 
Treatment: Laser Whitening with Revlite / QX Max
Rate: P2,500 per session 
Location/s: Robinsons Place Manila, Trinoma, and Vertis North
Head straight to Wink Studio if you're looking for a laser whitening treatment that won't take up too much of your suweldo. The procedure will only take 20 minutes, wherein the Revlite laser will pass through your darkened kilikili area several times until "the skin has reached the endpoint, which is either mild redness or warm to touch," as explained by Wink Studio. The treatment will not only whiten your pits but will also smoothen them out, removing the unwanted bumps and chicken skin caused by years of shaving. Depending on your skin's condition, it'll take up to eight to 12 sessions for you to see results. 
P.S. Revlite lasers are known for being comfortable and painless; at most, you'll only experience warm, "tingling" sensation during the procedure. 
Check out the complete price list here. 
ADVERTISEMENT - CONTINUE READING BELOW
ADVERTISEMENT - CONTINUE READING BELOW
Belo Medical Group
Treatment: Revlite laser
Rate: P5,600 per session 
Location/s: Westgate Center, Filinvest Alabang, Muntinlupa City, LG 28th St., Bonifacio High Street Central, BGC, Taguig City, The Residences at Greenbelt San Lorenzo Tower, Esperanza St., Greenbelt Complex, Makati City, and more branches here. 
Willing to shell out a bit more? You can leave your underarm issue to the hands of the experts in Belo, who are responsible for most of our local celeb's flawless kilikili. Their laser treatment targets hyperpigmentation, fine lines, bumps and even chicken skin by breaking down the melanin deposit in your underarms (the melanin that you get from sun exposure is also a common culprit of darkened pits). It is done every after two weeks, and the number of sessions you'll need varies on the condition of your armpits. 
ADVERTISEMENT - CONTINUE READING BELOW
ADVERTISEMENT - CONTINUE READING BELOW
Let's Face It
Treatment: Diamond Peel
Rate: P500
Location: 5/F SM Megamall, Mandaluyong City  
Diamond peels aren't only for your face; your underarms could also use its smoothening and brightening effects. As it only takes 10 minutes for the chemical peel, which will be smoothed all over your pits, to slough off dead skin cells, you can conveniently have this treatment done during your lunch break. If you're not quite ready to spend on an expensive laser treatment (after all, it'll require commitment!), this affordable treatment is for you. 
Skin Station
Treatment: Intensive Underarm Whitening
Rate: P1,200 per session 
Location/s: 5/F Mega A, SM Megamall, Mandaluyong City, Century Mall, Kalayaan Avenue, Makati City, 2/F Ayala Malls Marikina, Marikina, and more branches here. 
This non-laser treatment is a powerful one; the procedure involves a combination of different exfoliating treatments such as glycolic acid, diamond peel, along with two lightening ingredients that Skin Station uses for their facials such as the maxilight whitening essence and silver mask.  
ADVERTISEMENT - CONTINUE READING BELOW
ADVERTISEMENT - CONTINUE READING BELOW
Load More Stories