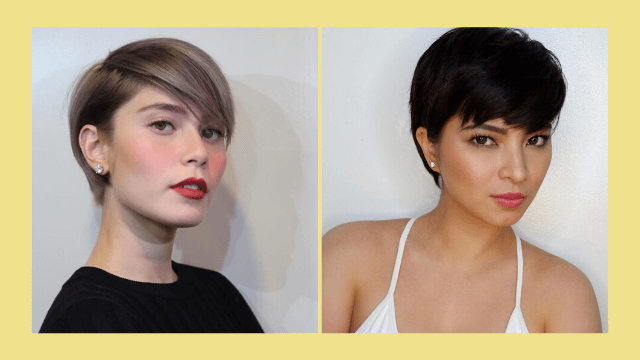 Pixie cuts are often the result of a lot of things: The "new decade, new me" mindset, a breakup, or maybe a spontaneous decision with your friends. It may seem like a fun change from your long tresses (which you've probably had for what seems like forever), but there are actually a lot of things you need to know prior to getting your new 'do.
ADVERTISEMENT - CONTINUE READING BELOW
Keep on scrolling for the things you need to know and do before getting the big chop:
CONTINUE READING BELOW
Recommended Videos
Assess your lifestyle.
Are you a low- or high-maintenance kind of girl? Do you hate waking up early just to look presentable? If you're thinking of getting a pixie cut, styling creams and gels will be your best friend, as there are some days when your hair just won't cooperate. If you're not the type to exert much effort with your tresses, you might want to consider another cut.
ADVERTISEMENT - CONTINUE READING BELOW
Consider your face shape.
There is no hard and fast rule when it comes to the ideal face shape for pixie cuts, but make sure to ask your hairstylist to tailor it to your own. For example, those with round-shaped faces can ask for a bit more length in the front to elongate their features.
Be prepared for the awkward length stage.
As you're growing out your pixie cut, you will notice that the length becomes uneven-some parts are growing at a faster rate than others, thus causing the dreaded (and inevitable) mullet. If you're wary of looking like someone stuck in the '80s, regular trims will prevent this problem.
Regular trips to the salon are a must.
To keep your cut looking sharp, make regular trips to the salon every three to five weeks for trims. This will maintain your pixie cut's shape or help your hair's transition to a bob a whole lot smoother. (Plus, you'll evade the dreaded mullet stage!)
ADVERTISEMENT - CONTINUE READING BELOW
You're going to need more sunscreen.
Since your nape is now bare and exposed, it's vital that you apply SPF there, too. Leaving that area unprotected can lead to bad sunburns.
You have to be patient.
There will be days when you just want your long tresses back and you'll find yourself Googling "how to make hair grow faster?" A word of advice to those thinking of getting the chop: You will need a lot of patience, especially if you're the type to get bored with their look quickly. Personally, it took me eight months to go from a pixie cut to a decent-looking bob.
ADVERTISEMENT - CONTINUE READING BELOW
Hair accessories are your new best friend.
When you just can't deal with your hair, turn to accessories, aka your new BFF. A few strategic clips, barrettes, or even a headband can do wonders in changing up your 'do.
Load More Stories