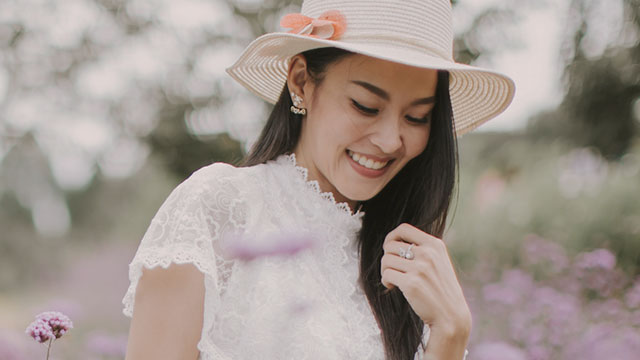 When it seems like time is moving too fast, you can't help feeling the need to keep up, even if it means having to compromise yourself in the process. You tend to concentrate more on what needs to be done, like striving for a promotion or making sure the people who matter to you are taken care of, that you forget that you deserve some time off, too.
While your 20s is a time for self-discovery and figuring out what you want to do to become successful, your 30s is when you find yourself at a crossroads where choices (especially difficult ones) need to be made to achieve a different kind of success—the kind where rewarding yourself becomes the ultimate goal.
We asked three women to share their personal insights on discovering the real meaning of beauty and how they remind themselves that indulging in some self-love is the secret to power through life. Read their stories below:
Jess, 35, Marketing Consultant
"Growing up, I was always a little vain. I stuck to a strict routine when it came to my skincare regimen and made sure to put on a significant amount of makeup whenever I walked out the door. While it's not bad to go the extra mile to look good, I realized that I should do it more for myself than for others. Now that I'm older, I still keep the same routine but fine-tuned it to the essentials. For skincare, I use a cleansing balm, micellar water, moisturizer, eye cream, sunscreen in the daytime, and a face mask once or twice a week. For makeup, I only rely on CC cream, concealer, blush, highlighter, and a nude lippie. I limit the products I use and just add a little more only when I need to. I learned to listen to what felt right to me and what made me feel good. I also began to eat clean and sleep early, which helped calm my nerves and allowed me to perform better at work. But whenever I feel a little down or overwhelmed, I always reach out for a nice lippie to feel better—it always gives me a good pick-me-up when I need it most."
Kat, 37, Businesswoman
"Now that I'm in my 30s, I realized that preventive measures still outweigh afterthought cures. Sleeping early, working out, eating healthy, and even surrounding yourself with the right people—not to mention being diligent with my skincare routine—can make a difference in my overall mood. I try to avoid stress because it shows: Your skin breaks out and loses its glow. I make it a point to work out through high- and low-intensity exercises, but I know that physical beauty is relative and will fade as you grow older. While it doesn't hurt to have the right products that take care of your skin, having the right attitude, good values, and focusing on developing your own personality is something that would never go out of style. For me, freedom from conformity is true beauty."
Tina, 34, Sales Professional
"Beauty, for me, is far from superficial—it's more of an attitude towards your appearance. With the way the world looks at women and how the standards of beauty continue to change, I realized that each of us has the power to dictate what is beautiful to us. Some may think maintaining a healthy skincare regimen in pursuit of beauty is easy—it's not. It's a lot
of work and is a combination of several things: eating the right food, wearing sunscreen, knowing what makeup or outfits suit you or even what hairstyle looks best. But one thing is certain: It's impossible to look your best if you are trying to look like someone else, so don't be too hard on yourself. Take some time to do what makes you feel good; because once you do, you'll feel invincible."
It's easy to lose yourself when it comes to juggling your work and personal life, which is why it's good to have something that reminds you to take a step back and look at things from a different perspective. Your 30s is a time to celebrate yourself and live the life you've always dreamed of having—to live boldly in spite of setbacks, flaws, and obstacles that come your way. Look your best when you face your fears and break the glass ceiling with the help of beauty products from Revlon. Become your own person and feel unstoppable.
Visit Revlon Philippines on Facebook to learn more about how you can #LiveBoldly, no matter where life takes you.
This article was created by Summit Storylabs in partnership with REVLON.