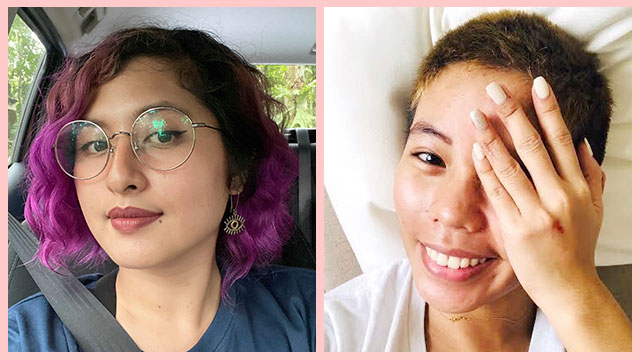 All around the Philippines, women are bucking the "long, straight black hair" tradition and styling theirs in ways that best express who they are. While it may be scary to explore and express yourself through your hair, we say do it without any regrets! Filipinas all around the country are embracing their hair choices—showing off their beautiful, unique 'dos. Below, meet five women from Mindanao who pay no mind to the comments and celebrate themselves by celebrating their hair.
Mara Albay, 27
Mara is a senior accounts executive at an ad agency by day and a freelance writer by night—and the many hairstyles she's sported through the years are a reflection of her creative, dynamic personality.
Now sporting a blond pixie cut, Mara is in love with her low-maintenance mane, and most people love the look on her, too. But some were quick to say that it makes her look "boyish."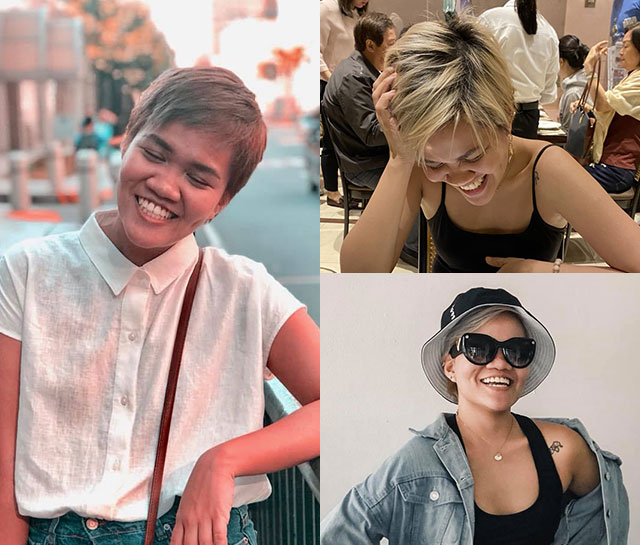 "My officemate actually assumed I was a lesbian because of my hair," Mara shares. "Natingala siya when I said na straight ako (She was shocked when I said I was straight)!"
Mara just laughs these comments off. "As long as I feel happy about how it looks, I'm good," she says.
Kyrie Eleison Baños, 28
This fashion designer sports a platinum blonde 'do which she occasionally dyes in rainbow colors—just like the characters in the anime shows she loved as a child.
"I remember using highlighters and blow pens to dye my Barbie dolls' hair," Kyrie recalls. "Now, wearing my hair like this makes me happy, like every day is a childhood dream fulfilled."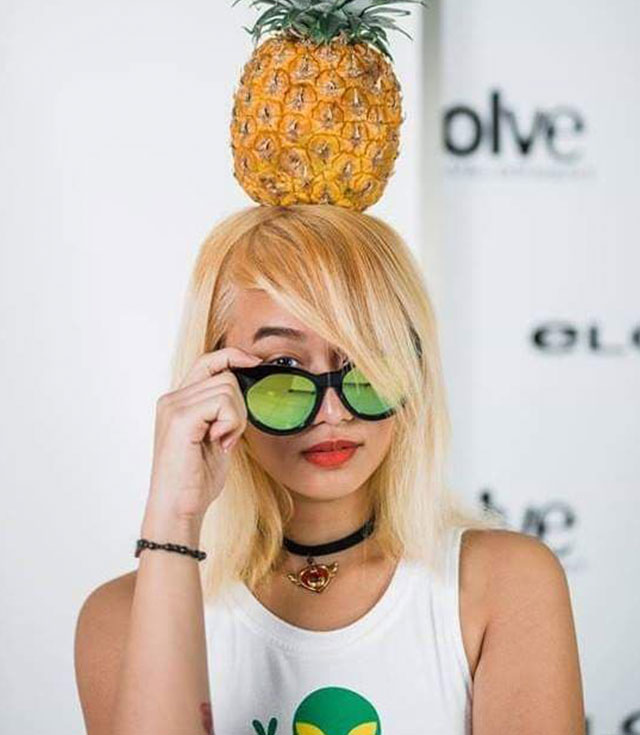 True enough, people have told her that she looks like a Barbie doll or an anime character. But some people aren't so charmed; judging from her hair, some have assumed that she's "hilas (arrogant)" or "papansin."
Kyrie isn't bothered, though. "I'm not seeking anyone's approval," she says. "I'm doing this for me."
Janina Gantuangco, 30
This architect now takes great pride in her colorful and naturally curly hair, but it wasn't always so.
"For years, I believed that the only way to be pretty was to be maputi and have straight hair," Janina says. "And for years, I straightened my hair."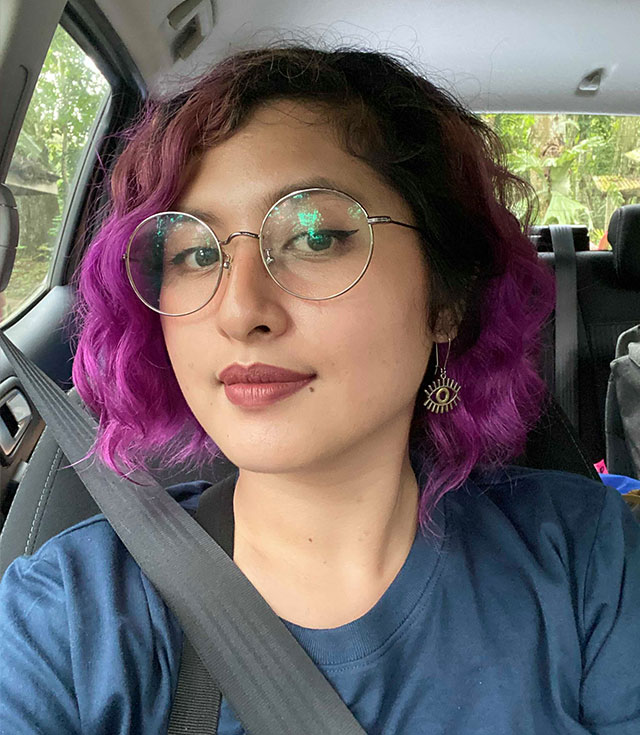 "Everything changed when I got into dyeing. Because hair care is different for both, I had to choose between whether I wanted to color my hair or keep straightening it. I eventually chose to color it."
Janina has gotten compliments on her standout strands, but she's also been told that she looks "unprofessional," and that "wala'y mutuo nimo ana imong buhok (no one will believe you with that hair)." She just laughs it off and uses it as an opportunity to educate people about hair, which eventually led to her launching a business selling hair dye.
Mandy Velasco Pantoja, 31
The designer, artist, and mom now sports her natural hair color, but is soon going back to the vibrantly hued hair she's long been known for.
While Mandy has her heart set on having pink hair again, she's tried all colors of the rainbow before, too—and she's gotten all sorts of comments along the way.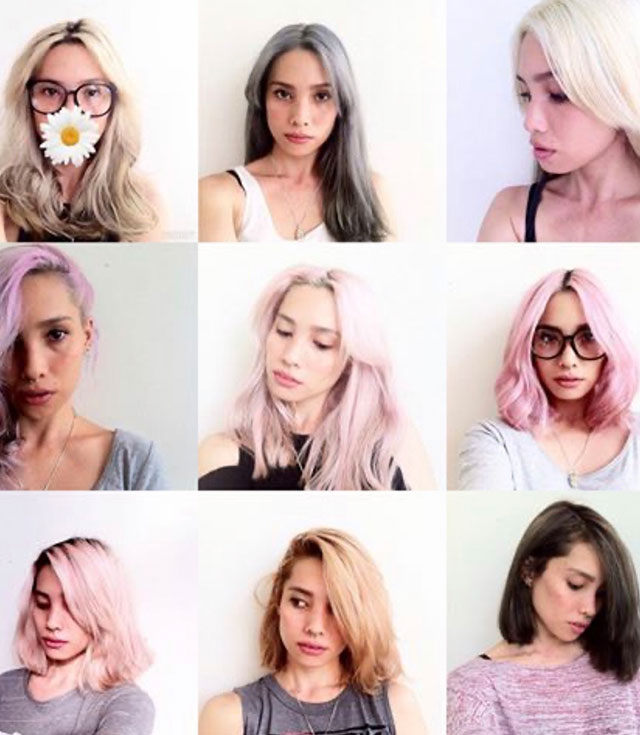 "'Tinuod na iyang buhok? Basig wig?! (Is her hair real? Maybe it's a wig?!)' or 'Stressful ang life? Nahimong gray lagi imong hair! (Your hair has turned gray!)' or 'Naunsa naman ka oy? (What happened to you?)'" Mandy recounts.
Some days, Mandy claps back; other days, she just smiles. But she won't change her hair just because some people have something to say.
Sarah Mañosca Suyom, 28
A makeup artist, psychometrician, and Spiral practitioner, this free spirit takes lots of liberties with her hair. But ever since she was a child, what she had always wanted was to shave her head.
"My mom wouldn't let me shave my head because I'm a girl," Sarah reveals. Later when she became a makeup artist, Sarah felt even more pressure to look "pretty" in the conventional way.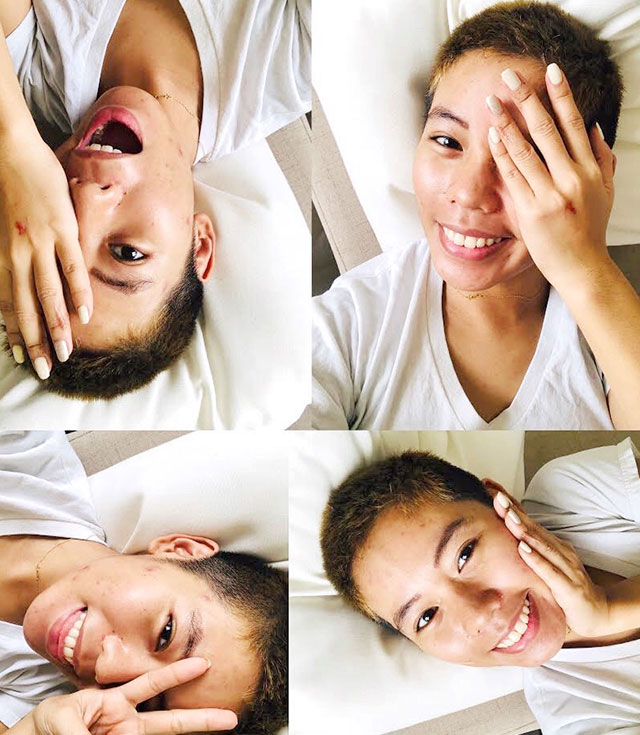 In 2019, she finally got the shaved 'do she's always wanted. She's had to contend with people saying "Mura kag lalaki (You look like a man)," but she has no regrets.
"Shaving my head is my biggest rebellion and declaration that I am no longer subscribing to what other people's expectations of me are," Sarah says. "It's me owning my hair, my body, my identity."
These Filipinas prove that in the end, how you look is your decision and nobody else's and how you express yourself through your hair can have beautiful outcomes. This is exactly what Dove's #MyHairMySay campaign wants to promote: You're free to try different hair looks without having to worry about what others think—the important thing is that you do you. You're allowed to have fun with your tresses because no one else should be able to tell you how to style your hair.
Learn more by following Dove on Facebook. Take care of your hair by shopping Dove's Intense Repair Shampoo and Conditioner on Shopee and Lazada.
This article was created by Summit Storylabs in partnership with DOVE.