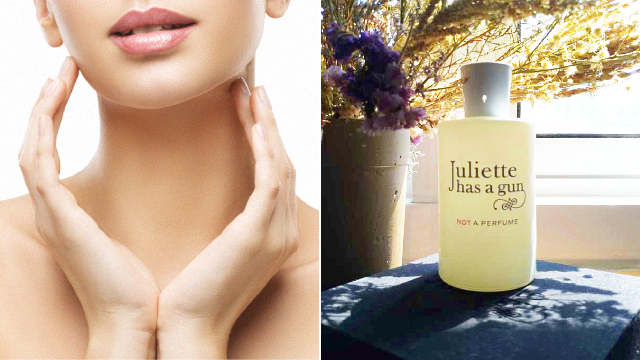 Having a signature perfume reinforces your personal style—after all, you wouldn't buy a bottle of eau de toilette that doesn't reflect your tastes. But nothing would be more personal as your own body's smell, and before you wrinkle your nose thinking about pawis, your scent is actually one of the main ingredients in one of the latest Juliette Has a Gun perfumes that recently arrived in the Philippines, called Not A Perfume.
ADVERTISEMENT - CONTINUE READING BELOW
Upon initial whiff, Not A Perfume smells almost like nothing (save for a very, very light hint of what I eventually discovered was ethanol), but once you spritz it on your body, it immediately transforms into a fragrance totally unique to you. This can be attributed to the fact that the perfume only has one element: cetalox. Cetalox is often used as a base note in many scents, but for Not a Perfume, it's also your heart and top notes. 
CONTINUE READING BELOW
Recommended Videos
If you want to get into the science of it, cetalox is actually a synthetic alternative to ambergris. Ambergris is produced by sperm whales; it forms in their intestinal tract and later on regurgitated (or, well, vomited) by the whale. Ambergris is pretty hard to find as the only way to get some is to wait for one to wash ashore, which makes it a very expensive and much-coveted ingredient that deepens scents and makes them last longer. Its cost and availability are two of the reasons cetalox (which is sometimes called "ambroxan") was developed.
Since Not A Perfume's only note is cetalox, it smells different on different people, making you feel like it's made especially for you. It's also hypoallergenic and perfect for those with sensitive skin.
The nice thing about this fragrance is that its neutrality allows it to act as a "perfume base." You can spritz Not a Perfume on prior to layering it with your favorite scent. It gives your usual fragrance an interesting twist.
ADVERTISEMENT - CONTINUE READING BELOW
Upon putting it on, Not a Perfume starts off smelling almost citrusy before deepening into a subtle musk. As it gets stimulated by your body heat, you'll find the scent settling with a slightly powdery hint that almost smells like newly-laundered sheets. Of course, this all depends on your body chemistry, but all in all, the fragrance isn't intrusive, so if you've got a sensitive nose and you haven't found the scent that suits you, you may want start with this one. After all, it's "Not a Perfume" (pun intended).
Not a Perfume by Juliette Has a Gun is available in Art of Scent, Shangri-La Plaza.
Load More Stories