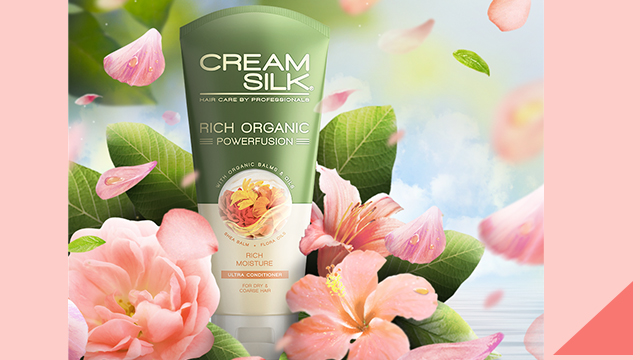 As our summer plans continue to take a backseat, the idea of going on vacation and leaving work stress behind are still limited to the comforts of home. Good thing there are self-care essentials that can help us refresh and relax while in quarantine. For hair care, there's Cream Silk Rich Organic Powerfusion Ultra Conditioner. It has natural balms and oils combined with rich conditioning technology to help bring dull, tired strands back to life. Since summer can make hair vulnerable to damage, this conditioner also works to moisturize dry hair in two variants:
1. Rich Moisture
The hot weather can strip moisture from your tresses, leaving them dry and coarse. This conditioner can help revive and soften your strands using shea butter balm, coconut oil, and flora oils like damascena rose, honeysuckle, and hibiscus. You can count on this conditioner to properly hydrate your hair despite the heat.
2. Rich Lustre
If your hair feels flat and brittle, you can use this conditioner with almond nut balm and botanical oils from aloe, bamboo, and cassia leaves. It helps strengthen hair as well as add more shine and volume to lifeless locks. This way, your hair looks refreshed and ready for summer!
Even when you're skipping the beach this season, make sure your hair still gets enough moisture and hydration at home. Add Cream Silk Rich Organic Powerfusion Ultra Conditioner to your summer hair care routine so you can reap the benefits of nature-inspired ingredients and advanced conditioning technology on any given day.
Shop Cream Silk Rich Organic Powerfusion Ultra Conditioner at supermarkets, department stores, and drug stores nationwide, as well as online. For more details, follow Cream Silk on Facebook and Instagram.
This article was created by Summit Storylabs in partnership with CREAM SILK.