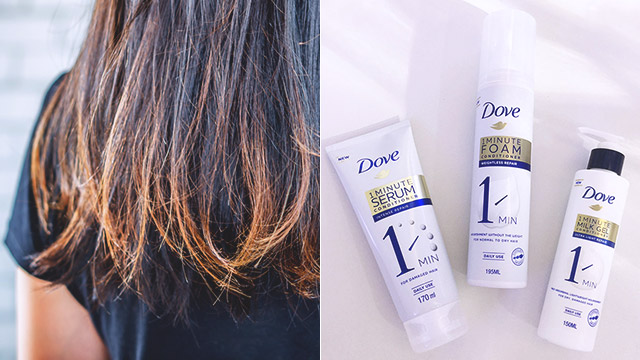 It has been three years since I parted ways with my natural, "virgin" black hair, and since then, I've been dyeing my locks in an ash brown hue at least twice every year. And as anyone who has colored hair would know, the yearly hair dye treatments led to one common side effect: dry, damaged (sometimes, even lifeless) hair. So as much as I crave extra-minutes of sleep every morning, I can't skip applying conditioners—especially on weekdays. I heavily rely on thick, creamy conditioners to make my hair appear less damaged and buhaghag. 
ADVERTISEMENT - CONTINUE READING BELOW
CONTINUE READING BELOW
Recommended Videos
So when hair care brand Dove released a unique line of 1-minute conditioners in the form of foams, gels, and serums, I was intrigued. Turns out, like skincare products, even conditioners weren't a one-size-fits-all solution; there's a formula for every hair type and level of damage. 
Because my hair type falls somwehere in between fine and extremely damaged, I tested out the Milk-Gel conditioner, a unique gel variant for fine, dry, and damaged hair, to see if it lives up to its claim!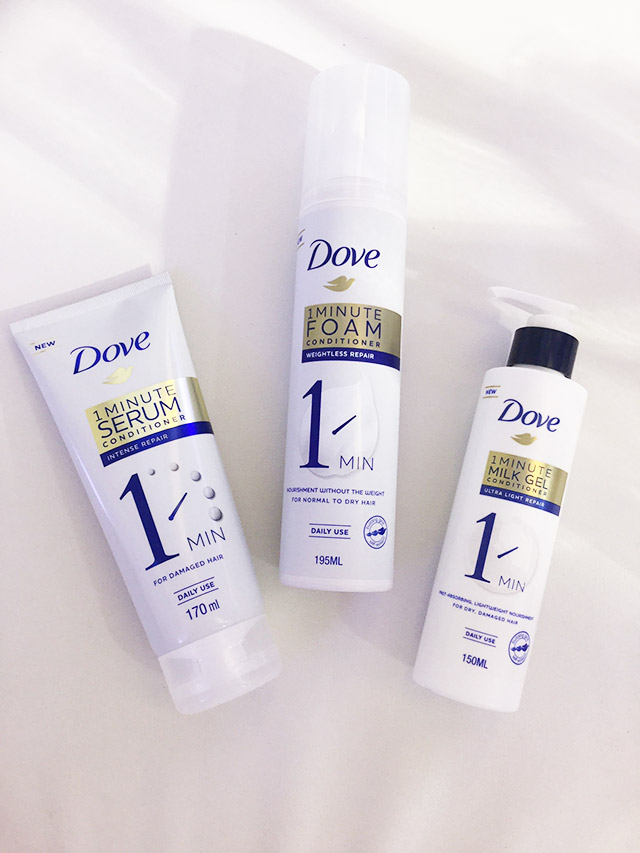 ADVERTISEMENT - CONTINUE READING BELOW
Application
The conditioner has a lightweight, clear, gel formula (if you have gel moisturizers at home, it'll remind you of them). A major plus is it doesn't feel sticky! And like Dove's classic beauty bar, it has that clean, mild, "freshly showered" scent. 
How does it feel like upon application? And did it effectively moisturize my hair in one minute? 
Upon slathering the gel to my strands, I instantly felt how it slowly softened my dry, tangled hair, making it feel lighter and smoother to touch; the feeling is quite similar to when I've put on a hair mask. And because of its gel formula, I noticed how it didn't make my hair feel greasy compared to my old, thick conditioners. 
First Impression 
This milk-gel variant is extremely lightweight compared to traditional conditioners, so they're especially effective for Pinays with fine tresses that easily get weighed down by rich formulas. But, if you've got a thick mane, you can also use this for when you want to give your strands just a tad of moisture!
ADVERTISEMENT - CONTINUE READING BELOW
Now, if you're dealing with fine, flat hair, you might want to try Dove's Foam conditioner instead, as its airy, whipped cream-like formula can still deeply moisturize the hair, and the mousse-y texture can add volume to flat tresses, too. On the other hand, the creamy and most potent Serum conditioner is a hair-saver for Pinays with thick and extremely damaged strands, particularly those who have previously bleached their hair.
Dove's 1-Minute Serum, Milk Gel (P200/150mL), and Foam (P449) conditioners are now available online at Shopee.
Comments
Load More Stories