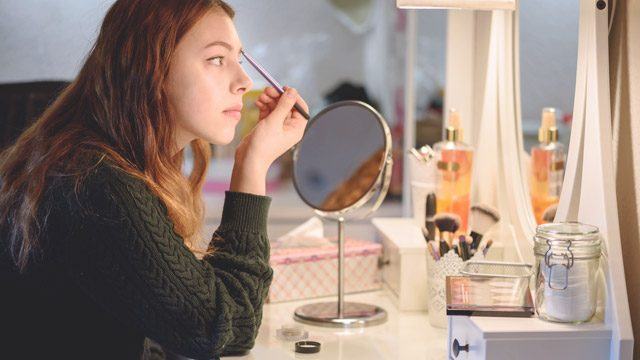 Makeup always saves the day when you're not feeling your best. Be it after a late night or during a bad skin day, it's a quick fix you can always count on. That said, even the highest-quality products won't do you favors when they're applied haphazardly. Sometimes, your desperate attempts at looking less tired can only make things worse.
ADVERTISEMENT - CONTINUE READING BELOW
So take a step back and reflect on your routine. Let senior makeup artist for Maybelline Philippines, Chuchie Ledesma, break down the no-nos if you want to look younger and more well-rested:
MISTAKE #1: Not wearing blush
What it does: "Blush gives the illusion of having that warm healthy glow, so not having a flush on your cheeks will make you look sickly."
What to do instead: "Dab a bit of blush on the apples of the cheeks for some color. Tailor your application to your face shape for it to look more flattering."
MISTAKE #2: Not curling your lashes before applying mascara
What it does: "Applying mascara on lashes that point downwards emphasizes them, making the eyes look sad and droopy."
What to do instead: "Curl your lashes before swiping on your favorite mascara. Start applying from the roots and wiggle your wand upwards until it reaches the tips of your lashes. Doing this will open up your eyes and make you look more awake."
ADVERTISEMENT - CONTINUE READING BELOW
MISTAKE #3: Using the wrong undereye concealer
What it does: "Concealers that are too light or too dark will only emphasize your dark undereye circles even more."
What to do instead: "Use color correctors to neutralize the darkness on the undereye area first, followed by a liquid concealer that's the same shade as your skintone. For a more highlighted effect, use a shade that's slightly lighter than your skin. Concentrate this on the area near the inner corners of the eyes as these tend to be the darkest."
MISTAKE #4: Wearing too much eye liner
What it does: "Wearing dark eyeliners, most especially those with reddish undertones, will draw attention to your bloodshot eyes—making you look like you haven't slept in centuries."
What to do instead: "Use flesh-toned eyeliner on the waterline to create that fresh, bright-eyed look."
MISTAKE #5: Not grooming your brows
What it does: "Leaving your brows unkempt prevents you from achieving a polished look. Also, not touching up brows that grow downward will make your eyes look droopier than they are."
ADVERTISEMENT - CONTINUE READING BELOW
What to do instead: "Comb the brows upwards using a spoolie. And to make them appear fuller, fill in sparse areas. Keep the strands in place with a brow mascara or brow wax."
This story originally appeared on Preview.ph.
* Minor edits have been made by the Femalenetwork.com editors.
Recommended Videos
Comments
Load More Stories