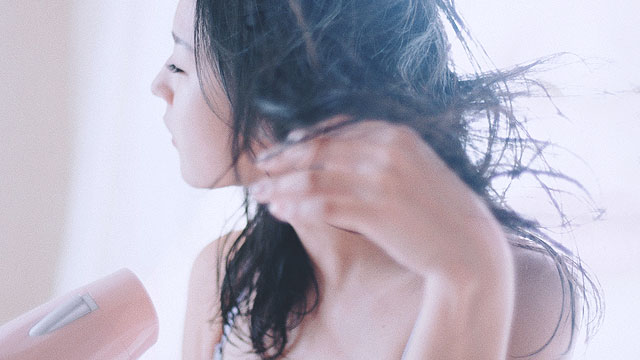 Losing a few hair strands is completely normal. Sometimes, though, you seem to be losing way too many strands and you're often unsure of what to do about it. To help you out, Preview.ph spoke with Gretchen Friese, a professional strength educator for hair care brand Bosley, in order to learn the contributing factors behind this common problem.
ADVERTISEMENT - CONTINUE READING BELOW
Causes
In case your locks are shedding abnormally, here are three things that could be causing it:
1. Hormones
According to Gretchen, there are many reasons that your hair might be falling out. First is ihydrotestosterone (DHT), a naturally occurring hormone that causes baldness. "Everybody has this hormone in their body, but if you're more sensitive to it, it's basically going to attack each follicle and minimize it," she explains. "And as it's minimizing that follicle, the hair will get smaller and finer until it can't grow back anymore because the follicles will close up."
2. Lifestyle
An unhealthy diet, cigarette smoking, and stress are three of the biggest lifestyle-related culprits for excessive hair fall. The Bosley expert says that these make us more sensitive to toxins in the air, which our bodies try to expel.
3. Medication
"All kinds of medication [can cause hair fall]. Sometimes even just starting and stopping medication," adds Gretchen. "Fiber medication will definitely affect the hair as well, and obviously [treatments like] chemotherapy."
How to avoid it
1. Maintain a healthy diet and lifestyle.
"I personally think that diet and nutrition are really important in keeping our entire bodies healthy. It also helps with our stress levels; it helps detox our bodies," says the Bosley educator. The fewer toxins for our body to get rid of, the less hair you have to lose!
2. Use brushes with softer bristles.
The hair specialist says that plastic hair brushes tend to tug at the scalp and cause strands to fall out. Thus, she recommends using brushes with gentler bristles, like boar brushes. "I like boar brushes because it can stimulate the scalp to [improve] blood flow and grow hair," Gretchen adds.
3. Wash your hair frequently.
When asked if not shampooing the hair every day can reduce hair fall, Gretchen promptly said no. "As a matter of fact, it's the opposite. In order to reduce hair fall, you need to have a clean and healthy environment for the hair to grow," she says. Hence, washing your hair every day, especially in a humid climate like ours, is something Gretchen recommends for people with thinning hair.
ADVERTISEMENT - CONTINUE READING BELOW
4. Be careful when heat styling.
So is heat styling terrible for hair fall? Not necessarily. The trick is to be more careful with the products and tools that you use on your strands. Gretchen suggests using the lowest temperature possible when using heat and making sure to apply a heat protectant before styling.
5. Use hair-strengthening products.
Build your hair's resistance with products that address weak strands and hair fall. For example, Gretchen mentions how Bosley products use a Life Extend Complex to fight the DHT hormone and remove it from hair follicles, helping them remain open and strong. The brand carries different lines for different types of thinning hair, too, from ones for color-treated locks to ones that protect strands from heat styling.
For more information about Bosley, visit Eiskin's official website.
This story originally appeared on Preview.ph.
* Minor edits have been made by the Femalenetwork.com editors.
ADVERTISEMENT - CONTINUE READING BELOW
Load More Stories