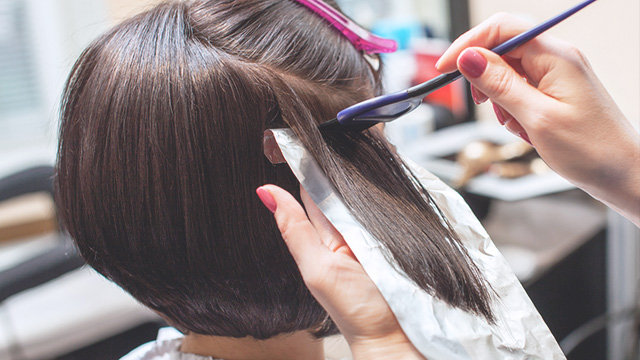 Coloring your hair can be one of the easiest ways to switch up your look, but it can also be a drastic change especially if you stray far from your natural hair color.
ADVERTISEMENT - CONTINUE READING BELOW
Choosing the color and brand of your hair dye can be one of the most exciting parts of the process (aside from seeing the finished look!), especially nowadays with almost unlimited options available in the market. But, don't forget that coloring your hair is just the beginning. Maintenance is a whole other ballgame you'll have to research on.
So if you're committed to changing your look, here's a guide to what it will take for you to main the life of your tresses:
How often should you color your hair?
According to stylist Anagen Gange Arguedo of The Color Bar in Forbestown Bonifacio Global City, it's best to come in every three to four months for regular maintenance (for as long as you have healthy hair).
However, many Pinays strict about the color of their roots come come in as often as every two to three weeks. A word of caution, though: if you do, make sure that you practice proper maintenance in the weeks in between to avoid damage.
FN TIP: Try getting a gradient 'do like ombre or highlights so you won't have to come in for a retouch too often. For a full color, try a subtle shift and stick to two shades lighter or darker so you can play it safe.
It also helps to apply a protectant like an oil serum before heat styling, and a UV spray if you're going to be under the sun for a while, as doing so can fade your hair color faster.
Of course, in the long run, it's also advisable to let your hair rest once in a while, so if you've been dying your hair for the past years, consider taking a break to let your locks breathe and recover. Try to get hydrating treatments to speed up the process.
ADVERTISEMENT - CONTINUE READING BELOW
How much does professional hair coloring cost
As we've previously featured, the cost of coloring services in Manila varies greatly depending on your hair length and the style you want to achieve. Many reputable salons such as Benibana Beauty Hub and Bangs Prime Salon start their rates at P1,200. Meanwhile, easily accessible chains like David's Salon starts at P1,450, Bench Fix at P1,800 and hair color specialist Azta Urban Salon at P2,200.
High end salons like the Kiyosa Japanese Total Beauty located at F1 Hotel's starting rate is P3,000, while the celebrity favorite Jing Monis Salon offers a package for as low as P2,700.
FN TIP: Be open to suggestions even if you already know what you want, as they might know how to make your pegs work better for your skin tone and hair type.
Should I wash my hair before coloring?
This may sound slightly gross especially if you have virgin locks and you're used to washing your hair daily, but hair dye actually clings to dirty tresses better, making your trip to the salon more sulit. If you're looking to preserve the life of your hair color, it's advisable to skip shampoo for about a day before your scheduled appointment. 
ADVERTISEMENT - CONTINUE READING BELOW
How long to wait to wash hair after coloring
Now, when it comes to after your salon session or home appointment, it helps to also wait until up to 72 hours before you wash your hair with shampoo again. (Tips vary from 24 to 72 hours, but if waiting longer helps maximize the effect, then why not! Just make sure to stay as hygienic as possible and maybe avoid public gyms for a while).
How to wash dyed hair without losing color
To wash colored hair and maintain its vibrance, it's best to avoid shampooing your hair daily. (In fact, if you have curly hair, you might even consider skipping shampoo altogether). But if you commute daily, or frequently pass highly polluted areas, you can simply stick to products made exclusively for colored or treated hair.
ADVERTISEMENT - CONTINUE READING BELOW
TRY: Love, Beauty, & Planet's Muru Muru Butter & Rose Oil Shampoo and Conditioner, available at BeautyMNL
TRY: Pantene Color and Perm Shampoo and Conditioner, available at Robinsons Department Stores
Does hair color expire?
There are varying details about whether or not hair dye really expires, so it's best to adjust depending on the brand. There are several companies that no longer put expiry dates on their packaging, but some companies say that the shelf-life of their hair color products can last only for up to three years. To play it safe, it helps to check your purchase and trust what it says on the bottle, and to observe the quality of the product before applying it onto your hair. So while it's good to stock up on a certain shade you like if you want to be more consistent with your look, make sure to check the date before application to avoid any issues or bad reactions. (via Simple Beauty Notes)
ADVERTISEMENT - CONTINUE READING BELOW
FN TIP: If you have virgin hair, it helps to watch videos or have an experienced friend help you out at home; or simply book an appointment at your salon and leave it to the pros.
Can I 

color my hair while pregnant?
The good news is yes, but it's not without its restrictrions. Remember when celebrity mom Saab Magalona had to defend herself from mom-shamers for getting her hair colored during her pregnancy?
ADVERTISEMENT - CONTINUE READING BELOW
"Dyeing your hair while pregnant is scary due to the strong-smelling chemicals (e.g., ammonia). Preggos are advised to wait until they're in their second trimester to dye their hair to be on the safe side. Opt for natural and organic hair dyes and strictly follow safety precautions provided by your doctor."
Can you perm colored hair?
According to celebrity hair stylist Mara Roszak (whose clients include the likes of Emma Stone and Julianne Hough) in a feature on Elle.com, "Colored hair can definitely get this process done now, thanks to the softer solution and rods we use on the hair. It can even de-frizz and redefine naturally wavy hair."
Of course, it's still better to personally ask your stylist for an assessment prior to committing to the perm. Remember, it's the health of your hair that will determine whether or not a perm will look good. Don't risk damage just because you're impatient. A perm can wait, and can even be one way to change up your look in the future if you suddenly want to take a break from dying your hair regularly. It's always better to pace treatments, and to make sure that you also undergo moisturizing ones every few months.
ADVERTISEMENT - CONTINUE READING BELOW
Load More Stories