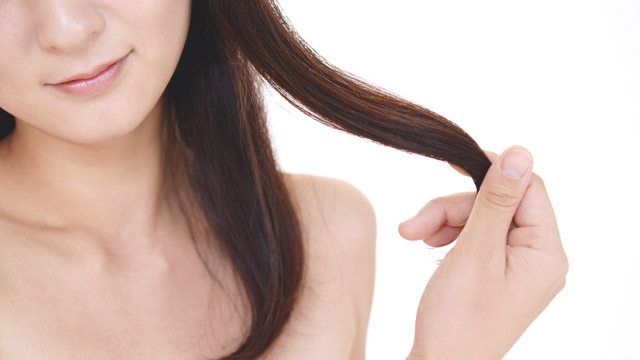 Tired of your short hair? Or maybe your strands just keep on falling, and you've got a scalp full of tutsyang that don't seem to grow out. Maybe it's time to add length to your tresses yet again.
According to science, hair growth has three phases. The first is anagen, which is the "active phase." This is when your hair is formed and its length is determined. At this phase, a strand would grow 1 cm every 28 days, and the follicle would continue to be active for two to six years.
ADVERTISEMENT - CONTINUE READING BELOW
Then comes the catagen phase, during which "growth stops and the outer root sheath shrinks and attaches to the root of the hair," creating what is called as "club hair." This lasts for about two to three weeks.
The last phase is telogen, which is a time of rest for your hair follicle. It's at this stage that old hair—as much as 100 strands a day—is shed. The cycle then repeats.
While hair growth may take a while, there are several things you can do to help speed up the process. Here are quick, painless steps you can take to achieve long, luxurious tresses.
Give your scalp a massage.
A study on NCBI shows that giving your scalp a four-minute massage daily can do wonders to hair growth and thickness in 24 weeks. It even changes the gene expression in human dermal papilla cells, which control the production of strands, and helps reverse hair loss.
CONTINUE READING BELOW
Recommended Videos
Eat right.
Yes, diet can affect your tresses. "Vitamins and nutrients, like biotin, B vitamins, iron, and zinc promote healthy hair follicles and healthy hair growth," shares Dr. John Diaz on Bustle. Protein-rich food is also a good addition to your daily menu. Go for nuts, potatoes, avocados, and salmon when you do your groceries.
Keep your ponytails loose.
Tight styles and bands tug at your scalp, and causes hairline breakages. If you want to keep your hair out of your eyes, use clips, or tie your hair in low, lose ponytails that will keep your tresses relaxed and their roots intact. 
Regularly get a hair trim.
While it may seem counter-intuitive, getting a trim can actually promote healthy hair growth as it does away with split-ends, which can ride up the strand if left unmanaged.
Go easy on heat styling tools and bleaches.
Overstyling your hair can lead to breakage, plus going blond can actually destroy your cuticles and give you split-ends. As senior hair colorist Elizabeth Hiserodt shares on Good Housekeeping, "The fewer chemical treatments, the better your hair will grow."
ADVERTISEMENT - CONTINUE READING BELOW
Load More Stories