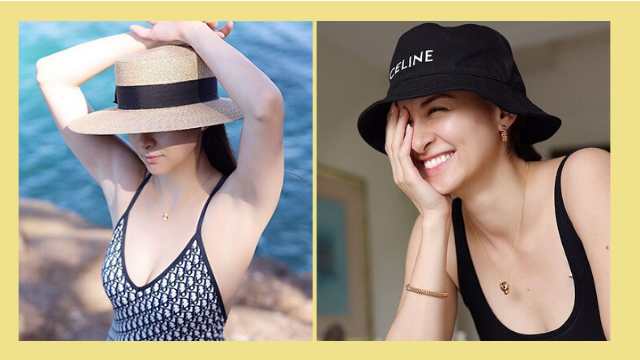 The fact that Marian Rivera has flawless skin is by no means new information. We've all known this since we watched her play the iconic roles of Marimar, Dyesebel, and Darna in the 2000s. And to absolutely no one's surprise, little has changed about the actress' beauty more than a decade later. In 2021, Marian is still making everyone's jaw drop—only this time, she's doing it on a different platform, a.k.a. social media.
The comments section on each of Marian's posts on Instagram will prove it to you, but allow us to show you a classic yet very recent example. The actress went on a seaside vacay with her family, and she posted a slew of stunning beach selfies clad in a Dior one-piece swimsuit that took our breaths away. Take a look:
ADVERTISEMENT - CONTINUE READING BELOW
Compared to the two photos you've just seen, however, one post stood out for having the most hilarious set of comments. Their subject? Marian's flawless underarms!
In the photo, the mom of two is poised in her signature arms-raised swimsuit pose. She has half of her face hidden under a sun hat, which made her flaw-free armpits the new star of the show. And while the rest of us would settle for a double-tap and a fire emoji, some netizens went the extra mile and left the most creative and funniest compliments for Marian. Scroll ahead to read our favorites!
Starting off with a classic, this netizen thinks Marian's armpits are brighter than their future. LOL.
Here's a new one: Underarms as bright and clear as clouds.
Now, saying someone's underarms is clearer than your face seems like a bit of a stretch, but honestly, this time we can't even argue.
ADVERTISEMENT - CONTINUE READING BELOW
On a slightly relatable note, this commenter claims that if they had armpits like Marian's, they'd never put their arms down again. Flaunt it if you got it, right?
In conclusion, Marian (and her underarms) has won again. We can all leave the chat now.
ADVERTISEMENT - CONTINUE READING BELOW
And while we all wait for the actress to finally reveal her skin secrets, check out our comprehensive guides to perfect pit care below!
8 Celeb-Approved Treatments to Try for Perfect Underarms
6 Dark Underarm Remedies You Probably Didn't Know About
What Causes "Chicken Skin" on Your Underarms and How to Deal With It
Here's How to Give Yourself an Underarm Facial at Home
5 Easy Ways to Exfoliate Your Underarms
Load More Stories