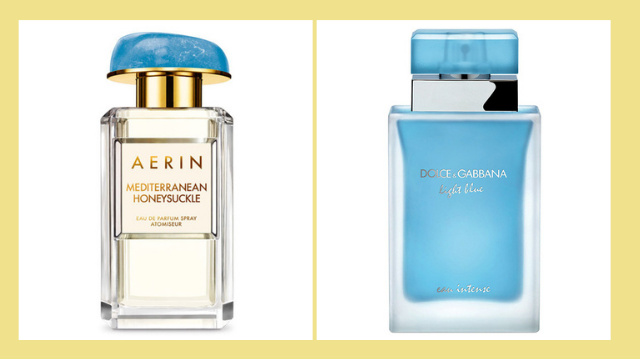 Even when you aren't on vacation, you can still channel the relaxing ambience of the beach with your choice of perfume. Pick the right scent and it just take you right back to your favorite summer getaway even without hopping on the plane. Or, in case you have a trip coming up, packing the perfect beach fragrance is just one of those things that can literally make your vacay more memorable, too! For a few options that'll capture that vibe perfectly, keep scrolling and take your pick.
ADVERTISEMENT - CONTINUE READING BELOW
Fragrances That Smell Like the Beach
1. Calvin Klein Eternity Air
Calvin Klein's Eternity Air is like a memory capsule for those long walks by the ocean. It smells like a gentle breeze, with a punch of zestiness from grapefruit and a hint of romance from peony. It could easily remind you of your last vacation and have you craving for another, but wearing it at the beach can't be any more fitting.
TRY: Eternity Air Eau De Parfum For Her, P5,498, CALVIN KLEIN, Zalora
2. Dolce & Gabbana Light Blue Eau Intense
Light Blue needs no introduction, and you can probably pull its scent from memory. For one, its vibrant lemon and green apple notes are instantly recognizable, with a drydown featuring jasmine, amber, and musk that reminds us of a slow weekend in the summer. Speaking of summer, our pick for the season is the Eau Intense, which sticks to the skin like glue despite the unforgiving heat.
ADVERTISEMENT - CONTINUE READING BELOW
TRY: Light Blue Eau Intense Eau de Parfum, P3,450, DOLCE & GABBANA, SM Department Store
3. Jo Malone London Wood Sage & Sea Salt
Wood Sage & Sea Salt is airy, earthy, and effortlessly elegant like a bride walking down the aisle at a beach wedding. It wraps you in an aromatic veil of lush greenery and salty ocean water, a relaxing yet bright blend that will get you through even the hottest of days.
ADVERTISEMENT - CONTINUE READING BELOW
TRY: Wood Sage & Sea Salt Cologne, P4,200, JO MALONE LONDON, Rustan's
4. Clean Reserve Acqua Neroli
Its bottle alone is already undeniably beachy, but wait until you get an actual whiff of this perfume. The notes of orange, neroli, and light musk all mesh beautifully into a subtly sweet and woody floral blend. If you and your significant other end up sharing a bottle, we really wouldn't blame either of you.
TRY: Acqua Neroli Eau De Parfum, P4,600, CLEAN RESERVE, Rustan's
ADVERTISEMENT - CONTINUE READING BELOW
5. Tom Ford Soleil Blanc 
For what Soleil Blanc lacks in vibrance, it makes up for in warmth and spice. It's basically sunrise in a bottle—an inviting fusion of ylang-ylang, cardamom, and sea coconut that will instantly transport you to your dream luxury resort.
TRY: Soleil Blanc Eau de Parfum, P12,600, TOM FORD, Rustan's Makati
ADVERTISEMENT - CONTINUE READING BELOW
6. Aerin Mediterranean Honeysuckle
Being inspired by the Mediterranean should tell you enough about this fragrance's beach-reminiscent feel. It's the scent of a sweet escape, opening with honeysuckle and grapefruit before it blooms into a magical bouquet of gardenia, lily of the valley, and jasmine.
TRY: Mediterranean Honeysuckle Eau De Parfum, P7,100, AERIN, Rustan's Makati
ADVERTISEMENT - CONTINUE READING BELOW
7. Davidoff Cool Water Woman Wave
This fragrance captures the adrenaline rush of surf culture and the sensuality of the sea. It evokes the same marine vibe as the original Cool Water Wave for men, but with the welcome addition of feminine notes such as Bondi beach flower and Sambac jasmine that make every spritz comforting without being overly zesty.
TRY: Cool Water Woman Wave Eau de Toilette, P4,998, DAVIDOFF, Zalora
ADVERTISEMENT - CONTINUE READING BELOW
8. Simoy Ng Haraya Hamog
Simoy Ng Haraya's Hamog (or dew in Tagalog) will take you back to those beach days made chilly by light drizzles. It's solemn, but not exactly gloomy, thanks to the energizing whiff of green that smells almost exactly like freshly-cut grass.
TRY: Hamog Eau de Toilette, P409, SIMOY NG HARAYA, simoyngharaya.com
ADVERTISEMENT - CONTINUE READING BELOW
9. Elizabeth Arden White Tea
White Tea is an enchanting woody-floral that embodies the calm of a weekend getaway. Although it isn't exactly the definition of an aquatic scent, it does give you a slight whiff of the ocean with a sea breeze accord. Its citrusy opening gives it a dash of a summery vibe, too, but it's the soft, mellow aroma of white tea extract and a trio of musks that make it a must-try.
TRY: White Tea Eau de Toilette, P4,500, ELIZABETH ARDEN, Lazada
ADVERTISEMENT - CONTINUE READING BELOW
10. Hermes Eau des Merveilles Bleue
Eau des Merveilles Bleue smells like jumping into a pool and rising to the surface. It has a gorgeous fusion of juniper berry, patchouli, and mineral stone, with a woody amber accord that puts it on the delicate side of your average marine scent.
TRY: Eau des Merveilles Bleue Eau de Toilette, P10,200, HERMES, Rustan's
ADVERTISEMENT - CONTINUE READING BELOW
Load More Stories