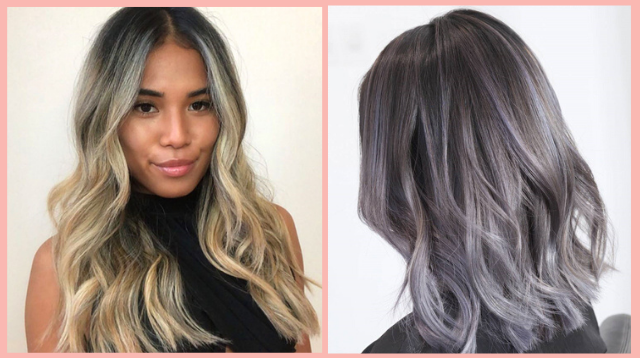 Sometimes, a new hair color can make all the difference. Whether you simply want a new look, need a confidence boost, or want your hair to reflect your personality, picking the right color can achieve all that and more. One trend that's become a popular staple over the years is ombre hair.
ADVERTISEMENT - CONTINUE READING BELOW
READ MORE ABOUT HAIR COLORS
CONTINUE READING BELOW
Recommended Videos
What makes this dye job so popular is the fact that it allows you to try out a bold color at the ends of your hair, which you can choose to hide once you tie your hair up into a ponytail or bun. It's definitely a style for those unsure of committing to a striking hair color but would still like to add an interesting hue to their tresses.
What exactly is ombre hair?
Not to be confused with the dip-dye technique or balayage, ombre hair is characterized by a gradual color change from your hair's root to tips and a contrasting or bold hue at the end of your strands. Meanwhile, a dip-dye employs a more abrupt-looking change—like, your hair has been dipped into a full color without a soft transition shade. A balayage, on the other hand, is a combination of highlights and an ombre to achieve a more dimensional and textured dye job.
ADVERTISEMENT - CONTINUE READING BELOW
Curious to try this cool hairstyle? Here are 10 flattering ideas to get you started on your ombre hair color journey!
1. Blonde Ombre
Probably the easiest to achieve at home or at the salon, a plain blonde ombre gives you an option to try out temporary hair dyes if you're feeling more adventurous later on. The gradual transition to blonde also helps brighten your face.
2. Silver Grey Ombre
We'd like to think this is the coolest color to try! Though silver hair is undeniably stylish, we recommend it to girls with a warm or golden undertone to contrast the cool tone of your tresses. Ash colors tend to wash you out though, so be sure to match your makeup look accordingly, too!
3. Ash Brown Ombre
There's no denying that ash brown is such a flattering dye job that oozes with femininity. If you're looking for a fresh and youthful makeover that's simply subtle, we suggest you show these pegs to your stylist stat.
ADVERTISEMENT - CONTINUE READING BELOW
4. Pastel Pink Ombre
Who doesn't love pink? A blush shade is always a good idea when it comes to creative hair colors, and pastel pink ombre is simply the sweet transformation your hair needs. Not to mention, it looks just as good on a bob and shoulder-length hair! Talk about versatility!
5. Rose Gold Ombre
The perfect shade in between pink and orange, this peachy hue is the bright salmon update you'd fancy if you're a fan of warmer shades. It looks particularly good on girls with a reddish or yellow undertone/complexion, because it amplifies your skin's rosiness and warmth.
6. Muave or Wine Red Ombre
Another sophisticated color choice is mauve or wine red. The hue isn't as bright red, but isn't that the point? If you're going for something more understated and soft, this color combo works well if you want to keep your natural dark roots or virgin hair. It's also a color that looks good if your closet is filled with neutrals like blacks and whites.
ADVERTISEMENT - CONTINUE READING BELOW
READ MORE ABOUT HAIR COLORS
7. Icy Blue Ombre
Level up silver hair with a hint of blue. This otherworldly color combo is a head-turning style statement and is perfect for anyone with a bold fashion sense. If you dress up in black 24/7, then this might be the perfect ombre shade to add a bit of color to your look.
Load More Stories