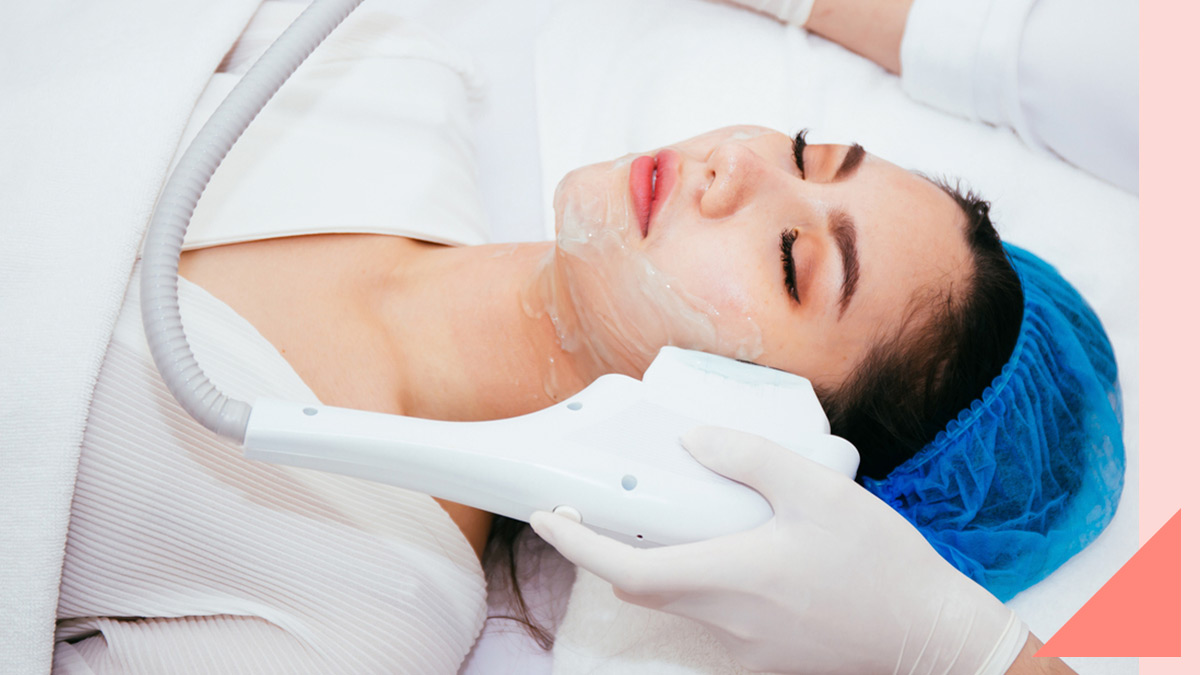 There's no better time than the months leading up to your wedding to gift yourself with a beauty treatment. Not only will it give your makeup artist a glowing base to work with, but it also affords you that those much-needed hours to enjoy quality time alone. 
Below, we break down the most popular facials and skin treatments you can invest in, depending on your concern: 
1. Diamond peel (microdermabrasion) 
Perfect for: Brides who are on a budget; best for refining and brightening the complexion
Where to get it: Skin Station, Skin House and Benibana 
An oldie but a goodie! The main job of diamond peels is to improve your skin's texture; it tackles enlarged pores, acne breakouts, and even uneven complexions. In an interview with Female Network, Dr. Jay P. Nuñez FPDS explains how the popular non-invasive procedure works: "The handheld pen, which has an interchangeable tip of many types of crystal sizes (from super fine to super coarse) is run back and forth over an area of skin (usually face and neck), as a suctioning machine collects all the sloughed-off skin cells. Immediate results would be a smoother, less pigmented, less oily, and lighter colored skin that literally 'glows.'"
ADVERTISEMENT - CONTINUE READING BELOW
In a previous feature, real bride Kai Honasan-Del Rio shared that she invested in "diamond peels at Skin 101 (two to three times a month)" four months before her wedding. 
2. Hydrating facial
Perfect for: Plumping the skin
Where to get it: Belo Medical Group (Hydrafacial and Glass Skin Facial), Aivee Clinic (Hydra Facial) and Skin House (Aqua Radiance Facial.)
If dryness and dullness are your top skin concerns, a hydrating facial will work wonders. It usually involves doing a deep facial cleaning before treating the skin to various moisture-rich serums and masks. The result? A soft, healthy, youthful-looking complexion—a.k.a. a great base for a glowing bridal look! 
3. Chemical peels 
Perfect for: Achieving a dewy skin; lightening acne marks 
Where to get it: Skin Station (Glycolic peel) and Belo Medical Group (Crystalle Glass Mask) 
It may not sound like it, but chemical peel treatments are relaxing; in every session, your face will be slathered with different masks, with serums containing alpha- and beta-hydroxy acids. These AHAs and BHAs will slough off the top layer of the skin to reveal a glowing complexion (so yes, no actual peeling is involved!)
FN Tip: If you have sensitive skin, it's always best to consult your doctor first, as chemical peels can cause irritations and redness—the last thing you need before your wedding. 
4. Laser skin tightening 
Perfect for: Lifting and firming skin; those who want dramatic results 
Where to get it: The Aivee Clinic (Ultherapy, Thermage, Ulthera Maxx Lift) Skin Station (ThermaFirme) and Luminisce (Thermalift) 
Non-surgical facelifts are getting more and more popular these days. These treatments mainly use heat, ultrasound, and radiofrequency (instead of needles) to encourage collagen production, resulting in tighter skin and a "contoured" jawline that looks completely natural. So if you're up for a big splurge, try Ultherapy (click here for a full review of the treatment) or Thermage (Iza Calzado took this skin-firming treatment before her wedding!). 
ADVERTISEMENT - CONTINUE READING BELOW
5. Salt facial
Perfect for: Instantly drying up and flattening huge zits—with no pricking involved; refining the skin's texture 
Where to get it: Belo Medical Group
If all the pre-wedding stress and the lack of sleep has caused your skin to break out days before the big day, this five-step facial is your quick fix; its main treatment is a micro-exfoliation, which uses a high-frequency current and all-natural sea salt to remove dead skin cells and kill pimple-causing bacteria, helping acne heal faster. Additional perks of the exfoliation include a smoother, more refined complexion. 
ADVERTISEMENT - CONTINUE READING BELOW
ADVERTISEMENT - CONTINUE READING BELOW
Bonus: Laser hair removal
Perfect for: All
Where to get it: Skin House and Flawless 
Think about it: From the bridal gown fittings to the wedding day itself, there are many times when your armpits will be exposed, and given your schedule, the regular trips to the waxing salon could be a hassle. Months before the wedding preps begin, why not book laser hair removal sessions? Not only will the treatment remove and lessen the growth of armpit hair, but it'll also smoothen your underarms, eliminating unwanted bumps and chicken skin caused by years of shaving. The sulit perk is you're investing in long-term results—you won't have to worry about hair regrowth on your honeymoon.
ADVERTISEMENT - CONTINUE READING BELOW
Load More Stories