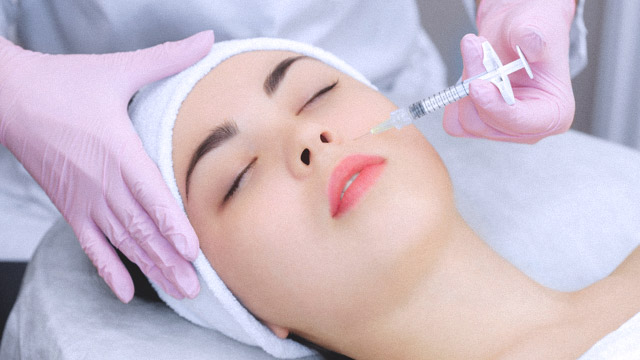 Here at Female Network, we're all for doing what would be best for you, so if there comes a point that you'd want to consider heading to your aesthetician to explore fillers to get rid of wrinkles, then go for it—as long as you first do your homework. After all, an educated decision is always the best decision.
ADVERTISEMENT - CONTINUE READING BELOW
In the recent Merz Aesthetics Beauty Agenda: A Forum on Fillers, several experts gave the low-down on things to avoid when getting into facial fillers, so that you can steer clear from becoming one of the many victims of botched procedures:
Watch out for: Permanent fillers
Dr. Wilson Ho shared that before even considering getting fillers, you should first educate yourself on which ones are safe and which ones have lasting negative effects. It's also important to only consider using temporary fillers, as permanent fillers can do a lot of damage.
"The most permanent ones are silicon, paraffin… Those will cause trouble sooner or later," he said. "Hydrogel…unfortunately it's a permanent filler, and it causes the same problem as silicon and paraffin." Permanent fillers are known to trigger cysts, sores, and lumps that can be very hard to remedy.
Today, doctors recommend using hyaluronic acid, as it's considered a temporary filler that can easily be countered and removed in case a rare adverse reaction occurs. "It's a natural-occurring polysaccharide… It's everywhere in our body. More than 70 percent is inside your skin… It [gives] skin support, just like collagen.
ADVERTISEMENT - CONTINUE READING BELOW
Recommended Videos
"The most important thing is we have an antidote for hyaluronic, so if anything goes wrong, we can easily inject the enzyme of HA, called hyaluronidase—you erase [the effects]."
Watch out for: Undiscriminating and trigger-happy doctors (and non-doctors)
You've probably heard a lot of scary tales of women going for a cheap, shady service and regretting it. Visits to unlicensed practitioners—or even licensed practitioners who are only in it for the money—can cause serious injuries and even irreversible effects on your skin.
"Even if [fillers are] user-friendly, you should still go to a skilled physician," Dr. Gio Dimayuga, an active consultant at the Makati Medical Center, noted. "There are some things that a patient sees, and there are some things that she doesn't see that I see—you have to find a doctor that you're very comfortable with… Not just because you want it, we would do it. We're not that way."
ADVERTISEMENT - CONTINUE READING BELOW
Some of the possible things that can occur when a person's face has been overfilled are:
Flowerhorn forehead, the bloating of the forehead, similar to that of a flowerhorn fish
Sunset eyes/Setting-sun eyes, where the eyes appear too tugged, resulting in a shape reminiscent of the sun setting over the horizon
Butt cheeks, over-inflamed cheeks
Witch chin
Sausage lips
To avoid these, you must always consult with a doctor who knows his or her craft, and who can recommend the right kind of filler for your needs.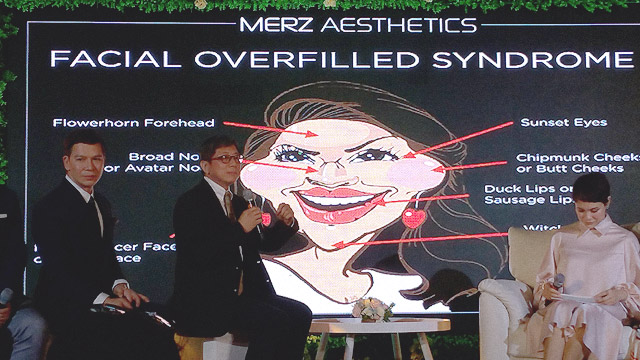 ADVERTISEMENT - CONTINUE READING BELOW
"There are actually different types of hyaluronic acid fillers. It depends on where you want to put it," explained Dr. Gail Robredo-Vitas, a resident expert at St. Luke's Medical Center BGC. "When a patient comes to me and wants to have Kylie Jenner lips, you don't want to put a filler that's too hard… You want something that sort of blends well with your lips. For those kinds of patients, I use a softer filler.
"For example naman I have a patient who wants to enhance her chin… then I would use a filler that's more robust or harder that would give you that lift. On the nose, I would probably use the same thing—something that won't flatten or spread."
Remember: The right doctor will remind you that enough is enough.
While getting temporary fillers is pretty much a no-downtime treatment, it's your responsibility to know exactly what you're getting into and to look for legit experts that can help and support you along the way.
ADVERTISEMENT - CONTINUE READING BELOW
"The fillers are there in the market, they're so varied, so it's your assignment also to find out which filler's good for you—if you go to the right doctor. The right specialist will tell you which kind of filler would fit you. Otherwise, you would end up as one of those patients using the old fillers," reiterated Dr. Gerald Sy, Vice President of Internal Affairs of the Philippine Association of Plastic, Reconstructive, and Aesthetic Surgeons, Inc. "It's highly essential that prospective patients only look for experienced doctors who boast of several years in the aesthetics industry for their treatments. This is how we can avoid the 'horror stories' that result from procedures such as the overfilled syndrome."
Load More Stories