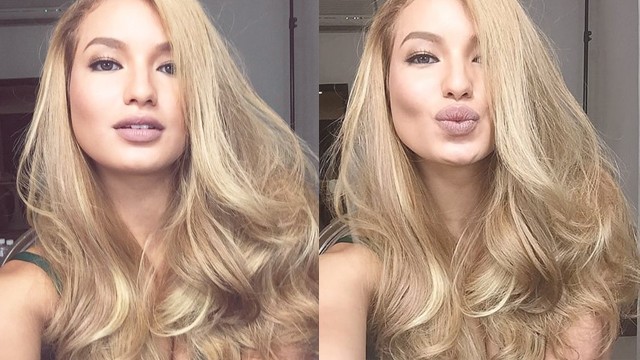 After seeing celebs like Cristine Reyes and Angel Locsin go blonde, thoughts about getting your strands transformed may be playing in your mind. But before you take the plunge, here are truths about going blonde that you need to know:

1. Your hair will be damaged.
The lighter you want, the more times it needs to be bleached. Bleach strips off and alters your strands' chemical composition, and your scalp will feel itchy and painful during the treatment. When not done well, you'll have fried and brittle blonde strands or scalp burns!

2. Your haircare routine will definitely change.
Dark hair that has been dyed to blonde requires special hair products to prevent it from looking brassy and dull. You will need purple shampoo (to tone down the natural reddish undertones of Asian hair), color-care hair masks, and shine spray just to ressurect it's life every time.

3. Upkeep is high-maintenance and expensive!
Root-retouching may go from every two weeks to a month. You will also need a toner, a hair dye that may be violet or green, because color will definitely fade. This will boost the radiance of blonde hair every month.

You can go the DIY route if you're bold, but personally, I prefer to entrust complicated things like this to a professional salon stylist. A salon trip may cost you P2,000 to P5,000 per visit.

4. You might need to say goodbye to heat styling.
Your bleached strands have already received a beating, so curling irons and straighteners can fry them even more. It's important to use a heat protectant mist or lessen the frequency of heat styling.

5. You need to change how you do your makeup—sometimes.
Since your hair is in a lighter color, your face may tend to look washed out. You may need to pay attention to your brows and wear bold lipstick to define your face.

6. Just own it!
Before I went blonde, I would always hear comments like, "Are you mestiza enough to pull it off?" or "But you're not maputi!" I did not let those comments affect me because it was hair, my money, my problem. I still went to the salon and haven't had regrets since then. When you want something really bad, gather all the confidence you can get and just do it! It's just hair—it will grow out.
ADVERTISEMENT - CONTINUE READING BELOW
Load More Stories