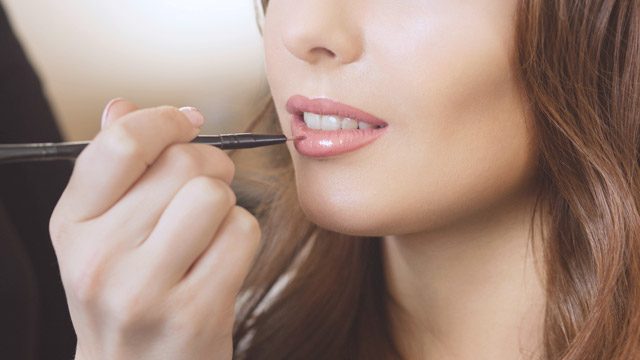 A recent survey done by Skin Store and featured by Cosmo.ph has revealed which lipstick shades made women feel empowered. Interestingly, while red is still considered a strong color, a subtler palette appears to be what many feel confident with—nudes.
The survey revealed that barely-there and MLBB shades make women "feel better about themselves," as these made them "feel more attractive and 'prettier.'" It can possibly be because no-makeup makeup and K-beauty are all the rage these days, but it's actually refreshing to know that women have diversified their choices.
ADVERTISEMENT - CONTINUE READING BELOW
CONTINUE READING BELOW
Recommended Videos
Nude shades are followed by pinks, then dark reds. If you're thinking of updating your lippie stash, here are a few you may want to try:
Nudes

There are a lot of nude and MLBB lippies that are found in the peach spectrum. They say that to find you perfect MLBB, you'll need to base it off the color of your nipples, but as with everything else, it's really what you feel makes you look good.
ADVERTISEMENT - CONTINUE READING BELOW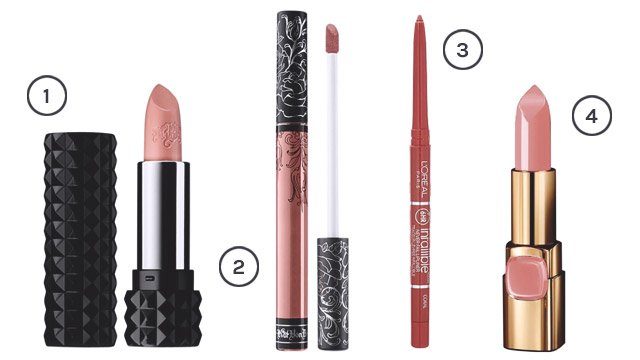 TRY: (1) Kat Von D Studded Kiss Lipstick in Agatha (matte pale peach nude), P1,233; (2) Kat Von D Everlasting Liquid Lipstick in Bow N Arrow (fawn nude), P1,194, available at Sephora.ph; (3) L'Oreal Paris Infallable 6HR Lip Liner in Coral, P400; (4) L'Oreal Paris Color Riche Lipstick in Peach Dream, P280 available at Lazada.
ADVERTISEMENT - CONTINUE READING BELOW
Pinks

While there are a lot of peachy-pinks out there, we'll stick with MLBB-worthy soft pinks which have a touch of red. If you know the right shade to pick, pink lippies can make you look fresh and young. If you want to radiate tenderness and playfulness, this shade can be pretty good for you.
ADVERTISEMENT - CONTINUE READING BELOW
If you want a more noticeable pop of color, try lippies in shades of berry pink and mauve. As a feature on Good Housekeeping notes, a purplish tinge will give your face a good contrast and immediately brighten it.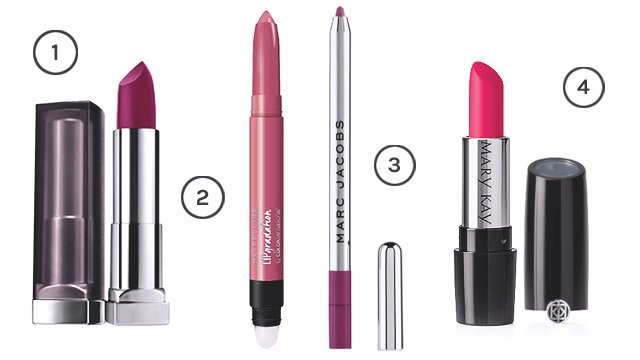 TRY: (1) Maybelline Creamy Matte Lipstick By Color Sensational in Ravishing Rose, P299; (2) Maybelline Lip Gradation By Color Sensational in Mauve1, P349, available in beauty bars and department stores; Marc Jacobs Beauty (P)outliner Longwear Lipliner Pencil in Currant Mood, P1139, available at Sephora.ph (4) Mary Kay Gel Semi Matte Lipstick in Powerful Pink, P700, available via Mary Kay Philippines and accredited direct sellers.
ADVERTISEMENT - CONTINUE READING BELOW
Dark Reds

The fire engine red trend may have run its course, but deeper hues are still a kikay kit staple. While women who wear reds are said to be approached by men more often, the main perk of this shade is that it can give you a polished finished look while making you feel that you can take on the world in high heels.
ADVERTISEMENT - CONTINUE READING BELOW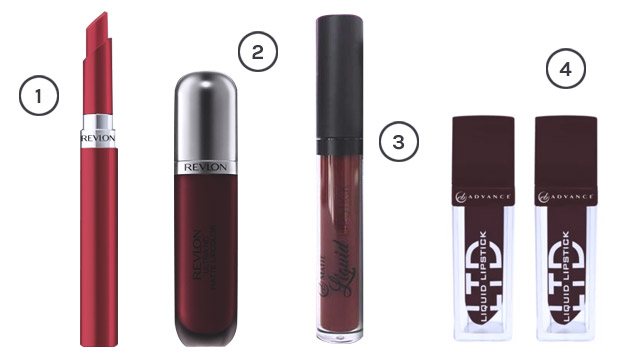 TRY: (1) Revlon Ultra HD Gel Lipcolor in HD Adobe, P575; (2) Revlon Ultra HD Matte Lipcolor in HD Infatuation, P575, Ever Bilena Matte Liquid Lipstick in Rouge Berry P195, available in department stores and beauty counters; (4) Ever Bilena Advance Liquid Lipstick in Chocolate Truffle (2 pcs), P360, available at Lazada.
ADVERTISEMENT - CONTINUE READING BELOW
Comments
Load More Stories