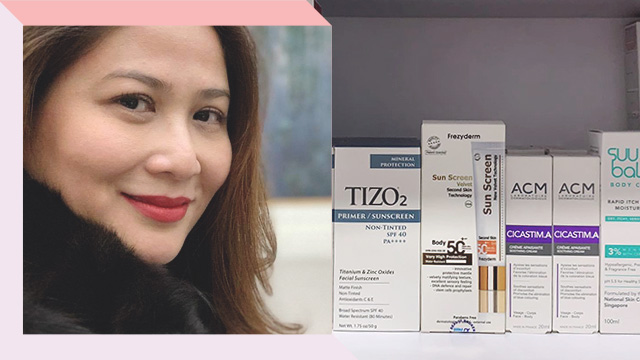 It's safe to say that every dermatologist's skincare routine is always a step above the average person's. After all, these are people who know their stuff, and unlike us, they have prime access to the best and latest beauty technology out there. The best we can do is live vicariously through them—or at least, ask them to spill all the skin secrets they're willing to spill.
ADVERTISEMENT - CONTINUE READING BELOW
Today, we're looking at the beauty regimen of another derm we have on speed dial: Dr. Windie Villarica-Hayano of The Skin Inc Dermatology and Laser Center.
Dr. Windie Villarica-Hayano
Dr. Windie has been in practice as a dermatologist for 11 years. She graduated from the St. Luke's College of Medicine in 2000, then finished a year of Pathologic Dermatology The Insitute of Dermatology in Bangkok. Later, she received training in Laser Surgery in Ramathibodi Hospital under Mahidol University.
After a scholarship in Japan, she returned to Thailand for her fellowship in Laser and Dermatologic Surgery for two years, then went into residency at the Research Institute for Tropical Medicine before stopping due to pregnancy complications. But as a self-confessed nerd by heart, she eventually continued to train in courses abroad, including Anti-Aging and Regenerative Medicine at the American Academy of Anti Aging Medicine.
Outside the clinic and her constant training, though, Dr. Windie spends her time traveling, and considers it her biggest vice. "Prior to COVID, I think I spent a big chunk of the year outside the country in some conference or training course. Lately, I have been invited to lecture outside the country which is fun and challenging at the same time," she shares.
When she's not attending lectures abroad, she's with her kids, family, and friends. She also admits she spends a lot of time at beach—which, for a dermatologist, is quite the surprise (she delves into her sun care later). She enjoys sailing, too, and wants to take it up seriously soon. When asked to share one interesting fact about herself, she goes: "I read scientific papers for fun. Does that make me sad? [Laughs.]"
Her personal skincare philosophy
"K.I.S.S.! Keep It Super Simple. Although I know that's easier said than done. but you see, that's why you should start young [with skincare]. Start Now."
Skin type, skin issues, skin goals
"There are a lot of ways to classify skin type. My personal favorite is the Baumann Skin Types because for me it makes the most sense and practically incorporates all the factors we use to type skin. If I follow this, I would say, I am skin type 14—DRNT (there are 16 in this scale) and I am dry, resistant, non-pigmented and tight. In a lot of ways, I am incredibly blessed. But skin typing is dynamic.  It can change with age and even seasonality. As I am getting older and in the peri-menopausal range, my skin becomes drier than before and I can see that the pattern is hormone dependent. As such, I have been using more antioxidants and peptide serums then topping up with heavier cream formulation.
ADVERTISEMENT - CONTINUE READING BELOW
"My neck has been such a bane because I was born with very thick horizontal bands and I love perfume (yes, another anti-derm thing and another chapter of discussion). So taking care of my neck is one of my pre-occupations. I didn't bother much with it as much as I did with my face so I'm trying to keep up now. Same with my hands.
"My hair! OMG…You can really tell I have ahjumma concerns now but all those years of putting my hair in a bun (up to this day) is showing. Traction alopecia is real, people. So I have been obsessing over this as well and since my patients are my age group, I see this as a general issue with women my age and older. Hair loss also happens to women so it is something I am becoming more concerned about. 
"So goal-wise, my intention is to modify or trick my body into thinking that it is young. [Laughs.] That's so Samantha from Sex in the City but it is true. I want to grow old as healthy as possible and that is dependent on keeping bio-markers like sugar, cholesterol, enzymes, hormones within normal levels."
ADVERTISEMENT - CONTINUE READING BELOW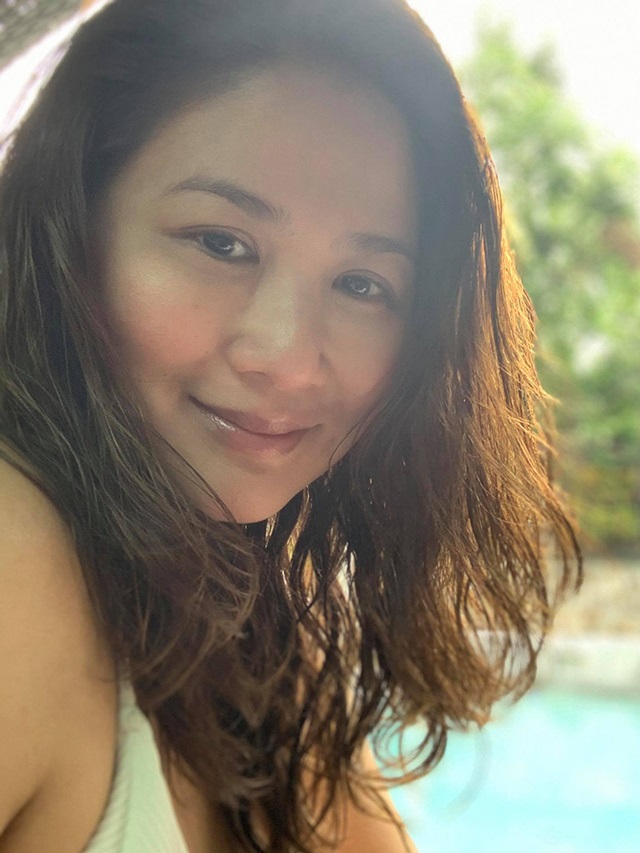 Dr. Windie's Skincare Routine
(Ed's note: The products mentioned in this article are used by the featured dermatologist in her personal skincare routine. It does not serve as an endorsement or a recommendation.)
"I've always had a simple routine of clean, moisturize, repair and protect. I use all brands from luxury to drugstore products. I don't really think that your skin care should be so expensive that you have to sell your kidney. It really does not mean that an expensive brand is superior to a cheaper line or that organic, vegan, eco-friendly provenance will mean total hypo-allergenicity or 100% cosmetic elegance. That's just not it. No matter what brand it is, you can still get an allergic reaction."
ADVERTISEMENT - CONTINUE READING BELOW
Cleansing and Toning
"When I see people using heavy scrubs and rubbing away with some brush or device, I truly hurt on the inside. I really do. I just cringe. You need a working skin barrier. You need that natural oil that the body produces. It is not meant to be stripped off your skin.
"I double cleanse if I have makeup on or I used a particularly thick tinted sunblock (after a beach day). I prefer to use a balm or oil cleanser. I massage it on dry skin with my fingers—no special silks, sponges or wipes, no aggressive scrubbing. I take time to really spread it and melt away the makeup then wash it away with water. I follow this up with a gentle foaming cleanser. I have been using Shiseido Tiss cleansing oil, Banila Co.'s cleansing balm, Senka Perfect Whip oil, and Biore cleansing oil. I actually find that these products really remove makeup in one go. But since they leave a film of oil, I follow it up with a foaming cleanser or a micellar cleanser after. Prior to these other types of cleansers, we only had good old Cetaphil, which I still use to this day, but I use it more as a second step.
ADVERTISEMENT - CONTINUE READING BELOW
"As a step two, I like a mild gentle foam if my skin is not too dry. I use practically any thing. I am more particular about the make up remover.
"I am not a toner girl so I normally skip this 'cause I'm lazy. If I do use one, I also don't use cotton, I just use my hand. Yes, I know it's liquid but wiping with anything irritates my skin!"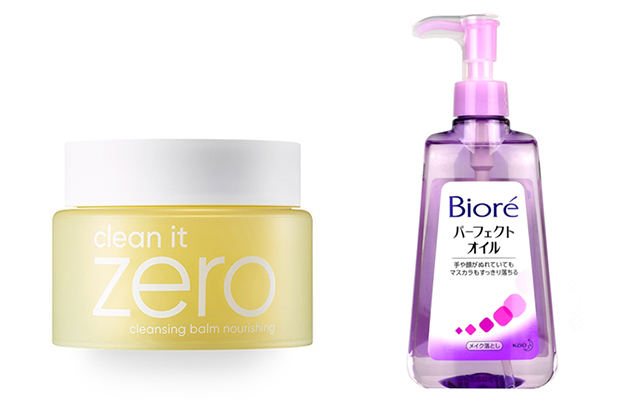 ADVERTISEMENT - CONTINUE READING BELOW
TRY: Banila Co. Clean It Zero Nourishing, P1,595/180mL on Banila Co Lazada; Biore Cleansing Oil, P349/150mL on Biore Shopee, Watsons Lazada, Watsons Shopee
Serums
"I love serums because I don't like sticky formulations. I like something with an AHA or an antioxidant and anti-inflammatory product. I like hyaluronic acid or silicone based products because of the hydration and cosmetic elegance. I know some people might have beef over the silicones or dimethicones, but if I don't like the 'feel' (this is where cosmetic elegance falls) of the product on my skin, I can't be compliant. I believe a lot of people fall into this category in terms of sticking to a product.
"I personally like Belif Youth Creator serum (the purple bottle, I hoard this), stuff from The Ordinary (like the Buffet, Niacinamide and Zinc), I like the effect of vitamin C, but you know, a really good one will have a residual smell once it gets oxidized later. Skinceuticals has a great formulation and you can mix it with their ferrulic acid too. Some By Mi's Galactomyces and Vitamin C serum is also great. SK-II, Lancôme Genifique and Visionnaire, Shiseido Ultimune Concentrate, the Dior Prestige Line and Usana's Celevive Vitalizing Serum are products that I have tried and liked. I know some of them have fragrances (very non-derm like) but I am not allergic to them. If you are, you need to ask your doctor for other specific options.
ADVERTISEMENT - CONTINUE READING BELOW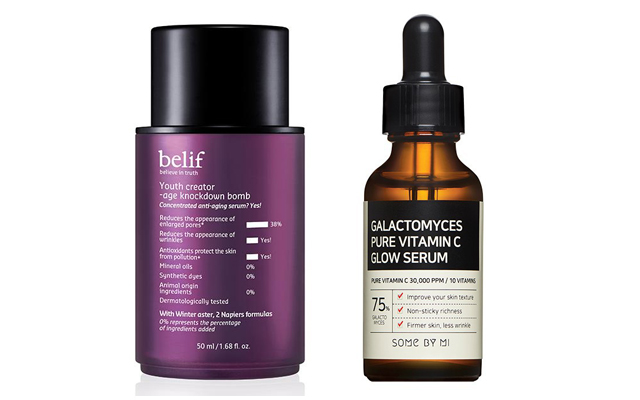 TRY: Belif Youth Creator Serum, $65 (around P3,122), belifusa.com; Some By Mi Galactomyces Pure Vitamin C Glow Serum, P775/30mL on Some By Mi Lazada, P770/30mL on Some By Mi Shopee
"When my skin is really looking yucky (as part of my PMS), I do a 1927nm Thulium laser on my face and use a growth factor serum from Lutronic (the SC serum) or Daewoong Pharmaceutical's Easyef, which is loaded with epidermal growth factors (this is in clinic). They have a cosmetic line Easy Dew which is also good."
ADVERTISEMENT - CONTINUE READING BELOW
Sun Care, Makeup, and Mists
"For a derm, I love the sun and the beach and all things outdoors. And I don't believe in whitening because I love being morena. Depending on the condition of my skin, I can skip the moisturizer but I put on sunscreen. I have been using the tinted formulation of Tizo, the non-tinted Frezyderm for my body (my kids love this) and Heliocare capsules on beach days. I reapply every two hours. For daily use I like Tizo because it's like a good primer for my makeup. I also don't forget to protect my hair! It can get dry and damaged by sun, sea and wind. I use this Klorane Protective Oil on top of everything else.
ADVERTISEMENT - CONTINUE READING BELOW
TRY: Tizo Tizo3 Facial Primer/Sunscreen Tinted SPF 40 PA+++, $41.99 (around P2,017), tizoskin.com; Klorane Sun Radiance Protective Oil with Ylang-Ylang, P1146.88, caretobeauty.com
"For makeup, I'm obsessed with Chanel Les Beiges Eau de Teint (I just don't understand why it's out only during summer) and that's it for the day time. I'm all about natural low key, but I don't mind a red lip. My favorite is Victoriana by MAC, but for a natural shade, Mehr.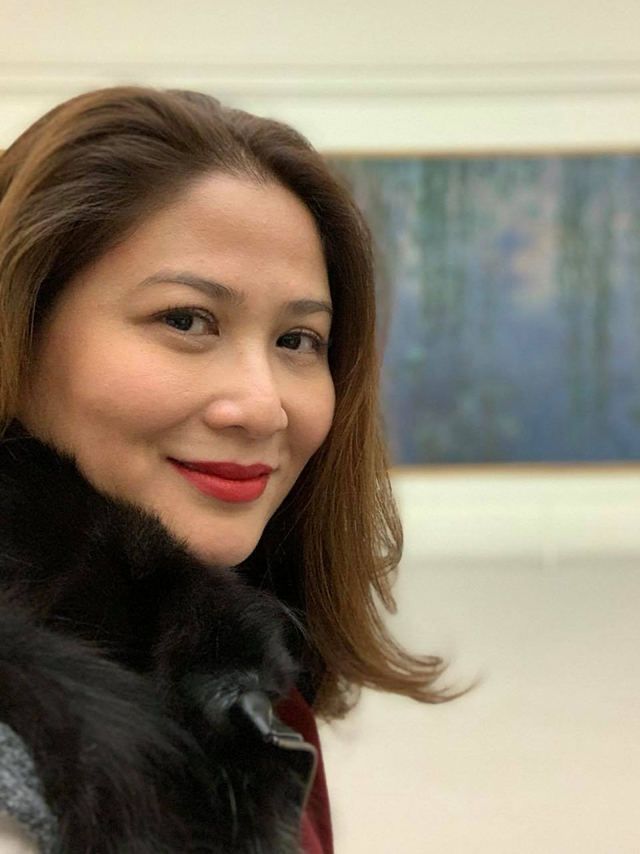 ADVERTISEMENT - CONTINUE READING BELOW
"Lately because of COVID, I don't get to put much makeup on and the masks are super tight. I find that I have to wash my face in between. So I really can't do without exfoliation and hydration. I have a serum or light moisturizer in the clinic. I use a lot of mists now like Avène or Uriage Thermal Water (Trivia: It can actually decrease bio film microflora load of the skin) Happy Skin, Dr. Jart or whatever mist is available. I just mist away.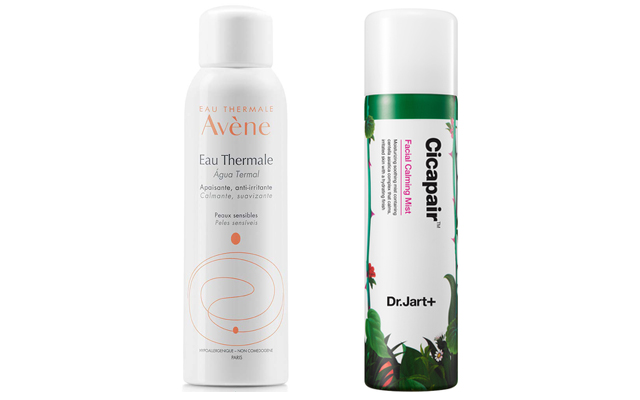 ADVERTISEMENT - CONTINUE READING BELOW
TRY: Avene Thermal Spring Water Spray, P800/150mL on Avene Lazada, Avene Shopee, Watsons Lazada, Robinsons Department Store Shopee; Dr. Jart Cicapair Facial Calming Mist, P1,260/150mL on Sephora.ph
On Retinoids and Eye Creams
"At night, I pretty much put the same things. Since I was a teenager, I have been using Adapalene, which is a retinoid at night. I only stopped during pregnancy. I am very used to Adapalene (Differin) so after serums I put this to this day but I add a thick moisturizer nowadays because I can get so dry especially nearing my period and now that I tend to rinse my face with water during the day because of the mask wearing. I like Belif True Cream Moisture Bomb on top of my serums, Cicaplast from La Roche Posay or something with madecosside or centella asiatica when I''m having seborrheic dermatitis.
"My partner, Dr. Jacqueline Ty-So got me into the Laneige lip mask, and I thank her for it. I sometimes even put that around my eyes (eek!) when I'm in cold, dry weather. Teoxane RHA Eye Serum is also great and this eye cream from Mizon. What a good find."
ADVERTISEMENT - CONTINUE READING BELOW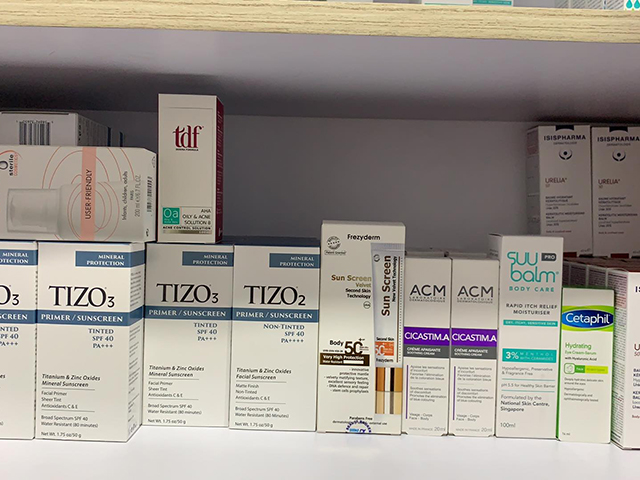 The skincare steps she can't skip
"Whatever serum I can get my hands on and sunblock. Put one in your bag. Really, no excuses."
Favorite skin treatments
"Every two weeks I do the Spectra gold toning laser at 595nm followed by low level light therapy at 830nm because I am dry and rashy and it helps control my inflammation.
ADVERTISEMENT - CONTINUE READING BELOW
"Every three months I do a mild 1927nm thulium laser with Ultraformer III—a focused ultrasound on my face followed by growth factor application. The 1927 Thulium serves as a cosmetic delivery device, I make the most of the growth factor serum especially during the first week post procedure. 
"Every four months, botox on my face and microbotox on the neck. Because I hate to sweat, I put botox on my armpits every seven to eight months (for some reason it lasts so long on armpits)."
Favorite skin treat
"When I'm extremely dry, flying trans continental and being rashy, I use the LASEMD mask or the Dr. Jart and Sulwhasoo (their face cream is amazing but so blood chilling in price) masks. The lasers and injectables are extra treats because, lasers and energy devices can elicit a type of repair and specific help that no amount of skin care can do. That's just a fact.
ADVERTISEMENT - CONTINUE READING BELOW
"I love my skincare but if I rely only on topicals, I don't think I can get the same results. It's good to have the habit of using topicals with active ingredients but aging happens in a cellular level and the manifestation of aging is dimensional. You can't expect to get a lift, a visible lift and volumization from topical agents. Reality and expectation should meet in the middle. The middle is moderated by science. I think people have to understand that."
The products that made the biggest difference
"Botox is your best friend. I've been doing this since I was in still in training at 26. Plus, I have been using retinoid or AHA since I was young in a form of either a serum or cream and have been good with sun protection for decades. It has been indoctrinated and hard wired into my being and this kept me away from photo aging and pigmentation even during pregnancy.
ADVERTISEMENT - CONTINUE READING BELOW
"Since I am 45, I have already started to see a lot of volume loss on my temples and cheeks, my good friend, Dr. Elena Rossi just couldn't help herself and injected a hyaluronic acid filler on me. I'm so happy she did that for me, actually. [Filler] is a gift that keeps on giving. My hands have also taken a beating with age, and now this frequent hand washing just basically kills them. So I have injecting hyaluronic acid fillers in them too. MAGIC!"
Her non-skincare habits for good skin
"I obviously am a believer of technology but let's not forget about sleep, water, and diet. Get rid of all forms of stress that you can get out of your life. Sugar is sweet but it is just plain bad for you in all ways. The roles of diet and gut microflora are now coming into light. I've been taking supplementation a bit more seriously now."
ADVERTISEMENT - CONTINUE READING BELOW
What to avoid for good skin
"Stress in what ever shape size or form. If all things fail, BOTOX. Spend a day at your dermatologist's clinic. [laughs]"
Best skincare tips
"Start good skincare habits early on. If you didn't start yesterday, start now. Skincare can only take you so far, so have a dermatologist guide you as you age. Maintenance is key. Don't be in denial about the effects of aging. It sucks. If you don't see it on your face, you will feel it on your knees."
This story originally appeared on Preview.ph.
Load More Stories