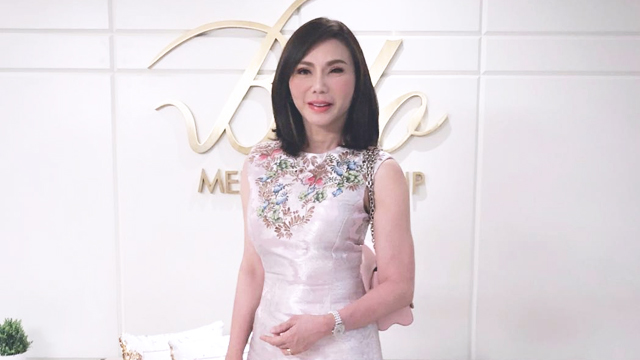 Dr. Vicki Belo believes "an ounce of prevention is worth a pound of cure" when it comes to skin care, so she often gives tips on how to take care of our skin on her Instagram feed.
In a video posted on June 21, the dermatologist answered some of her followers' frequently-asked questions about dark underarms. 
Does calamansi really brighten armpits?
According to the skin expert, the answer is no.
Dr. Vicki explained, "Calamansi is an acid and it can whiten in some people like, if you have marks on your legs. But sometimes, it makes it even darker. Most of the time, it makes it darker 'cause it's an acid that burns your skin. And as you know, the skin in the armpits is really really thin, and if you put calamansi there and leave it on, most probably, it will burn your skin and make it darker.
ADVERTISEMENT - CONTINUE READING BELOW
"So please do not use calamansi on your armpits because the skin is so thin."
The beauty doctor said you can try using calamansi as a brigthener on areas with thick skin, but suggests not to use calamansi to whiten your skin.
She further explained, "The only area that I might recommend, but not really, but you can whiten a bit, I think, are the thick skin areas like the elbows and the knees. But there are many better things to whiten those areas than calamansi."
Is it better to use tawas as a deodorant?
Many people prefer to go organic when dealing with their sweaty armpits. Some use tawas as deodorant, but Dr. Vicki revealed that tawas may actually darken your underarms.
"The scientific name for tawas is aluminum chloride. Aluminum, does it sound familiar? Do you have aluminum pans, utensils? You know that if you put it in the armpit, and if it perspires and it's acidic, then most probably, the aluminum will rust.
"So if you use a lot of deodorants and if you see at the back of the bottle na the ingredients, which is the most common ingredient is aluminum chloride, many chances na it might even darken your armpits."
Can scrubbing brighten armpits?
Another myth Dr. Vicki debunked in her video is the penchant of Filipinos to use bimpo or a small towel to scrub the armpits.
She warns doing this will make your armpits darker. "Rubbing your body is traumatic. It hurts your skin. And just like anything, Asian skin is very, very unstable. So if you get an insect bite, let's say mosquito or even when you go to the beaches and those niknik flies bite you, your skin will get dark because Asian skin reacts that way.
"And if you use a bimpo and you rub it roughly, you're also creating trauma."
The beauty doctor added, "The armpit, is again, very manipis na skin, very sensitive. So whatever effect that it has on the other parts of the body like the neck, it's triple if it's the armpits. So please, do not use a bimpo to rub your armpits. You cannot scrub away the dark area."
ADVERTISEMENT - CONTINUE READING BELOW
Treatments to brighten armpits
Dr. Vicki said it's okay to use tawas as an antiperspirant, but added that it is important to use it with a brightening agent. 
She explained, "We use aluminum chloride because it's the best antiperspirant there is. However, we do put whitening agents in our beauty deodorant, so that it will neutralize and even make your armpits whiter. 
"That's the reason why we add the whitening ingredients from Paris. That will neutralize the rusting kasi kumakalawang, in other words, 'yong armpits niyo."
She said one of the main reasons why underarms darken is because of trauma caused by deodorants.
Dra. Vicki suggests to get Botox Hyperhydrosis for your armpits, which will also prevent them from sweating.
It costs around P17,000 per session at Belo Medical Group. The results will last for about six months.
Dra. Vicki said, "It is a little expensive, but for six months, you don't have to worry about your armpits at all. For me, it's the most worth it thing, and for many of our patients, they say it's so liberating to not have to put deodorant every day."
If you have a serious case of dark underarms, Dra. Vicki suggests the Angel Whitening Treatment. "You do it once every three weeks, and you have to do six to eight sessions. But it's the most effective thing that I have seen. "
Dr. Vicki added, "We also have the ultrasonic wave that removes dead skin and dark color from the armpits, which you can do between your Angel Whitening treatments."
Load More Stories