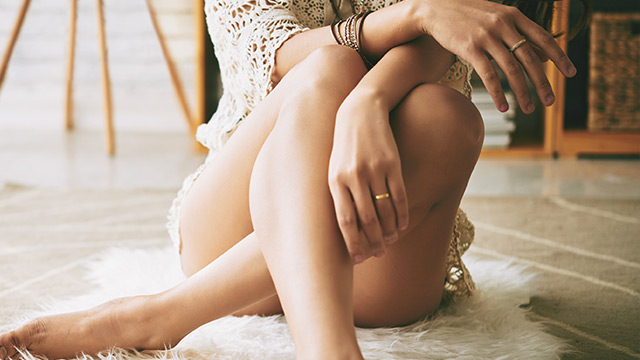 When we think of "skincare," we tend to forget that our skin from the neck down deserves some TLC, too. But if you're obsessed with glass skin (AKA that poreless porcelain perfection), then here's a must-try treatment to give you baby-soft and smooth skin—not just your face, but your entire body. Read on to find out more about this painless glow-inducing procedure below.
What It Is: Belo Medical Group's Wet and Dry Dermabrasion
Rate: Price available upon request
Location: G 107, Bonifacio High Street, 7th Ave, Taguig
Belo Medical Group's Wet and Dry Dermabrasion is a whole body facial that cleanses and exfoliates, while infusing antioxidants and peptides to make your skin look and feel supple and glowing.
ADVERTISEMENT - CONTINUE READING BELOW
Current Condition
I don't have major skin concerns all over my body, but I do struggle with chicken skin in certain areas like on top of my knees. I'm also lazy when it comes to applying lotion on the daily so my skin is dry and visibly dehydrated. 
The Procedure
The session starts with a general full body cleanse with a wipe soaked in witch hazel. It's followed by the dry dermabrasion. The next step is a combined crystal exfoliation and suction. The process thoroughly removes dead skin cells through a powerful vacuum and preps your body for the serums to follow. I've had body scrub before but this type of exfoliation technique is far more thorough and leaves your skin extra clean, too.
The wet dermabrasion follows right after with the application of two powerful serums into your skin. First is the Activ 4, a serum also used in their Hydrafacial that helps remove dead skin cells for a renewed complexion. It's also an exfoliator but in liquid form, which is quite unique. Before applying the next serum, the facialist lets your skin absorb the serum fully first, this means a pause in the treatment room lasting for five to 10 minutes.
Next is the Antiox serum that's a cocktail of peptides and hyaluronic acid. This makes your skin extra smooth and supple to the touch. After the second serum application, I was feeling pretty cold inside the air-conditioned room; if it happens to you, note that you can always tell your facialist and she can turn down the AC to make you more comfortable. A cold room does make it feel really uncomfortable given that you can't move because the serums need time to dry and be absorbed by your skin for about five to 10 minutes. 
The last step is when they apply bleaching cream all over the body for that added glow. I was a bit surprised with this step since I knew Lovi Poe endorses the treatment and she's a proud morena. But talking to the doctors at Belo, they did assure me that the bleaching cream doesn't work overnight. They add that step to enhance ones' healthy glow after the procedure. Sure, there's a visibly white cast, but after showering the next day, it does leave you with that subtle glow.
ADVERTISEMENT - CONTINUE READING BELOW
Conclusion
Instantly, I could say that my knees have never been this smooth in my entire life! They immediately felt so soft and silky, and it just took one session! My legs looked hydrated, too, and nothing like the dry dessert terrain prior to the treatment. I hoped that my chicken skin would drastically disappear, though, which didn't exactly happen but they did feel less rough in the following days after the treatment.
ADVERTISEMENT - CONTINUE READING BELOW
My favorite part would have to be the exfoliation process because it's been a while since I properly detoxed my skin all over my body. Also, the treatment was able to get rid of the dead skin cells on my upper back, which is hard to reach whenever I shower and try to exfoliate! I'd definitely recommend it to anyone who's been dealing with dry skin patches—most definitely rough knees!—since it gets the job done all in one go. 
For inquires you can contact Belo Medical Group (+632) 819 2356 or visit their website here.
This story originally appeared on Preview.ph.
* Minor edits have been made by the Femalenetwork.com editors.
Load More Stories