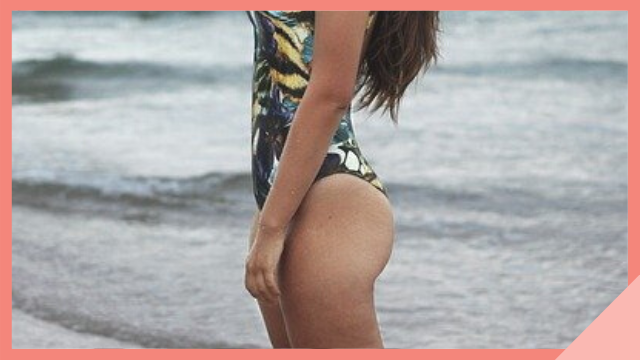 Our inner thigh area and singit tend to be discolored, and this is most commonly caused by wearing tight underwear—something that no one can honestly really avoid. But if it's something that bothers you, here are a couple of at-home and professional remedies you can try: 
ADVERTISEMENT - CONTINUE READING BELOW
1. First things first: Wear seamless panties to minimize chafing.
Thigh chafing may be unavoidable, but you can lessen the friction that causes your singit to discolor by investing in seamless underwear. Unlike regular panties, these aren't lined with tight garters, so they keep your bikini line from becoming irritated when you move around.
CONTINUE READING BELOW
Recommended Videos
2. Soothe and hydrate your singit. 
Another thing you can try moisturizing your inner thigh. Make it a habit to apply a soothing aloe vera gel to the area. Doing so will reduce friction and will calm your skin down. P.S. Avoid applying scented creams or lotions on your singit as they will likely irritate it even more.
ADVERTISEMENT - CONTINUE READING BELOW
TRY: The Face Shop Jeju Aloe Fresh Soothing Gel, P250, Lazada
3. Exfoliate with a soap bar that's infused with fruit acids.
Exfoliation is key to fading the discolored areas of your singit. As you slough off the topmost layers of the skin, it will allow your brightening creams, oils to work better, too.
While scrubbing the skin with calamansi is known to even out discolored areas like knees and elbows, it can be too harsh for sensitive parts of the body like the underarms and the bikini area. The same goes for abrasive scrubs that typically contain microbeads. As an alternative, look for soap bars with exfoliating ingredients like kojic acid, glycolic acid, and fruit acids like vitamin C. When showering, leave them on for three minutes before rinsing the soap off to allow the ingredients micro-peel the top layers of your skin—sans the scrubbing. 
ADVERTISEMENT - CONTINUE READING BELOW
TRY: One Earth Organics Illumina Milk Soap, P249, available online
TRY: Kojie San Skin Lightening Soap, P68, available on Lazada
4. Use natural oils to lighten your bikini area.  
Sunflower beauty oil works amazingly in smoothening out rough 'chicken skin' on the armpits, but what most people don't know is it also has skin-brightening properties. Massage a few drops of sunflower oil on your inner thigh area before going to bed!
ADVERTISEMENT - CONTINUE READING BELOW
TRY: Human Nature Sunflower Beauty Oil, P174.75, available online
This face and body oil contains a powerful blend of potent oils and extracts from calamansi, papaya, camellia japonica, and grapefruit to even out any discoloration in your bikini area. 
ADVERTISEMENT - CONTINUE READING BELOW
TRY: V&M Naturals CPC+G Oil, P35O, available online
This cult-favorite miracle oil is famous for its ability to reduce the appearance of scars, and it can be used to lessen the irritation on your inner thigh, too. It's formulated with vitamins A and E, and calendula oil, lavender oil, rosemary oil, and chamomile oil.
To see the best results, apply it twice daily for a minimum of three months. 
ADVERTISEMENT - CONTINUE READING BELOW
TRY: Bio Oil Purcellin Oil, P785/125ml, available on Lazada
5. Invest in laser treatments!
Of course, the fastest way to see results is to splurge on a laser treatment. Here are some being offered by local derma clinics: 
Belo Angel Whitening Laser 
Aside from the bikini area, this laser treatment is used on the face to target concerns like dark circles, acne scars, spider veins, fine lines, and wrinkles. During the procedure, Belomed.com notes that "you'll experience gentle warm snaps on the skin as the device is glided over the treatment area." There is no downtime, but you may experience temporary mild redness after the laser treatment.
ADVERTISEMENT - CONTINUE READING BELOW
Skin Station Intensive Groin Whitening
This laser treatment makes use of glycolic acid and diamond peel, as well as a special essence made from wheat extract, to exfoliate the skin. According to Skin Station's website, the treatment should be done every two to three weeks! 
Skin House RevLite Pigment Laser
Revlite is a non-invasive laser treatment that targets roughness and discoloration. It emits light in rapid, short pulses to stimulate the production of new collagen (the protein that holds the skin together) in your body. As a result, it improves the texture of your skin. Skin House notes that results can be seen after five to ten sessions. 
ADVERTISEMENT - CONTINUE READING BELOW
Load More Stories