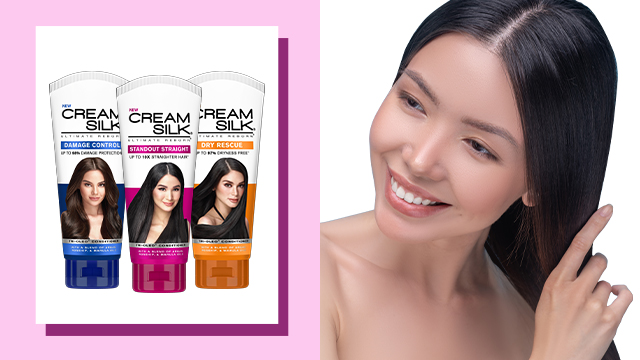 Hair goes through a lot of changes as we age. For some, their strands become more prone to dryness and rough hair texture. These become unmanageable if we also factor in a stressful lifestyle and even environmental conditions like sun exposure or air pollution. There comes a need to assess how we're taking care of our hair. Are we doing enough or should we improve our hair care routine to be greater? Maybe it's time to change up our essentials and try something new. In case you didn't know, Cream Silk recently launched their new Ultimate Reborn Tri-Oleo Conditioner range and it promises to help nourish dry, lifeless strands. Here's what you need to know:
It has lightweight nourishing oils.
Infused with Tri-Oleo Complex, Cream Silk's new conditioner range has three essential hair oils: marula to help moisturize hair, argan to help strengthen weak strands, and rosehip to help smoothen rough hair texture. Tri-Oleo Complex goes well with Cream Silk's potent conditioning technology because they really make sure your hair looks and feels beautifully reborn.
You can choose a conditioner according to your hair type.
Count on Cream Silk Ultimate Reborn Conditioner range to help address different hair concerns. If you're dealing with unruly frizz, you can try the Cream Silk Ultimate Reborn Standout Straight Tri-Oleo Conditioner. It has Frizz Defense Complex that focuses on smoothing the strands and taming the frizz.
Aside from dryness and frizz, hair fall is another concern that needs our attention. Hair fall could be a sign of lack of nutrients and brittle strands. You'll have to use Cream Silk Ultimate Reborn Hair Fall Defense Tri-Oleo Conditioner. Along with nourishing oils, it has Break Shield Complex that helps strengthen strands and lessen hair fall.
If your hair becomes too damaged from heat and styling, don't hesitate to pick up Cream Silk Ultimate Reborn Damage Control Tri-Oleo Conditioner. It can help revive lifeless hair with nourishing oils and Fiber Repair Complex that further aids in restoring dull strands.
Is dryness the common denominator in all your hair concerns? Should that be the case, you can turn to Cream Silk Ultimate Reborn Dry Rescue Tri-Oleo Conditioner. It has Moisture Lock Complex that helps protect and save your hair from dryness and dehydration.
Growing out your hair isn't easy. For one thing, you don't have salon treatments to ensure your locks are in great shape. While you're at home, you can use Cream Silk Ultimate Reborn Long and Luscious Tri-Oleo Conditioner with Fibra-Boost Complex that helps nourish hair fibers for healthy-looking locks.
Make your hair feel #RebornToBeGreater with the Cream Silk Ultimate Reborn Conditioner range. Shop them at leading supermarkets and grocery stores as well as online. For more info, follow Cream Silk on Facebook.
This article was created by Summit Storylabs in partnership with CREAM SILK.