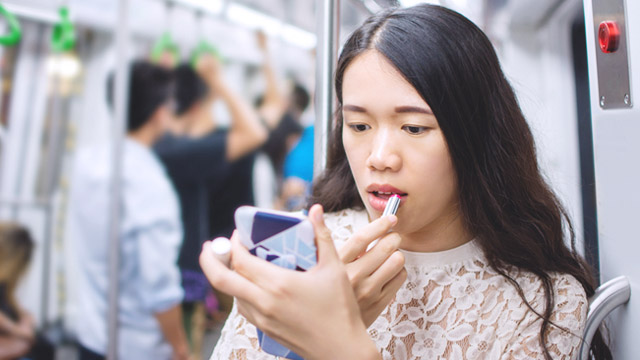 As if wading through traffic isn't difficult enough, our country's weather is always bent on melting off your makeup. While it's logical to pretty up at work to avoid hulas, heading out with a full face on can give you that bring-it-on feeling on a hectic work morning. If you're a beauty-loving commuter who braves the sun and the smoke on a daily basis, then here are a few tricks to protect your done-up face: 
ADVERTISEMENT - CONTINUE READING BELOW
CONTINUE READING BELOW
Recommended Videos
1. Use lightweight, non-sticky skincare products.
As fun as layering skincare products can be, it's not wise to go overboard right before your morning commute. Because yes, there is such a thing as being too moisturized when your non-airconditioned ride isn't moving fast enough to have air blow in from the windows. If you have oily skin, stick to products that are lightweight to ensure they're absorbed by your skin. Anything that leaves your skin icky and tacky to the touch is immediately out.
2. Apply sunscreen.
Standing under the merciless morning sun is a serious part of commuting. Always apply sunscreen with at least an SPF of 30 to avoid getting sunburned or developing a skin irritation while you're on the road. FYI, sunscreen works well as a makeup base or primer, too! A tinted one can even give you a bit of coverage or color correction so you can skip foundation altogether. That, and it will stop your acne scars from darkening as you wait for your ride.
ADVERTISEMENT - CONTINUE READING BELOW
3. Always powder your face.
Imagining the amount of dirt we're exposed to during our commute is dizzying, so the least we can do is protect our skin against it in some way. For one, setting your face with powder will lessen your chances of being a dirt magnet while locking in your blush, foundation, and the rest of your makeup. That's because most specks of dirt (sometimes sweat, too!) will bounce right off a non-sticky, well-powdered base, which is exactly what you want to happen.
4. Set your brows.
Sometimes, even longwearing brow pencils are no match for the melting powers of sweat. On a hot day, you might leave the house with a full brow and arrive to your destination with only half. Our advice? Always use something waterproof or longwearing like a brow gel or brow pomade to help your arches beat the heat. That way, you'll only have to blot with a tissue once you reach your destination.
ADVERTISEMENT - CONTINUE READING BELOW
5. Try a setting spray.
Not to sound like a broken record, but setting sprays are truly hairspray for your face. You can give yourself a thorough spritz after powder to seal everything in twice. Or, you can use it as an alternative to powder if you're not into the matte look!
6. Don't leave the house without a pack of tissues.
The unpredictable weather in this country merits extra safety measures. Some days are just more humid than others, which is why it's important to be armed with tissues 24/7 to help you fight off sweat and oil. If you're on your way to an important meeting, it's a good tool that will leave you looking as fresh as you did when you left the house.
7. Bring a portable fan.
If you want to survive traffic, then best have this handy tool in your bag. Positioning a portable fan in front of your face will keep sweat from melting your makeup. 
ADVERTISEMENT - CONTINUE READING BELOW
This story originally appeared on Preview.ph.
* Minor edits have been made by the Femalenetwork.com editors.
Comments
Load More Stories