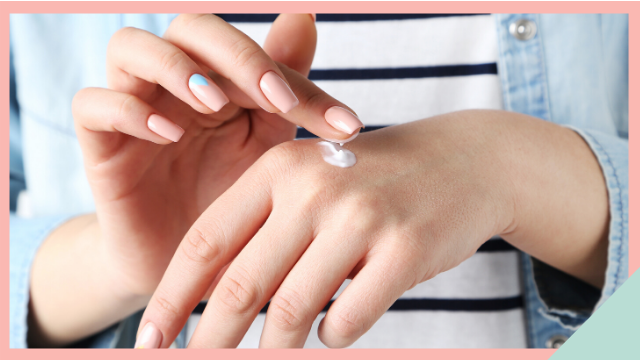 Since the whole sunscreen internet debacle with Gwyneth Paltrow, everyone has begun triple-checking their own sun protection habits. The priority, of course, is to get rid of all the sunscreen mistakes you might be accidentally making. And if you keep scrolling, that's exactly what we'll help do, plus give you some more essential SPF know-how on the side!
7 Sunscreen Mistakes You Might Be Making
1. Your sunscreen doesn't offer adequate protection.
At the end of day, wearing a little bit of sunscreen is better than none at all. But if you want to be as protected as possible from the sun, you definitely need to be more discerning when choosing your products. In short, check those labels!
To achieve adequate protection, the American Academy of Dermatology recommends wearing a suncreen with at least an SPF 30 daily to block 97% of UV rays. The product also has to have broad spectrum protection, which means that it can protect you from both UVB (burning) and UVA (aging) rays.
ADVERTISEMENT - CONTINUE READING BELOW
Even when you're only staying indoors, experts at the Skin Cancer Foundation still recommends wearing a broad spectrum SPF 15 or higher every day to protect yourself—windows can't shield you from UVA rays, after all.
TRY: Sun SPF 50+ Light Gel, P807, CETAPHIL, Lazada; Acne Sunscreen SPF 50+ PA++++, P109, OXECURE, Watsons

2. You aren't using enough.
Even if you're using something with SPF 50 (or even 100), you can still get sun damage if you don't apply enough of it. Unlike your other skincare products, you need a lot more sunscreen than you think you do. We need at least two milligrams of sunscreen per square centimeter of our skin—way more than a small dot.
According to AAD, we need one shot glass full of sunscreen to properly cover our entire face and body. That's about one-fourth of a teaspooon for your face (or approximately two fingerfulls), and one-half to one-third of a teaspoon for your face and neck. Don't forget to apply some of it on your ears, too!
3. You're not wearing sunscreen indoors.
What's good about staying inside is that your walls, windows, and roof keep you from getting sunburnt courtesy of UVB rays. But what these things don't protect you from are UVA rays, which is the kind of UV radiation that can pass through those opaque surfaces like a relentless, skin-damaging ghost. So while these don't cause sunburn, UVA exposure does cause significant damage that basically degrades your skin health and leads to premature aging. Add that to the damage from blue light and indoor lighting that also accumulates throughout our lifetime. So yes, experts aren't exaggerating when they say we should wear sunscreen indoors every single day, regardless of the season, to protect our skin.
4. You're not protecting your entire body.
You know how we all accidentally miss a few spots while cleaning the house? That can happen with sunscreen, too. Many people tend to neglect their ears, eyelids, scalp (especially for the bald folk), hands, and feet when slathering on SPF, which makes some of these areas hotspots for sunburns and even skin cancers. If slathering all those areas with sunblock seems like too much trouble, you can protect them by bringing an umbrella or wearing long sleeves, pants, wide-brimmed hats, and sunglasses.
ADVERTISEMENT - CONTINUE READING BELOW
5. You're not using the right one for your skin type.
With the number of elegantly formulated sunscreens that are available today, finding the right kind for your skin type and needs is easier than you think. Not a fan of that greasy look? Try a mattifying or more lightweight formula. Sunscreen dries you out? Use an alcohol-free or moisturizing SPF. Hate the white cast? Go for a tinted sunscreen or one with chemical UV filters. Easy peasy! Now wearing sunscreen every day will be a breeze.
TRY: Sunscreen CC Cream SPF50+/PA+++, P995, SNAILWHITE, Watsons
6. You don't reapply.
Just like foundation or face powder, sunscreen fades throughout the day and needs to be reapplied to stay effective. Ideally, you should apply a fresh layer every two hours, especially if you're out and about. Putting on a second layer on top of your first one before stepping outside has even been proven to ramp up your protection. If that's not possible, though, you can just touch up with something more convenient like a face powder with SPF or a spray sunscreen—because again, a little is always better than none at all.
TRY: (Re)setting 100% Mineral Powder Broad Spectrum Sunscreen SPF 35 PA+++, P1,720, SUPERGOOP!, Sephora.ph
7. You don't wear it every day.
From everything we said above, it's safe to conclude that sunscreen is not your once-a-week special treatment product. It's meant to be used every day, and its long-term benefits will only be available to you if you make applying it the right way a habit. And by benefits, we don't just mean slowing down skin aging. Sunscreen's main purpose is to preserve your skin functions for as long as possible because UV radiation is definitely determined to do the opposite.
Follow Preview on Facebook, Instagram, YouTube, Tiktok, and Twitter to stay up to speed on all things trendy and creative. 
ADVERTISEMENT - CONTINUE READING BELOW
This story originally appeared on Preview.ph.
Minor edits have been made by the Femalenetwork.com editors.
Load More Stories