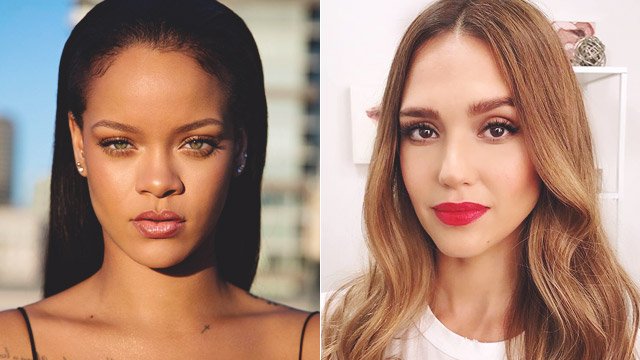 With Rihanna's Fenty Beauty now available in Sephora PH, we couldn't help but give mad props to all the gorgeous ladies making their mark in the makeup industry. From models to Insta-influencers and movie stars to reality TV sensations, these makeup mavens prove that they're no one-trick pony. Scroll down below to see these celebrities' makeup lines we wish we could get our hands on.
ADVERTISEMENT - CONTINUE READING BELOW
1. Fenty Beauty by Rihanna
As early as 2015, there have been rumors of Riri starting her own beauty line, but it wasn't until early this year when Fenty Beauty was finally teased to the public. Her first collection just launched and is now available on Sephora PH. We don't know about you but we can't wait to try everything!
2. Illuminate by Ashley Tisdale
We've always thought Ashley was fabulous as Sharpay in High School Musical. It was only a matter of time before she shared the glam through her own line of makeup. Illuminate launched just last year, but the 100% cruelty-free brand has released different palettes and products from the line since.
ADVERTISEMENT - CONTINUE READING BELOW
3. Honest Beauty by Jessica Alba
Her brand The Honest Company was borne out of her own experience of suffering an allergic reaction to the chemicals found in a certain product. That made Fantastic Four star do her research that led her to discover some of the harmful chemicals that are found in makeup. She believed in making green beauty accessible to consumers so she came up with Honest Beauty. Her latest line features anti-acne and anti-aging products.
ADVERTISEMENT - CONTINUE READING BELOW
4. Kora Organics by Miranda Kerr
If you're big on natural and organic products, you'll love this Australian-made line by Miranda Kerr. You may not know this, but Miranda studied nutrition and health psychology at the Academy of Natural Living which is why she got into healthy living. This inspired her to come up with an organic approach to skin care and cosmetics.
ADVERTISEMENT - CONTINUE READING BELOW
5. Flower Beauty by Drew Barrymore
Remember when Drew Barrymore was spotted looking around in the beauty department of a Makati mall? People were curious if this meant she would be bringing her beauty brand to the Philippines. If you've seen Drew do her makeup, you'll know that she's all about that natural face, opting to use her hands to apply products on her bare skin.
ADVERTISEMENT - CONTINUE READING BELOW
6. KKW Beauty by Kim Kardashian West
Focusing on skin, Kim Kardashian West debuted her makeup line by releasing her creme contour and highlight kits in varying shades before following up with her latest powder contour and highlight. Her kits also come with interchangeable double-sided brushes you can use for both products.
ADVERTISEMENT - CONTINUE READING BELOW
7. Kylie Cosmetics by Kylie Jenner
From lip kits to banging birthday sets, Kylie Jenner has definitely set a name for herself in the beauty department. With all her collections getting sold out minutes after they drop, it's no wonder this brand has been a fave of girls all over the world.
ADVERTISEMENT - CONTINUE READING BELOW
What's your favorite celebrity makeup brand? Which one are you wishing you could grab right now?
This story originally appeared on Candymag.com.
* Minor edits have been made by the Femalenetwork.com editors.
Load More Stories