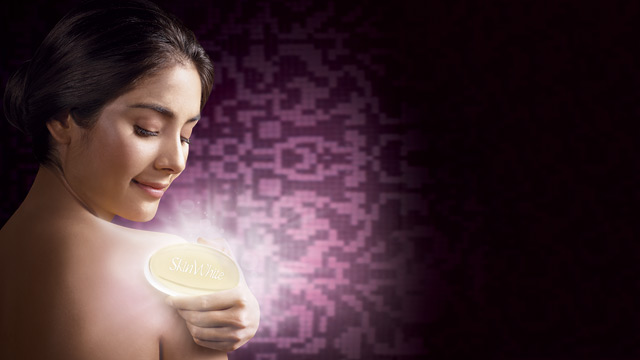 With some effort and the right products, your skin can look bright in an instant—artista genes and millions in the bank not required. Just follow these five easy tips:
Apply highlighter
You don't need to be a makeup pro to look like you're lit from within and to add dimension to your pretty face. Try using a powder highlighter and apply it with a brush to these areas of your face: under your brow bones, along the bridge of your nose, above your cheekbones, your Cupid's bow, and the inner corners of your eyes.
Cleanse your face every night
It's important to wash off dirt and oil from your face after a long day. Use a mild cleanser that suits your skin type, and gently massage the face using a circular motion to improve blood circulation. Make this skincare basic a daily habit and you're on your way to achieving glowing skin. 
Exfoliate regularly
Slough off dead skin cells on your face and all over your body twice or thrice a week so that it can better reflect light. "Dead skin cells [that] pile up diffuse light, making skin look dull," explains Jeannette Graf, a dermatology professor at Mount Sinai School of Medicine in New York City. Remember to exfoliate gently to prevent skin irritation, inflammation, and breakouts.
Wear an overnight face mask
Work on getting that glow while you sleep. Wear a hydrating and antioxidant-rich overnight face mask. Designed to be applied before bed and rinsed off in the morning, face masks have one common goal: to moisturize your skin. "The skin undergoes more cellular repair during sleep and can be more receptive to products at this time," says Annie Chiu, M.D., a California-based dermatologist.
For your hands and body, use products containing glutathione and vitamin C
Find a multi-tasking product that will give you both ingredients—and more. SkinWhite Advanced Whitening Soap Glutathione + Vitamin C has a synergistic complex of retinol and other potent actives to give you radiantly bright skin to the core. Plus, its Vitanourish Formula that contains vitamins B5, B3, and E intensively moisturizes your skin. Not only does SkinWhite Glutathione + Vitamin C help you achieve beautiful, glowing skin, it also helps you fight skin aging. You can see results in as early as seven days. For best results, use this beauty bar with SkinWhite Advanced Whitening Lotion with Glutathione + Vitamin C.
See how SkinWhite Advanced Whitening Soap Glutathione + Vitamin C can help you be the brightest you in this video.
This article was created by Summit Storylabs in partnership with SkinWhite.