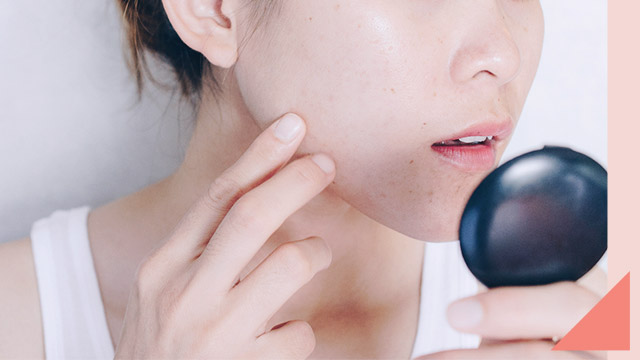 Here's one important thing to know about large pores: You can't shrink them but you can definitely minimize them. 
But before you reach for a primer or a foundation, know that there are many other ways you can blur out those pores—and it all starts with proper skincare. Because the more clogged they are, the more noticeable they become. Try these skincare tips below:  
ADVERTISEMENT - CONTINUE READING BELOW
1. If you regularly wear heavy makeup for work, try using a cleansing balm every night. 
This oil-based cleanser will thoroughly remove every trace of makeup so you're sure that there is no residue clogging your skin. 
TRY: Banila Co. Clean It Zero, P1,150, Watsons 
2. Exfoliate your face weekly.
Aside from cleansing, exfoliation is crucial as it sloughs off the dead skin cells that enlargen your pores.
ADVERTISEMENT - CONTINUE READING BELOW
Recommended Videos
Clay masks are well-known for its ability to suck out deep-seated impurities. But if you're too lazy for a face mask, glycolic-infused toning pads are a great alternative—just sweep these soaked cotton pads on your face, let the active ingredient soak into your skin for three minutes (brush your teeth in the meantime!), and rinse it off with cold water. Glycolic acid exfoliates and renews the top layer of the skin. 
ADVERTISEMENT - CONTINUE READING BELOW
TRY: Kiehl's Rare Earth Deep Pore Cleansing Mask, price available upon request, available in all Kiehl's stores 
TRY: Pixi by Petra Glow Peel Pads, P1,590, available online
3. Treat your skin to chemical peels at derma clinics.
This quick facial treatment uses a higher concentration of acids like glycolic, lactic, and salicylic to break down the top layer, or layers, of your skin (Ed's note: it's always best to speak with your dermatologist to find the right chemical peel for your skin.) 
ADVERTISEMENT - CONTINUE READING BELOW
As Huff Post reports, "Superficial peels are good for treating fine lines and wrinkles, large pores and dark spots, and to help tighten the skin."
TRY: Skin Station Glycolic Peel, Flawless Easy Peel (price starts at P2,500), Belo Glycopeel Cleaning, and Mecca Aesthetic Mandelic/Glycolic Peel (P1,500)
4. For faster and more long-lasting results, invest in laser treatments. 
Laser treatments can tighten the skin by stimulating the production of collagen. As a result, it makes your enlarged pores appear smaller!
TRY: Luminsce Silvercure Laser by Spectra XT, Shingawa SynchroDerm Plus and Facial Care Centre Revlite. 
5. Tighten your pores: Introduce retinol to your P.M. routine.  
Using retinol (a.k.a. vitamin A) is another effective way to boost collagen production in your skin and minimize the appearance of your pores. Note: Some retinol products, however, can be too potent, and can cause your skin to peel or breakout. Be sure to do a patch test first before slowly integrating it into your routine. Apply it at least once a week! 
ADVERTISEMENT - CONTINUE READING BELOW
TRY: The Inkey List Retinol, P895, Beauty Bar 
Load More Stories