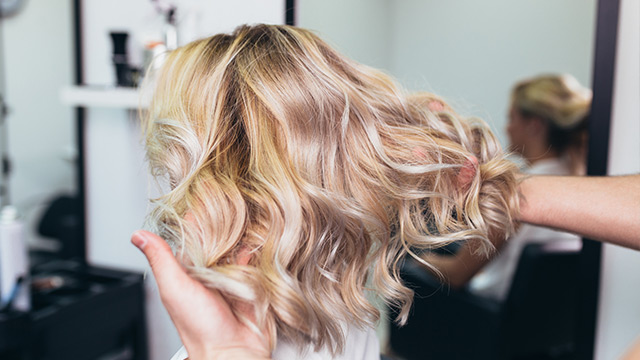 As pretty as blonde hair is, for Pinays, the journey to achieving light, cool-toned yellow tresses is anything but easy. Tons of bleach, hours of sitting in the salon chair, and a high-maintenance hair care routine are just a few of the things that will come with having blonde locks.
This is why we turned to celebrity hairstylist Mark Rosales, owner of Marqed Salon, for all the things you need to know and take into consideration before you set an appointment. 
1. You need to have realistic expectations.
Fact: You can't achieve platinum blonde tresses in one sitting as hair can only take so much bleaching. "I strongly suggest, especially if [you have] virgin [hair] and it's not yet [chemically] treated, you need to set proper expectations once you [have your hair] colored," Mark said. Meaning, it could take weeks until you reach the level of lightness you want for your strands.
ADVERTISEMENT - CONTINUE READING BELOW
2. Your hair will be damaged.
Going blonde calls for bleaching and toning—which means your hair will take in lots of chemicals to trasform your follicles' hue! "There is a possibility that you will experience breakage of hair, dryness, and scalp problems," he warned.
3. Some hair types cannot be dyed blonde.
Hairstylists check the bond of the hair to determine if it's strong enough to take in all the chemicals. Rebonded or permed hair, for example, cannot be colored blonde because "your hair will be dead talaga, magpuputol-putol," Mark explained.
When planning to color your hair, Mark says "You have to be honest with your hairstylist...otherwise it will ruin everything. You [won't be able to] achieve the color you want," Mark said.
The best way to find out if your hair is an "ideal candidate" for a blonde shade? Have it scanned. "[At Marqed Salon,] I am promoting the hair scanner [because] it can help [hairstylists] identify the status of [the client's] hair before you do any hair color. [This way, we can] check if [she is] ready for [a] specific color, especially blonde," he explained.
4. You'll spend a minimum of three hours at the salon.
It takes hard work to lighten naturally dark hair. "It depends on your hair, but [it will be a] minimum of three [hours, to a] maximum of half-day," Mark answered.
5. Bleach can hurt.
Bleach strips off the hair's natural pigments, and it chemically changes the composition of each strand. If you have a sensitive scalp, you have to be honest with your hairstylist to avoid irritation. Luckily, Mark revealed that at his salon, their bleach doesn't hurt but are "cool sa ulo."
6. It will cost you thousands of pesos.
A hair coloring session at Marqed Salon starts at P2,000. But if you plan to go blonde, it will cost a minimum of P3,000, depending on your hair's length.
7. Never DIY it.
While certain hair colors such as black or brown can be done at home, high-maintenance hues such as blonde require a hairstylist's skill and technique. "If you do it at home, it will damage your hair because you don't know the level of the developer and the colors [that have to be used]," Mark advised.
8. If you're going to the beach, you need to prep your locks before swimming.
Summer is almost here, and if you're planning to go blonde before you hit the beach, you have to use products that will prevent the dye from fading as saltwater can turn bleached locks into dry, wiry strands.
"Like [primer for] makeup, you have to have hair prep. That's why you need hair protectant kasi masisira talaga your hair, sa beach pa lang it will rinse off the color. It's also why kung may client ako who wants to go blonde, I have to ask them about their activities kasi dun din talaga [magde-depend] kung mag-ki-keep 'yung color mo," he suggested.
ADVERTISEMENT - CONTINUE READING BELOW
9. If you previously dyed your hair in a dark color, you have to wait for it to grow until you can become a blonde again.
Unfortunately, faux blondes who dye their hair back to a darker color won't be able to easily go back to being blonde again. You'd have to wait for your mane to grow so it would be able to take in all the chemicals and dyes again.
"That's always my advice, [to grow it out]. Especially if you do black color, you [also] have to cut your hair little by little para mag-grow siya," Mark explained.
10. Blonde hair easily becomes brassy because of our Asian genes.
Mark explained that the dark hair of Asians natually have red undertones, which is why blonde hues can quickly look brassy if not cared for correctly. (We'll talk about the proper routine in a bit!)
11. You can still go blonde even if you have a lot of white hair.
According to Mark, dyeing white hair blonde needs a specific developer and a custom-mix of colors to ensure the shade looks seamless "from roots to ends." So if you notice more white strands popping up, it's time to visit the salon! He advised against doing this at home since commercial box hair dyes won't be able to completely cover the whites.
"If you do your hair color [in] the salon, we can match the color from roots to end. But if you'll do it at home, it's really different. Like the color that you can buy... it cannot lift the [hair's natural] color. So there's a specific developer lang for that color. Sometimes, 'di ba nagpakulay ka sa house, and [the white hair] just looks translucent? 'Di talaga na-cover yung white hair. But in the salon, we can mix the color and customize it para from roots to ends it's really balanced. It's easy naman to cover basta you go to a salon," he detailed.
12. You won't need to wash your hair every day.
With blonde locks, you can only wash your hair every other day or less because our water has a "chemical that rinses off the color of your hair," Mark explained. It's also best to use a color-retention shampoo or shampoo catered specifically for blondes. If you're wondering what you can do when your hair and scalp look and feel greasy, the answer is none other than dry shampoo "to lessen the oil and keep your hair clean." You can also opt to soak dry blonde locks in purple shampoo once a week to counteract brassiness. Rinse thoroughly after!
13. Never skip conditioner.
Aside from a color-retention or purple shampoo, one of the hair products blondes need is a conditioner. Mark warns to never skip conditioner when washing hair, "otherwise it will look like a walis." To bring back your hair's health, he suggests using hair serums and oils, and drinking A LOT of water. "Kasi our hair is still part of the skin, our scalp, so for you to have good hair it starts with your scalp."
ADVERTISEMENT - CONTINUE READING BELOW
14. You should get monthly moisturizing treatments to restore your hair's health.
If you have the time and the money, Mark recommends getting a moisturizing hair treatment "once a week. But if you can't, at least twice a month to [retain] the natural moisture of your hair." Marqed Salon offers a "color freeze" treatment, a rescue treatment, and a keratin protein mask to help you keep your hair moisturized.
This story originally appeared on Cosmo.ph.
* Minor edits have been made by the Femalenetwork.com editors.
Load More Stories