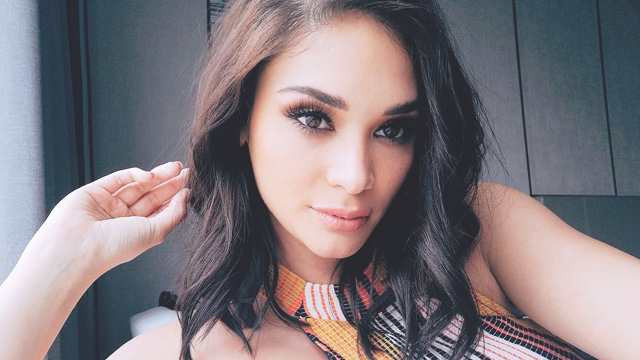 If you're blessed with more forehead space than the rest of the population, don't let that get you down. If it does make you feel conscious when taking photos or going to gatherings, there are many ways to get around it. Just remember: People with narrow foreheads can't make theirs wider, but you can absolutely do the opposite with yours. YouTuber Chloe Morello, a proud member of the 'fivehead' squad, made an entire video just to prove it! Here are 10 tips she turns to in order to make her forehead seem smaller:
ADVERTISEMENT - CONTINUE READING BELOW
1. Don't put foundation on your hairline.
Doing this will give your hairline a natural shadow that gives the illusion that your forehead ends much lower.
2. Lower your hairline.
If the top of your head looks wider because of baby hairs, fill the empty spaces in with a root powder (an eyeshadow that matches your hair color works, too!) to lower your hairline and cover some space on your forehead.
3. Contour.
Contouring is heaven-sent for effortlessly slimming down any part of your face. To work on that fivehead, sweep a contour shade or some bronzer on its outer edge to create a natural shadow that will push it lower.
4. Draw your brows on higher.
Love a bold brow? A higher arch or thicker eyebrows will lift your face and instantly create the illusion of less forehead space.
5. Wear a bright lip.
There are two perks to this tip. First, the lipstick will take attention away from your fivehead and direct all eyes to your lips. Second, it will balance your features by adding more volume on the bottom half of your face.
CONTINUE READING BELOW
Recommended Videos
6. Accessorize with big earrings or a bandana.
Another way to distract attention is through accessorizing. According to Chloe, she loves wearing big earrings because, like a bright lip, it brings more balance to her features. You can also try wearing a bandana to literally hide the extra space up there.
7. Wear your hair up with more volume at the back.
Wearing your hair flat will highlight how wide your forehead is, so Chloe suggests adding more volume to the top of your hair as well as the back so your face will appear more proportioned.
8. Relax your jaw.
If you have a short jaw, a quick tip you can use in photos is simply relaxing that area. This will subtly elongate your chin and balance out the space on your forehead.
9. Keep your forehead matte.
Concentrate your glow on other parts of your face like your cheekbones and your chin!
ADVERTISEMENT - CONTINUE READING BELOW
10. Get a fringe or face-framing layers.
Lastly, to save yourself a lot of time, consider a haircut that'll hide that forehead once and for all. Bangs would be the most effective way to do it, but if you want a subtler approach, opt for short layers that will frame the sides of your face.
See her tips in action below!
This story originally appeared on Preview.ph.
* Minor edits have been made by the Femalenetwork.com editors.
Load More Stories