Face masks are like miracle workers for your complexion. When you're puyat, this skin-saver can quickly refresh your dull, tired skin in just minutes—even after just one use. And who doesn't love a quick fix, especially when you barely got time to hit the derma for a facial?
ADVERTISEMENT - CONTINUE READING BELOW
Face masks, or brightening masks, in particular, aid in boosting your skin's cell renewal by getting rid of dead skin cells, leaving you with a radiant complexion the moment you wash them off. But aside from combatting dullness, illuminating masks can also help solve a bunch of other skin concerns such as dark spots, dry skin, and yes, even breakouts. If these happen to be your skin issues, start welcoming these brightening face masks to your skincare routine below. 
Types of brightening face masks 
There are many kinds of brightening face masks available in the market today: from sheet and peel-off, to clay masks and moisturizers, they're not a one-size-fits-all. Some can deeply cleanse the skin, others can provide intense moisture, and some can soothe irritated skin. While each type of mask serves a different purpose, the common result you'll get from brightening masks is a nourished, glowing skin. 
ADVERTISEMENT - CONTINUE READING BELOW
Recommended Videos
Clay masks
Clay masks are a deep-cleansing pick. They're primarily used to unclog the pores, making it ideal if your skin tends to break out or to get oily. As the clay (which normally contains astringents like sulfur) dries up, it sucks up excess dirt, bacteria, sebum, and other deep-seated impurities in your pores, leaving you with a clearer complexion. "These blockages cause skin irritation that forms a blemish—usually a whitehead or blackhead," explains Live Strong.  
L'Oreal Pure Clay Mask: Illuminating
P399, BeautyMNL 
This clay mask is a skin-saver for those dealing with oily and acne-prone complexions. Containing astringents like sulfur and botanical extracts, the clay absorbs excess sebum, dirt, and other impurities deep within your pores. But unlike most clay masks in the market, you won't end up with a dull, matte skin, thanks to its illuminating ingredients like red algae.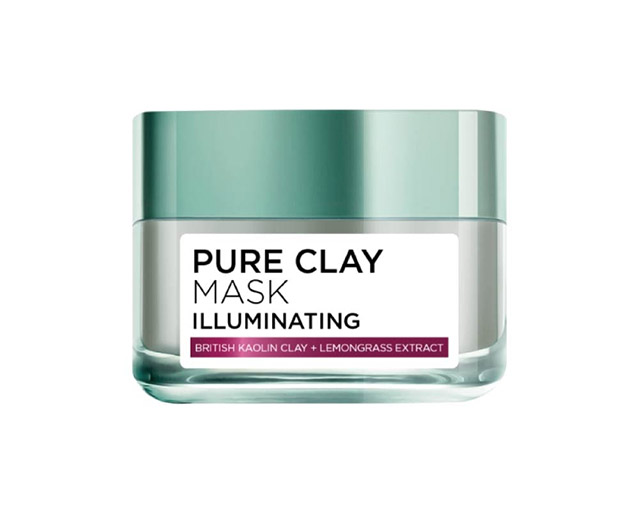 ADVERTISEMENT - CONTINUE READING BELOW
Sheet masks
Sheet masks are your shortcut to a brighter—and even more hydrated—complexion. They're the most convenient to use, as they come in (surprise!) sheets that are fully soaked in nutrient-packed serums which you can lazily leave on your face for 10 to 15 minutes (no rinsing involved). Unlike clay masks, they're more focused on brightening, nourishing, toning, and calming the skin (there are some sheet masks, though, that can also treat acne). 
For an instant glow, look for brightening ingredients like niacinamide and arbutin, which can lighten dark spots and even out the skin tone. 
Dr. Jart Mask Micro Jet Clearing Solution
P347, Sephora.ph
Slap on this Glutathione-rich sheet mask if your goal is to lighten acne scars or dark spots. The bonus is it doesn't only fade acne scars—the mask helps treat it too, with the help of acne-fighting and oil-controlling ingredients like salicylic acid, tea tree oil, and niacinamide.
ADVERTISEMENT - CONTINUE READING BELOW
Gel masks 
Gel masks are very similar to sheet masks; they provide deep hydration to the skin. What makes them different, however, is that its gel form offers a deeper cleanse as you'd have to wash off the potent formula. What's more, gel masks are refreshing on the skin (some formulas come with a cooling effect) and they're gentle and lightweight, making them a good "mask" candidate for sensitive-skinned ladies. 
ADVERTISEMENT - CONTINUE READING BELOW
Fresh Vitamin Nectar Vibrancy-Boosting Face Mask
P4,045, Sephora.ph 
When your body is tired, drinking vitamin supplements is one way to help it recover—the same goes for your skin! This jam-like gel mask is loaded with 50 percent crushed citrus fruits, vitamins C, E and B5, as well as AHAs that gently exfoliate and revive the skin to reveal a brighter, healthier-looking complexion; it's a great alternative to your harsh exfoliating scrubs. Bonus: it's sweet, citrus-y scent will make you feel totally pampered! 
ADVERTISEMENT - CONTINUE READING BELOW
Exfoliating masks 
To make way for a fresh, glowing skin, you'll need to get rid of dead skin cells that make you look rough and dull—and exfoliating masks will get the job done in a gentle way! Unlike traditional face scrubs which sloughs off impurities with harsh beads, exfoliating masks rely on chemical exfoliants like AHAs, BHAs, and fruit enzymes that lift off dead skin cells. Meaning, you no longer need to scrub your skin—you can just let the acids work their brightening magic. Fair warning: You may feel a slight sting on the skin, but that's a sign that the exfoliating mask is working. 
Pixi Peel & Polish 
P1,300, Watsons, SM Beauty, Sephora.ph and BeautyMNL 
With Internet-favorite products like Glow Tonic and Glow Peel Pads, beauty brand Pixi is known for coming up with radiance-boosting skincare, and their brightening Peel & Polish mask is no different. The lotion-like formula contains chemical exfoliants like lactic acid so you can leave the mask on for five minutes and just let the enzymes improve your skin. It's packed with physical exfoliants like fruit enzymes (a.k.a. tiny beads) as well, which is perfect for those who still prefer to gently scrub off certain problem areas. P.S. Don't let the word "peel" scare you off; your skin won't have to go through actual peeling with this mask. 
ADVERTISEMENT - CONTINUE READING BELOW
Sleeping masks
Beauty rest is for real, especially when you've got a sleeping mask on. If you're dealing with dull and dehydrated skin (think: dry and flaky patches), consider adding sleeping masks to your night routine as they'll nourish your skin on a deeper level. According to Elle, "Sleep is the time that our bodies repair and recover but it's also the time that most beauty products are most effective since they penetrate more effectively when you're at rest." 
ADVERTISEMENT - CONTINUE READING BELOW
CosRX Ultimate Nourishing Rice Overnight Spa Mask
P810, BeautyMNL and SM Beauty
Combat dull, fatigued skin with this illuminating sleeping mask that contains a whopping 65% rice extract, a vitamin-packed ingredient that aids in boosting cell turnover. Leave it on and wake up with a brighter and more supple complexion. Doing your makeup in the mornings will be a breeze! 
ADVERTISEMENT - CONTINUE READING BELOW
Load More Stories