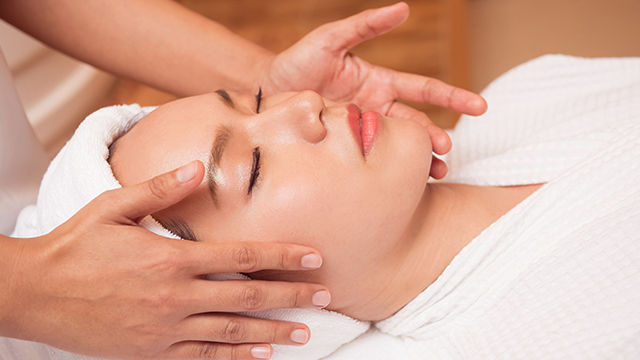 Your skin changes as you age, so it only makes sense to care for it through methods and products befitting its current state. And while a rigorous at-home skincare routine can make a significant difference, it also pays to invest in treatments done by an esthetician or dermatologist. They can pinpoint problems and get to the root of an issue, introduce you to advancements in skincare, and offer more potent dosages than what can be done at home. They can also recommend treatment packages, which you can purchase using Metrobank credit cards so you can rack up points, discounts, and occasional freebies. Here are 10 beauty treatments worth your time and money:
In Your 20s
1. Salicylic Acid Peel (starts at P1,500 per session)
Fighting adult acne can get frustrating. To help your skin heal and rejuvenate, ask your derma for salicylic acid peels that exfoliate the skin and improve your skin's texture. The biggest benefit of salicylic acid as an ingredient, however, is its ability to unclog pores, draw out impurities, and treat blackheads and pimples.
2. Underarm Laser Hair Removal (starts at P1,500 per session)
The road to celebrity-worthy underarms can get expensive, but trust us when we say that you won't regret shelling out the money one bit. Your esthetician will assess the hair growth and ask you to come back every six weeks. With regular treatment, you can expect little to no growth, making arduous underarm upkeep a thing of the past.
3. Underarm Whitening (starts at P1,200 per session)
Laser hair removal is effective in making your underarms look whiter and brighter, but for flawless pits, add underarm whitening to the list. Each session typically involves a chemical or diamond peel to smoothen the surface of the skin, plus the application of brightening and moisturizing products.
In Your 30s
1. Lactic Acid Peel (starts at P1,500 per session)
Acne may now be a thing of the past in your 30s, so swap the salicylic acid for lactic acid. Though lactic acid also works as an exfoliating agent to remove dead skin and refine skin texture, it is also known to address uneven skin tone, lighten sunspots and acne marks, and bring an overall brightness to one's complexion.
2. Collagen Boosting Facial (starts at P1,500 per session)
Collagen production slows down as we age, resulting in a lack of firmness and elasticity that makes us susceptible to fine lines, wrinkles, and saggy skin (hello, double chin). Regular collagen facials stimulate the production of collagen so that your skin can maintain its plump, youthful appearance.
3. IV Beauty Drip (starts at P7,000 per session)
Got a little less time on your hands and more cash to burn? Consider IV drips, which involve a mixture of antioxidants and vitamins delivered directly into your veins. Effects include a boost in energy, supple and hydrated skin, and a glow that warrants a selfie or two.
4. Brazilian Laser Hair Removal (starts at P3,500 per session)
In your late 30s, when baby making and breastfeeding has possibly slowed down, you may want to consider having hair removed from your intimate regions. Professionals advise you to wait after pregnancy and breastfeeding to get this service done, as there's not enough information about the effect of lasers on an unborn baby.
In Your 40s
1. Fraxel Laser (starts at P7,000 per session)
Undo the damage left behind by your younger years (skipping sunscreen, sleeping with makeup on, and picking at your pimples, to be precise) with Fraxel Laser treatment. This non-surgical method utilizes lasers to create tiny pinpricks in your skin to encourage cell turnover and revitalize skin from the inside; and targets sun damage, wrinkles, and acne scars.
2. Hyaluronic Acid Fillers (starts at P20,000 per session)
If your concern is a severe loss of plumpness, then dermal fillers are a viable solution. The most popular are hyaluronic acid fillers, which, as their name suggests, involves injecting hyaluronic acid into spots that could do with some lifting and volumizing. These usually include the cheeks, temples, lips, and chin.
3. Ultherapy (starts at P90,000 per session)
For the ultimate beauty investment that turns back time, Ultherapy or Ulthera is the one. So far, it is the only non-invasive FDA-approved method for lifting and tightening the skin. By using ultrasound energy, Ultherapy boosts collagen production and diminishes the appearance of fine lines and wrinkles, resulting in a fresher, brighter, and more youthful look.
Your best look yet is a beauty treatment away, so don't hesitate to invest in some prettifying and pampering sessions. Self-care can feel even more rewarding with Metrobank Card's My Swipe, My Treat promo. With a P3,000 single-receipt purchase in your clinic of choice—or anywhere else, really—you immediately earn a P100 eGift voucher you can use at The Bistro Group, Coffee Bean and Tea Leaf, Chatime, Auntie Anne's, SM Gift Pass, and Yabu. Promo runs until April 11, 2019.
To know more about Metrobank Cards, visit their website. For more information on My Swipe, My Treat promo, visit this website and follow Metrobank on Facebook.
This article was created by Summit Storylabs in partnership with METROBANK CARD CORPORATION.