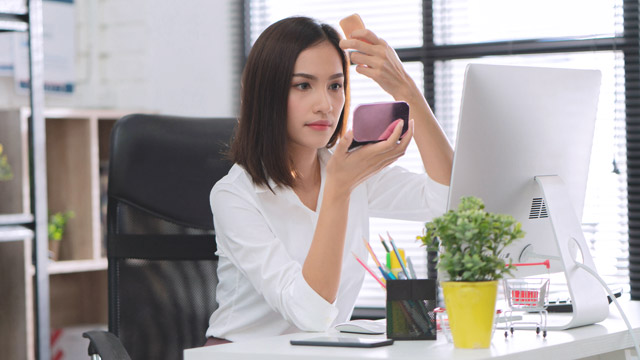 Expensive doesn't always mean effective.
Stop buying products based solely on how much they cost. Just because you're buying something twice the price doesn't mean it's going to be twice as effective. At the end of the day, how you react to a product (whether you're hiyang with something, allergic to it, or are simply just meh with the finished look) is still more imortant than the price tag.
ADVERTISEMENT - CONTINUE READING BELOW
You can't believe everything you hear.
Whether it's a hot, new makeup trend or a lukewarm product review, you always need to assess how something will affect you. 'Wag makisabay sa uso just for the sake of being first (though there's no harm in trying and keeping an open mind of course!), and always rely on your own criteria when testing out a new product.
CONTINUE READING BELOW
Recommended Videos
Nothing will ever replace sleep and proper skincare.
It's one thing to make up for one night's sleep with a concealer and a powder. But no matter the amount of makeup that you put, months of zero to minimal skincare will show if you've been neglecting your skin's health for a while. 
No matter how tired you are when you get home, be sure to always remove your makeup before proceeding to cleansing, toning and moisturizing (and exfoliating and masking twice a week!). Nowadays, even tamad girls have no excuse--beauty experts have thought of everything.
ADVERTISEMENT - CONTINUE READING BELOW
Knowing the right way to apply makeup is just as important as choosing the products to buy.
Are you sure that you know the differences and nuances of using powder, cream and liquid formulas?  Is the event you're going to indoors or out? If, for example, you need your makeup look to last all night--are you following the proper layering process? Did you use a primer before application, and a setting spray after? Knowing the right combination of products to use for each occassion as well as knowing the best makeup tools to use can really make or break your look. It will also determine how often you'll need to reapply and when. So come up with a battle plan even before you start. This way, you can come up with a look consistent with how much work you're willing to do to maintain it.
Makeup can boost your confidence, but it has to start from within.
Remember that makeup is just another weapon in your arsenal--it can never replace your skills, value, and ideas. Even if you feel like you're not looking your best, as long as you act confident and remain professional, you'll be sure to impress the people around you. 
ADVERTISEMENT - CONTINUE READING BELOW
You need to learn when to step away from your comfort zone.
By now, we're sure you have more than a few tricks up your sleeve when you need to look put together in an instant. You may even have a rotation of go-to looks for weddings, parties, and other major events. And while it's good to have techniques you've already mastered, knowing to change up your look is another beauty trick that you need to learn in your 30s. Not only will it keep people guessing, it will also help you stand out on days when you need to make a bigger impact.
Load More Stories