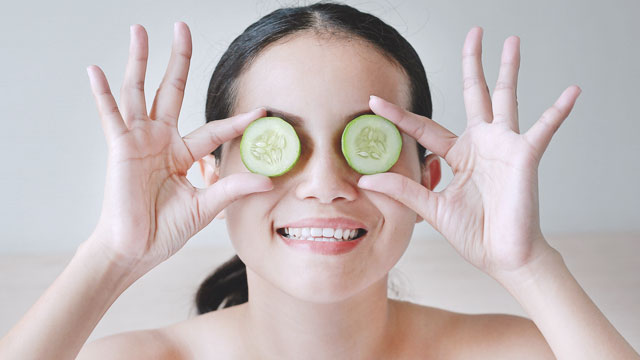 If you're tempted to take a trip to the spa this weekend, you might want to consider stepping into your kitchen instead. A lot of basic ingredients and food items would make effective and all-natural beauty treatments. Here are a few:
1. Virgin coconut oil
This wonder product can be used in everything from being a carrier oil for essential oils and scrubs to oil pulling to keep your teeth clean. But the simplest way to use coconut oil is as a moisturizer, in the bath, or for removing heavy makeup. 
2. Apple cider vinegar
Aside from its cholesterol-busting capacities, apple cider vinegar can also fight a bad acne breakout. If you're having one on your body or back, create a cider vinegar soak by adding eight ounces of it to your warm bath. 
3. Oats
This healthy breakfast food can be used as a natural exfoliant and scrub. It also draws out excess oils from the skin. Make your own oatmeal scrub by mixing a scoop of dry oats into a bit of olive oil and a tablespoon of honey. It also has anti-inflammatory qualities and could make a soothing soak when you mix a half cup into your bath. 
ADVERTISEMENT - CONTINUE READING BELOW
4. Sugar
Sugar is a natural humectant, meaning it could draw moisture from the environment into your skin. It also has glycolic acid, which is good for aging skin. For beauty purposes, use brown sugar. Make a gentle sugar scrub for your body by mixing brown sugar, a bit of olive oil to form a paste, and a few drops of tea tree oil. 
5. Salt
Feeling salty? Then give yourself a rub. Salt provides a barrier to keep moisture in, and helps slough off dead skin cells. Mix a scoop of salt into a few drops of virgin coconut oil, add a few drops of essential oil to scent it. Scrub on your body before your bath, then rinse off. 
6. Lemons
Go beyond your warm-water-and-lemon-juice drink and use these citrus fruits on your skin. Cut a slice and gently rub on your elbows to lighten them. You can also make a DIY blackhead treatment by adding a dab of juice to the spot. 
7. Cucumbers
Cucumber is a natural skin toner and lightener. And whether you eat it or use it on your skin, its high water content is especially hydrating and refreshing. If you're having a hot and humid week, slice cucmbers thinly and place in water. Refrigerate overnight, and come daytime, transfer to spray bottles and spritz to cool down. 
8. Honey
The sweet stuff has antifungal and antiseptic qualities (a teaspoon of it could soothe a dry, itchy throat). For a nice honey rub, mix a tablespoon of it to a couple of tablespoons of coconut oil. Rub onto your skin pre-bath, and then wash off. 
9. Greek yogurt
This delicious food has probiotic and antifungal qualities, and could make a nice, refreshing hair conditioning mask. Rub some unflavored yogurt onto the ends of your hair, leave it on for thirty minutes, and then rinse off. 
SOURCES: Women's Health, hellogiggles.com, stylecaster 
This story originally appeared on Realliving.com.ph.
* Minor edits have been made by the Femalenetwork.com editors.
Load More Stories