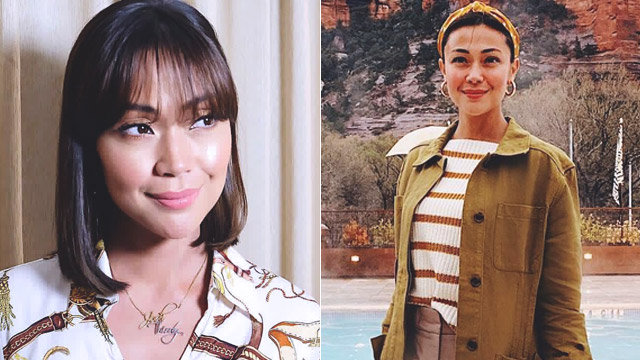 Things are looking up for Jodi Sta. Maria. Shortly after jet-setting to Sedona, Arizona, where she put on the hat of a global fashion ambassador for retail giant H&M, the actress was later on announced as the newest face of local brand Ever Bilena. 
ADVERTISEMENT - CONTINUE READING BELOW
During the beauty brand's launch event, the 36-year-old actress breezed into the room with a youthful glow to her skin, which typically made us beauty girls wonder: What beauty items does she apply on her face? 
Fortunately, the actress spilled what's inside her everyday kikay kit and how makeup and skincare aren't her only secrets to a youthful appearance. That enviable "glow" that she had? It's skin deep. "Beauty really comes from within. It's having a good disposition in life...that's what makes a woman bloom," says Jodi. 
Scroll down to see the top beauty—and self-care—lessons every busy, career woman can learn from the actress, student, and mother. 
1. Less is more
"We really don't have to put heavy makeup on for us to be beautiful. I think what makeup does lang is really to highlight the beauty that you already have." That said, Jodi only swears by two makeup products; the most important would be an eyebrow pencil. "Wala ako masyadong kilay," she admits. Her second essential would be a lip and cheek tint as she shared that it instantly perks up her pale skin. "I'm ok with [only using these products] whenever I go out or go to school," says the actress. 
ADVERTISEMENT - CONTINUE READING BELOW
When asked what she has to say to those women who are being told "wag ka na mag-makeup. Mas maganda ka 'pag walang makeup," Jodi also noted: "[The] person should know what would makes her feel good. If she feels good with having little [or more] makeup on, we should respect that."
2. Take a breather every now and then
The actress also stressed the importance of self-care. "If we do not take care of ourselves, we would be depleted and it would affect every single thing that we do—our careers [and] the relationships that we have, so I think it's important na alagaan natin 'yung sarili natin in any way that we can. 
"Kung ano man ang self-care para sayo if it means taking a trip or maybe just taking a break or kahit huminga ka lang kahit five minutes or maybe, you just want to distance yourself from negative and toxic people then by all means, do it. Because at the end of the day, as I was saying, hindi naman tayo puwede magbigay ng mga bagay na wala sa atin [kaya] importante na alagaan natin 'yung mga sarili natin."
ADVERTISEMENT - CONTINUE READING BELOW
True enough, Jodi's busy schedule never stopped her from packing her bags and unwinding in a far-flung location. Last Valentine's day, the actress went on a solo trip to South Africa. 

ADVERTISEMENT - CONTINUE READING BELOW
3. Always listen to your skin 
"Be mindful of the products that you use and listen to your skin. If your skin is telling you na 'okay with this product, I get pimples' then [stop using it]. Just because it's uso, it doesn't mean that you should be using it, so it's always good to listen to your body." 
ADVERTISEMENT - CONTINUE READING BELOW
4. Don't stretch yourself too thin 
Jodi is a woman of many roles, so when asked how she balances everything, she shares, "For now, the things that I'm doing, I'm okay with them muna. Parang if I add up, I don't know pano pa siya mag f-fit sa schedule ko so what I'm doing now is just really to reach the goals that I have set, let's say two years ago, 'yun muna. Then after I've reached them, then maybe I'll set a new one." While it's good to seize every opportunity and to set many goals for yourself, keep in mind that spreading yourself too thin is counterproductive. 
ADVERTISEMENT - CONTINUE READING BELOW
5. Accepting your flaws and weaknesses is your ticket to feeling comfortable in your own skin 
The 36-year-old also opened up about her insecurities and how she dealt with them. "I think hindi na bago 'yun satin, especially us women, na ma-insecure...maybe it's because we focus or compare ourselves to other women out there that we forget our own beauty [and] our own strength. We forget that it is okay to have flaws. 
ADVERTISEMENT - CONTINUE READING BELOW
"So how did I overcome [my insecurities]? It was really about realizing that what other people say about me would not define me as a person. Regardless of what they say, I am beautiful. I am valuable. I am important.
"[Conquering your insecurities] is about accepting your flaws and your weaknesses and really celebrating them. It's about acceptance and focusing on your strengths instead of your weaknesses."
ADVERTISEMENT - CONTINUE READING BELOW
Finally, Jodi ended the press interview with an uplifting message—and it just might be what you need to hear today: "Be strong. Keep on doing what you're doing and just keep on discovering your inner strength. Wag kalimutan ang sarili."
Load More Stories