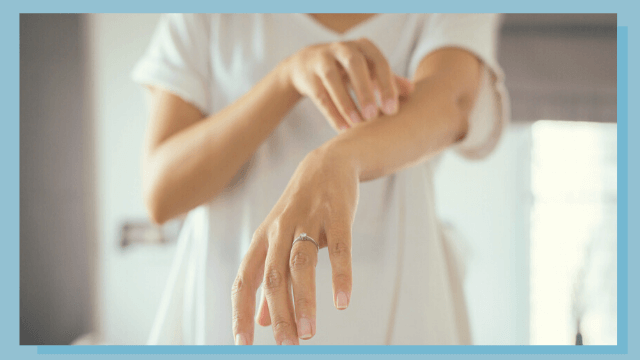 Have you experienced getting red, itchy ears after wearing an adorable pair of earrings?
Sad to say, you need to stash away those earrings because they might have triggered what doctors call "contact dermatitis," which, according to MayoClinic.org, is "a red, itchy rash caused by direct contact with a substance or an allergic reaction to it." 
ADVERTISEMENT - CONTINUE READING BELOW
So, can you get allergies from jewelry?
Dermatologist Cricelda Valencia says yes.
She elaborates, "It is allergy sa kung saan na-expose iyong skin.
"So puwede kang magka-contact dermatitis from your necklace, your earrings, cosmetic products, toiletries, and sometimes, from tissue."
The rash is not contagious or life-threatening, but it can be very uncomfortable. 
How do you treat this type of allergy?
Dr. Valencia gives a step-by-step explanation in her interview with PEP.ph on November 22, 2019, at her clinic in Patient First Medical Center, Quezon City.
TIP #1: KNOW WHAT CAUSES YOUR CONTACT DERMATITIS
Knowing what causes your contact dermatitis will lead you to the right treatment.
You can do it in two ways: one is by simply observing your skin's reaction to what it is exposed to, and another way is by taking a patch test.
Dr. Valencia says, "Malalaman mo naman iyan when you use your make-up and nagkaroon ka ng butlig-butlig or rashes after. 
CONTINUE READING BELOW
Recommended Videos
"Pero for some patients na hindi nila mai-pinpoint talaga the cause of the allergy, they can do a patch test."
A patch test is a non-invasive method of determining your allergies using patches or "stickers" that are put on the patient's back.
Each patch corresponds to one allergen or substance that can trigger the allergy.
Dr. Valencia details: "A patch test is an exam where they put more than 20 allergens on the back, para siyang naka-sticker, nakalagay doon iyong allergens.
"Ikakabit sa likod mo and then you come back after 48 hours to see if you're going to have a reaction.
"So at least malalaman kung saan ka talaga allergic."
TIP #2: USE ANTI-INFLAMMATORY MEDICINE
Anti-inflammatory ointments or creams can ease the itchiness and swelling of your skin.
It comes in many types, but Dr. Valencia recommends using topical corticosteroids or "steroids."
Another reminder from the dermatologist: You can only use these with prescription from your doctor.
ADVERTISEMENT - CONTINUE READING BELOW
She relates, "You can apply topical anti-inflammatories like iyong steriods. Puwede mo siyang ipahid.
"Pero steroids also have side effects so kailangan ipapahid mo lang siya for a short period of time.
"At saka may mga sakit sa balat that will worsen with steroids, so you also have to be sure ano iyong diagnosis sayo.
"Kasi baka apply ka nang apply, pero iyon pala, lalala pa lalo."
TIP #3: TRY THE HOME REMEDIES
If you want to go for something all-natural and at the same time budget-friendly, Dr. Valencia recommends using evaporated milk or petroleum jelly. Apply it on your skin twice a day.
She says, "When the patient comes in with red, very irritated skin, what I advise them is to mix one cup of cold water with a half cup of evaporated milk, then they can do a cold compress para lang ma-soothe iyong skin.
"I also advise them to apply petroleum jelly kasi petroleum jelly is available everywhere, and it's cheap."
ADVERTISEMENT - CONTINUE READING BELOW
If you have atopic dermatitis, Dr. Valencia advises taking bleach baths instead.
Atopic dermatitis or skin asthma is also a skin condition that makes your skin itchy and red.
Its difference from contact dermatitis is that atopic dermatitis is long-lasting and tends to flare up every once in awhile.
"For patients with atopic dermatitis and skin asthma: bleach bath naman.
"Bleach bath naman is when you combine bleach with water," says Dr. Valencia.
TIP #4: DO NOT USE ALCOHOL ON YOUR SKIN
Using alcohol and hot water is also a no-no, says Dr. Valencia, because they can worsen the inflammation of your skin.
She explains, "I advise them [patients] not to apply alcohol kasi masarap ang alcohol sa umpisa, e. Malamig siya.
"Pero after awhile, mag-da-dry iyong skin mo, so lalo siyang mangangati.
"Also, don't use hot water. Kasi kapag nangangati ka, ang sarap ng mainit na tubig sa balat, parang kinakamot ka na rin. Pero mas nakakasama pa siya lalo. 
ADVERTISEMENT - CONTINUE READING BELOW
"Just use cold water. It's sufficient naman." 
Load More Stories