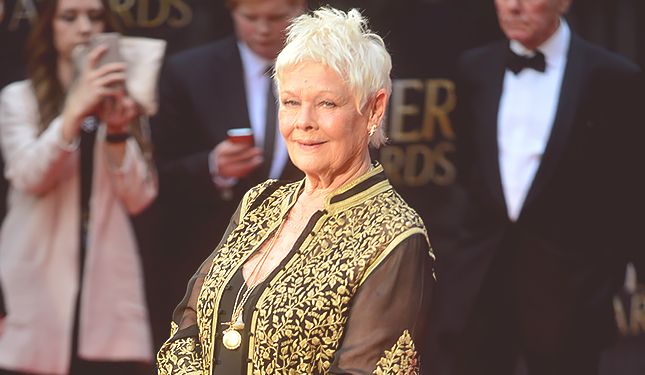 Judi Dench celebrated her 81st birthday with her first tattoo.

The Mrs. Brown actress hit 81 in December, but she has only just revealed her daughter Finty bought her the skin art as an odd gift.

Judi decided to have the words 'carpe diem' engraved on her wrist, telling British newspaper The Mirror: "That's my motto: Seize the day. Finty gave it to me for my 81st birthday – she's wonderful with surprises."

"Mind you the company of A Winter's Tale, which I was doing at the time, used to say that it said fish of the day."

The star made no secret about her desire to get her first piece of body art, revealing ahead of her big day how much she liked the idea of having a tattoo.

"I am tempted to have a tattoo to mark my birthday," she told Good Housekeeping. "My daughter Finty is very keen on me having one. There's an Indian symbol that I like which supposedly represents life and love and everything."

It's no surprise Judi considered an Indian inking as she has spent a lot of time in the country filming The Best Exotic Marigold Hotel and its sequel, but at the time she admitted she wanted to get a second opinion before committing to a tattoo in case she ended up with something entirely different in meaning.

"A cameraman who worked on The Second Best Exotic Marigold Hotel told me what it meant, but I'm a bit nervous in case I'm being set up… it might be unbelievably rude," she laughed.

Judi has joked in the past about getting inked, and famously showed off a fake tattoo tribute to movie mogul Harvey Weinstein on her bum after he cast her as Queen Victoria in Mrs Brown.

"He still thinks it's (his name) tattooed (but) my make-up lady painted it on," she confessed.
ADVERTISEMENT - CONTINUE READING BELOW
CONTINUE READING BELOW
Recommended Videos
Load More Stories