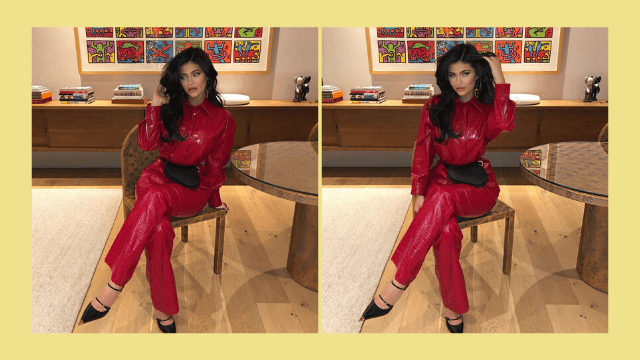 It's crazy to imagine what a day in the life of Kylie Jenner, youngest self-made billionaire, looks like. But just like all of us, she also needs to eat, no matter how busy she is. When she told Harper's BAZAAR, "If there was a face of 'hangry,' it would be me," I honestly felt like we connected on a spiritual level. 
ADVERTISEMENT - CONTINUE READING BELOW
In a YouTube video, Kylie goes through what her regular meals are like, and guess what? She's just like the rest of us (sort of):
The first thing Ky takes in after waking up is either a bone broth that has lavender and lemon or a celery juice! Honestly, knowing how much she loves sweets, I am pleasantly surprised! She usually eats breakfast with Stormi, who loves bagels so much that she dreams about it, lol. 
A typical lunch for Kylie consists of lemon chicken with vegetables or some tacos, but "it really just depends." On top of this, when she's traveling, she orders a kale salad with jalapenos-something that I definitely just added to my weekly food planner 'cause I can't be the only one who's curious, right?
If you're wondering what her favorite cheat meal, it's In-N-Out: "When I was pregnant, I had to eat In-N-Out at least once a week, it was a problem. I'll always do a double cheeseburger with just special sauce and grilled onions, protein-style or not, depending on the mood; fries, well done; and a Coke."
To avoid late-night snacking, she slices an apple and gets comfortable in bed so she isn't tempted to go down to the kitchen. #Genius!
Load More Stories