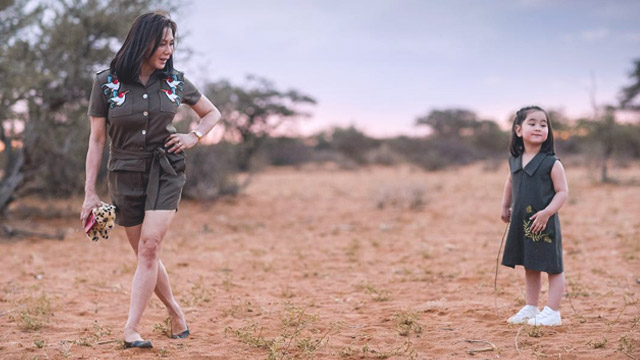 Celebrity dermatologist Dr. Vicki Belo is thoroughly enjoying being a mom to four-year-old Scarlet Snow. In an interview with the press during the launch of Belo Thermage FLX, she expressed how it's definitely a "wonderful time" for her.
ADVERTISEMENT - CONTINUE READING BELOW
"I had my [first] baby when I was in med school. So, my [then] husband and I got married and then we went to the States, then I got pregnant there and then came back home. I think second year proper?" She recalled. "Ang hirap… Your whole energy pa is you're trying to build money, so you have enough money for your children, that you can provide the life you want them to have."
She also shared how the pressure of studying and providing for her family had eaten a great deal of her time. "Kay Quark and Cristalle… Imagine, they're around me, but I'm studying…"
Raising Scarlet in her 60s with husband Hayden Kho has allowed Dra. Vicki to experience motherhood in a different way.
"Having it now, for me… It's a perfect combination because I have a younger husband. It's a good combo kasi he has all the energy pa. Parang now, I'm more secure. I can have more time with [Scarlet] so I'm really appreciating all the little things. Every day, parang aliw na aliw ako."
CONTINUE READING BELOW
Recommended Videos
This is the same thing she shared with broadcast journalist Korina Sanchez-Roxas back when the latter was contemplating having children via surrogacy.
"Korina and I have been discussing this for a long time… Korina kasi wanted to have a baby very badly. She's not ever had anything like [that]…
ADVERTISEMENT - CONTINUE READING BELOW
"When I did [it], we had a lot of talks. I'm sure it's been in the back of her mind way before I wanted to do it, but she was just, you know, so afraid…
"Sabi ko, 'Korina, it's the most wonderful experience. I think that—let's just say, parang, Scarlet is so masaya... [She] has made me want to be younger, so I take better care of myself. Physically, emotionally… working out so I can move, I can carry her. It's all joy.'
"Sabi ko, 'Don't worry so much about the downside, 'cause the upside is so much bigger.' One day she just told me, 'I did it.' I said, 'Wow!' And I think she's just having the time of her life."
Korina announced the birth of her twins Pepe and Pilar in February 2016, while Dra. Vicki introduced Scarlet Snow to the public in May 2016. For the celebrity dermatologist, nothing can top her contentment and happiness as her daughter continuously teaches her to appreciate the smallest joys of motherhood. "There's definitely an advantage with being a mother when you're older," she said, before laughing, "But keep fit naman!"
ADVERTISEMENT - CONTINUE READING BELOW
Load More Stories