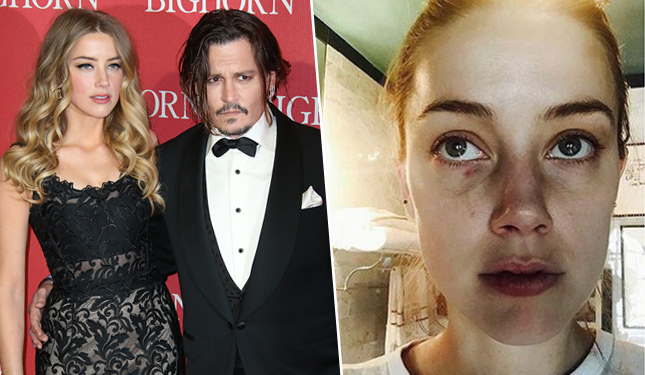 Credits: FayesVision/WENN.com, Instagram @movies.box
Amber Heard has released a series of new photos showing bruising she alleges are from fights with her estranged husband Johnny Depp.

The actress filed for divorce last week and was granted a protection order against the movie star, who she accused of physical abuse throughout their 15-month marriage.

Amber showed up in court last week with what she claimed was photographic proof of the abuse and now some of the shots have been released and obtained by multiple news outlets in the U.S.

In some of the shots obtained by Us Weekly, Heard sports facial injuries around her right eye and upper cheek, while in two others, she has a cut on her chin and upper lip and her mouth is bleeding.

Heard, 30, cited irreconcilable differences in her divorce papers, filed on May 23. She claimed Depp assaulted her during her birthday party on 21 April and then disappeared for a month. The couple allegedly fought on his return on May 21, and the actress claims Depp threw an iPhone at her face, causing bruising she showed off as she attended court to request a restraining order last week.

The couple's friends are taking sides with one revealing Heard and Depp had "a horrible relationship", while another insists, "Anyone who knows him (Depp) will tell you he is not capable of this."

Depp's family and friends have rallied behind the actor in recent days, insisting they don't recognize the person his estranged wife has described, while Heard's attorney Samantha F. Spector claims her client suffered "through years of physical and psychological abuse at the hands of Johnny".

She claims Amber didn't come forward sooner "in an attempt to protect her privacy and Johnny's career."

Heard and Depp, who is touring overseas with his rock band the Hollywood Vampires, are due to face off in court on June 17.
ADVERTISEMENT - CONTINUE READING BELOW
CONTINUE READING BELOW
Recommended Videos
Load More Stories