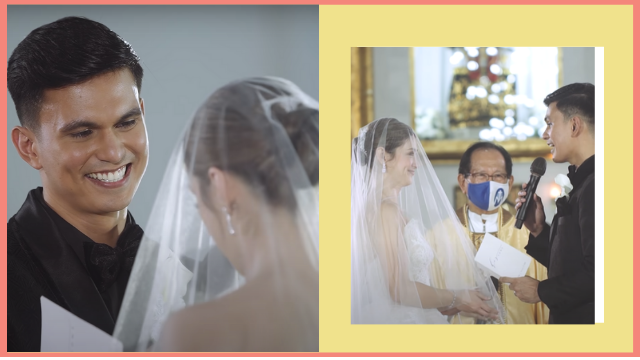 Carla Abellana and Tom Rodriguez, now officially Mr. and Mrs. Mott, gave each other an impassioned promise of forever during their wedding vows.
ADVERTISEMENT - CONTINUE READING BELOW
In his declaration, Tom said had his father William Albert "Bill" Mott Sr. been around, he would have shared the happiness of his son for having Carla in his life.
Tom's father, after fighting for many years, succumbed to cancer on March 25, 2021, in the United States.
Facing Carla and trying to hold back his tears, the 34-year-old Kapuso actor said, "I can't imagine my life without you from here on, because you've enriched my life in more ways than I can readily express.
"Like when dad passed, I have to admit, I lost my faith. I lost my way. But your boundless capacity for love was the road that led me back into His arms.
"I know dad is with Him now but he would have loved to have been here."
CONTINUE READING BELOW
Recommended Videos
Tom acknowledged the presence of family and friends who have witnessed their love story since the start up to this blessed event.
He expressed, "So here we are in front of all of our loved ones, and truth be told, I need all of them here because I need to know that none of this is a dream, that this angel standing before me really is mine, and somehow, she loves me deeply and completely.
ADVERTISEMENT - CONTINUE READING BELOW
"Heaven must have never been the same since you came down and graced my life."
Tom ended his wedding vows on a lighter note and looking farther into the future.
He said, "I want to be there to help raise our children at mga apo—both humans and fur babies alike—because I've often imagined what you would look like as a lola.
"Panigurado, magandang-maganda and I can't wait to find out for myself. Pero ngayon, dito muna tayo dahil narinig ko na ang iyong matamis na sagot."
His last words, "At excited na ako na finally, official na. Ako si Mister at ikaw si Madam Mott. I love you."
Carla's answered prayer
In her declaration, Carla said Tom is her answered prayer.
The 35-year-old Kapuso actress recalled completing in 2013 the nine-day "Simbang Gabi" and wishing to meet her future husband, not realizing she had already met him.
Carla recounted, "Over eight years ago, I prayed for you. But the thing is, back then I didn't know it was you who I was praying for.
ADVERTISEMENT - CONTINUE READING BELOW
"I even completed Simbang Gabi praying that I would finally meet the man who will love me unconditionally and take very, very good care of me.
"While I completed that Simbang Gabi, I seriously never thought that the man I prayed for was already so close to me, that we had already crossed paths months prior.
"We even played husband-and-wife for work. I didn't even have to pray anymore because God had already answered my prayer in advance. What a plot twist!
"God was constantly knocking on my head screaming, 'He's the one! Ano ka ba? Dasal ka nang dasal, hindi ka naman nakikinig sa Akin, hello?' 
"Soon enough, it just hit me. It really truly felt like my soul had found yours and it went, 'Oh, there you are! I've been looking all over for you.'"
And this was the part that was most touching when Carla said, "Tom, you returned to the Philippines with practically nothing but the hopes of a new life and a new career.
ADVERTISEMENT - CONTINUE READING BELOW
"Little did you know that you came back carrying the most valuable treasure someone here in the Philippines has been praying and waiting for: your heart."
Carla vowed she will fulfill her promise to Tom's father before he passed away.
She said, "My vow to you as I become your wife today is very simple. In fact, I vow not just to you but also to your mom and most especially to your dad, Tito Bill, I will keep my promise to him during his final moments here on Earth that I will take good care of you so that he will never have to worry. I love you..."
ADVERTISEMENT - CONTINUE READING BELOW
Tom and Carla got married in an intimate Church wedding ceremony on Saturday, October 23, 2021, at the San Juan Nepomuceno Parish Church in San Juan, Batangas.
The highlights of the couple's nuptials have been shared by the videographer Bob Nicolas on his YouTube channel today, Monday, October 25, 2021.
Tom and Carla have been a couple for seven years, since 2014.
The two had been engaged since October 2020, but it was only last March 2021 when the couple announced that they were getting married.
Female Network is now on Quento! Click here to download the app and enjoy more articles and videos from Female Network and your favorite websites!
Load More Stories