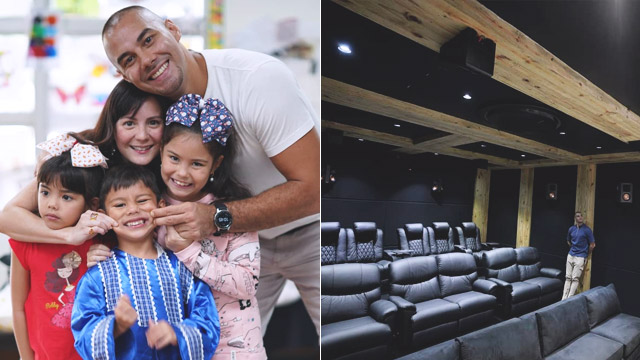 Team Kramer had recently moved into their new home, which they started to build two years ago. The kids are growing up, and Doug and Chesca wanted a bigger space for Kendra, Scarlett, and Gavin. The couple also designed their home so that family and friends could come over and spend more time with them.
ADVERTISEMENT - CONTINUE READING BELOW
Early on, Doug already disclosed that their "forever" home will have a home theater that would eclipse the one they had in their former house. Now just a week into moving in, the dad of three proudly shares a glimpse of Team Kramer Theater!
"I'm happy to present our Team Kramer theater! If you know me, you'll know one of my hobbies is listening to good speakers, and watching movies with the fam," Doug wrote on Instagram. "It's my dream theater build, and I can't wait to rewatch more movies with family and friends!" the pro baller proudly shared.
He also threw in a joke that he would charge P200 for anyone who wants to experience watching inside the Team Kramer Theater.
Doug is clearly passionate about his hobby that he conceptualized the look two years ago. It's one of the reasons he would get excited to visit the house when it was still being built. If he was hands-on about the construction of their new home, he was even more detailed when it came to the theater.
"I did manual measurements for power outlets, [the] distance between the wood ceiling claddings and even the spacing for the rows of seats," the dad of three shared. "You won't see any equipment in the theater, it's all in a control room. Everything is controlled via automation. Free from visible wires, equipment," Doug added.
A viewer would only see theater speakers, the screen, and the accent wood around the cinema. Doug went for a black-and-brown color theme (their old home theater sported a red-and-black theme). It goes well with the look of the entire house.
ADVERTISEMENT - CONTINUE READING BELOW
"To those wondering, it's a 180 inch 2:35 aspect ratio screen, powered by a Sony Laser 4k native projector, with an 11.2.4 sound system. Meaning 11 surround speakers, 2 subwoofers and 4 ceiling Atmos speakers," he disclosed.
Doug said they pushed to go ahead with the move before the tenth birthday of their eldest child, Kendra, who wanted to invite her former classmates and close friends for an intimate swimming birthday party in the new house.
ADVERTISEMENT - CONTINUE READING BELOW
Doug, Chesca and the kids have all settled in nicely, though they still have to sort through and organize their stuff — yes, the kids are also very much involved and have their own tasks of arranging their things. Gavin's bed had just been installed last night.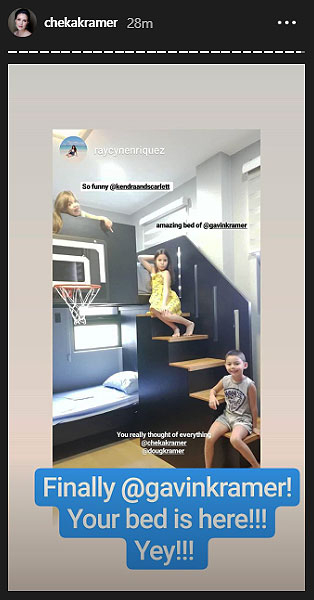 ADVERTISEMENT - CONTINUE READING BELOW
Through the chaos of unpacking, there are rewarding moments, as well. The kids' homeschooling room is already functional.
ADVERTISEMENT - CONTINUE READING BELOW
Chesca also shared a beautiful snapshot with Gavin, "enjoying the weather, the view, and the sound of chirping birds." They are taking it one day at a time, squeezing in "irreplaceable moments" with the family, as Doug said.
ADVERTISEMENT - CONTINUE READING BELOW
We can't wait for a virtual tour of the entire house! Apart from the girls' shared bedroom and bathroom, we have yet to see the family room, music area, the kids' tree house, Chesca's office space, Doug's man-cave, the couple's massive master's bedroom, and more!
Load More Stories