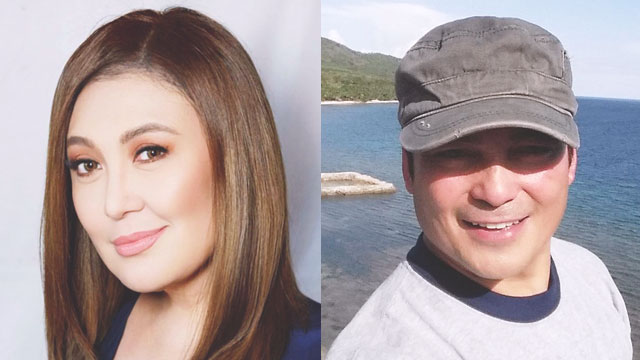 Actress and singer Sharon Cuneta answered fans' questions about her past relationships on a Facebook thread, which began with a post on the personal account of writer Krizette Laureta Chu. This comes as an exciting add-on for fans of the Sharon Cuneta-Gabby Concepcion love team, which made a major comeback via the currently viral McDonald's commercial. The ad was uploaded on YouTube by McDo Philippines on February 8.
ADVERTISEMENT - CONTINUE READING BELOW
Krizette's post reads, "Thanks to the McDo Gabby-Sharon ad, I am now obsessively researching about Sharon's past loves. LOL. I was too young to have followed it during their heyday, but OMG lol."
"Do you know Anjo Yllana thinks that Richard Gomez's greatest love was Sharon (before Lucy), and not Dawn? Anjo is the best friend of Richard. (LOL)"
"Richard [said of] Robin, 'Sana mabigay niya ang kaligayahan na hindi ko nabigay kay Sharon.'"
"Do you know that Robin Padilla shouted 'I love you, Sharon' at the posh La Scala in front of the other diners? He also had a tattoo on his chest na 'SHARON. I WILL DIE FOR YOU.' Ang corny ni Robin, pero kaya pala grabe ang pagka-playboy niya. OA kung maka-declare ng love."
"Sharon said, 'I almost married Robin, but then I found out someone was pregnant so I had to leave.' OMG ANG JUICY. Just like the movies they starred in. (FYI my research points to ex wife Liezl as the buntis girl.)"
"Do you know she married Gabby when she was only 18?"
"So wait why did she breakup with Gabby and Richard? I AM SO INTERESTED. Can someone make me chismis?"
"Kids, walang wala ang mga AlDub, LizQuen, Nadine and James niyo kay Ate Shawie OMG."
"(Also a moment of silence for just HOW HOT Robin Padilla is in that picture.)"
"MAMA Sharon, we bow. WE BOW. Paano siya napunta kay Kiko? Cheret."
After a series of replies from Krizette's friends and followers, and a few hours later, a certain April Mondragon joined the conversation, saying, "Do you mind if I join you? Hahahaha!" April Mondragon is the name of the character played by Sharon in the 1981 blockbuster film Dear Heart, where she was first paired with ex-husband Gabby Concepcion.
Sharon Tells Her Story
The question posted by April was followed by a long message: "Actually, one huge correction lang po of a common misconception: I was NOT pregnant when Gabby asked me to marry him. It was at the backstage of Araneta Coliseum in July of 1984 at the dress rehearsals for my two-night concert, Sharon Solo with the Boys. He already had the rings and I almost fell down the stairs and sinalubong niya ako pababa ako! We had a secret civil wedding ceremony a few days after. Which is why I actually was so happy when I found out we were pregnant because then we wouldn't have to hide anymore! My only fear about being found out was that my daddy might have a heart attack. He didn't, but he did go on a "hunger strike" (and I started calling him 'Gandhi') when someone anonymously mailed him a copy of our civil wedding contract. So then we talked to him and got the church wedding plans rolling. I remember my dad saying to us, 'Kung hindi lang kayo kasal na, hindi ko kayo ipakakasal kung magsama na lang muna kayo.'"
ADVERTISEMENT - CONTINUE READING BELOW
April then recalled stories that occurred following the secret wedding, including the birth of their daughter KC Concepcion. She also revealed that KC was born at 10:20 a.m., a romantic coincidence as 10/20 was Gabby's code name for "I love you," in the Citizen's Band radio [CB radio, a system of short-distance radio communication].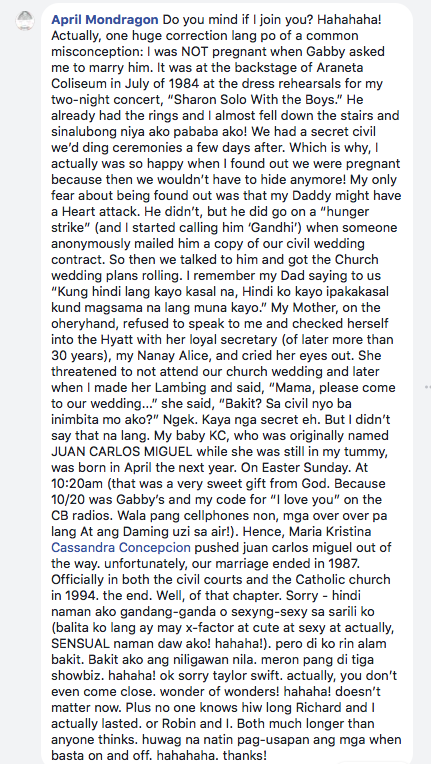 ADVERTISEMENT - CONTINUE READING BELOW
Before netizens could react to the validity of the user, April wrote another comment: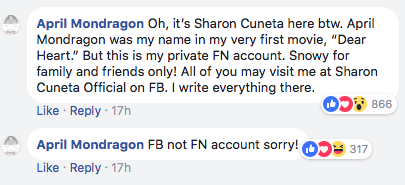 She added:

ADVERTISEMENT - CONTINUE READING BELOW
She also confirmed her identity through her official Facebook page.
The Questions Continue
Krizette continued her line of questioning: "So wait, ano ang pagkasunod-sunod? GABBY, then RICHARD, then ROBIN, then ROWELL and TONTON (ew). Paano ba?"

ADVERTISEMENT - CONTINUE READING BELOW
Sharon replied, explaining the sequence of boyfriends: She was on and off with fellow actors Richard Gomez and Robin Padilla, broke the heart of director Rowell Santiago, but her heart, "wanted only GABBY."
Krizette also asked about Sharon's biggest regret:

ADVERTISEMENT - CONTINUE READING BELOW
Indeed, Sharon was in the mood to answer:

The Other Issues
Krizette and other netizens didn't stop at asking about Sharon's love affairs with her showbiz peers. At one point, Krizette mentioned the alleged cheating incident of Sharon's husband, Senator Francis "Kiko" Pangilinan. In September 2017, during a segment in the talk show Tonight With Boy Abunda (TWBA), Sharon described her relationship with Senator Pangilinan as, "existing."
ADVERTISEMENT - CONTINUE READING BELOW
Sharon was quick to defend her husband: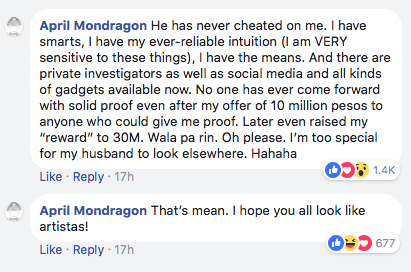 ADVERTISEMENT - CONTINUE READING BELOW
Krizette also mentioned a time in 2012 when Sharon reacted violently to netizens on Twitter after the controversial breakup of her daughter KC and actor Piolo Pascual. Sharon later apologized for the outburst. Krizette blamed Senator Pangilinan for Sharon's well-being at the time.
On Krizette's post, Sharon explained that moment:
ADVERTISEMENT - CONTINUE READING BELOW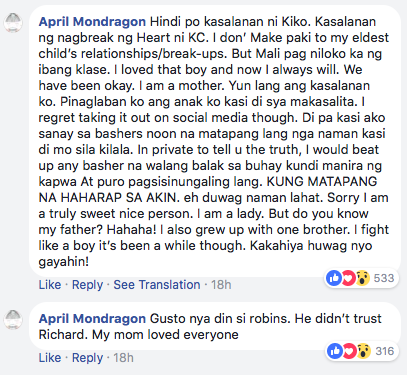 On A Lighter Note
After more than 2,500 comments on the original post alone, Krizette posted a screenshot of a video of Sharon and Gabby singing movie theme songs, and wrote, "LOOK WHAT YOU MADE ME DO, MCDO. GUSTO KO NA MAG-MOVE ON. PERO I'M ON YOUTUBE HUHU." Sharon ended up explaining her habits in a LOL-worthy reply.
ADVERTISEMENT - CONTINUE READING BELOW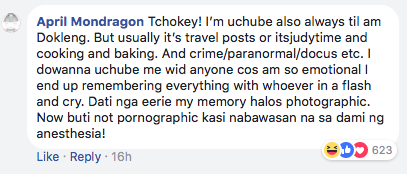 At the near end of the thread, a netizen with the username Atich BI posted a link of a YouTube video of Sharon's guest appearnce in TWBA, in the segment, called "Fast Talk." She was asked by the show's host Boy Abunda who her greatest love was, to which she replied, "You may not know him. Haha! I'm just joking, playing with you. Yeah, yeah, never mind, yeah. Haha!"
ADVERTISEMENT - CONTINUE READING BELOW

Sharon made light of the post, and just thanked her fans for their interest.

ADVERTISEMENT - CONTINUE READING BELOW
If you were living in the past, would you be Team Gabby, Team Richard, or Team Robin?
This story originally appeared on Cosmo.ph.
* Minor edits have been made by the Femalenetwork.com editors.
Load More Stories