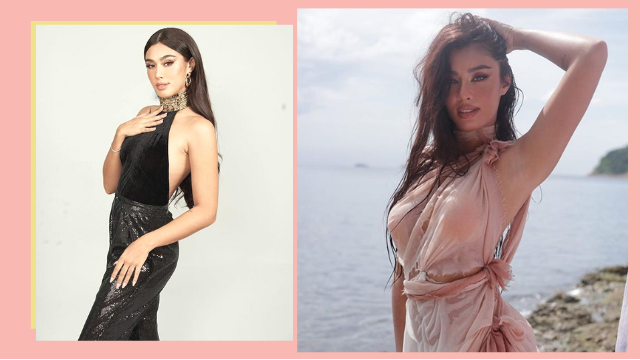 Last October 25, Iloilo representative Rabiya Mateo was crowned as this year's Miss Universe Philippines. While the 23-year-old beauty queen was the one who bagged the title, a few other contestants still managed to make waves on social media in their own way shortly after the grand coronation. 
ADVERTISEMENT - CONTINUE READING BELOW
READ MORE ABOUT MISS UNIVERSE PHILIPPINES 2020
First up was Ms. Cavite, Billie Hakenson, who trended on Twitter for hours thanks to her eloquent and brave reply to the Top 16 Q&A portion.
Meanwhile, Taguig contender Sandra Lemonon caused a different kind of ruckus online for her cryptic posts on Instagram, which gained traction right after the grand finale aired on national TV. "Get ready loves, tomorrow I will be announcing big news, it's time to be honest and speak facts," her IG story read.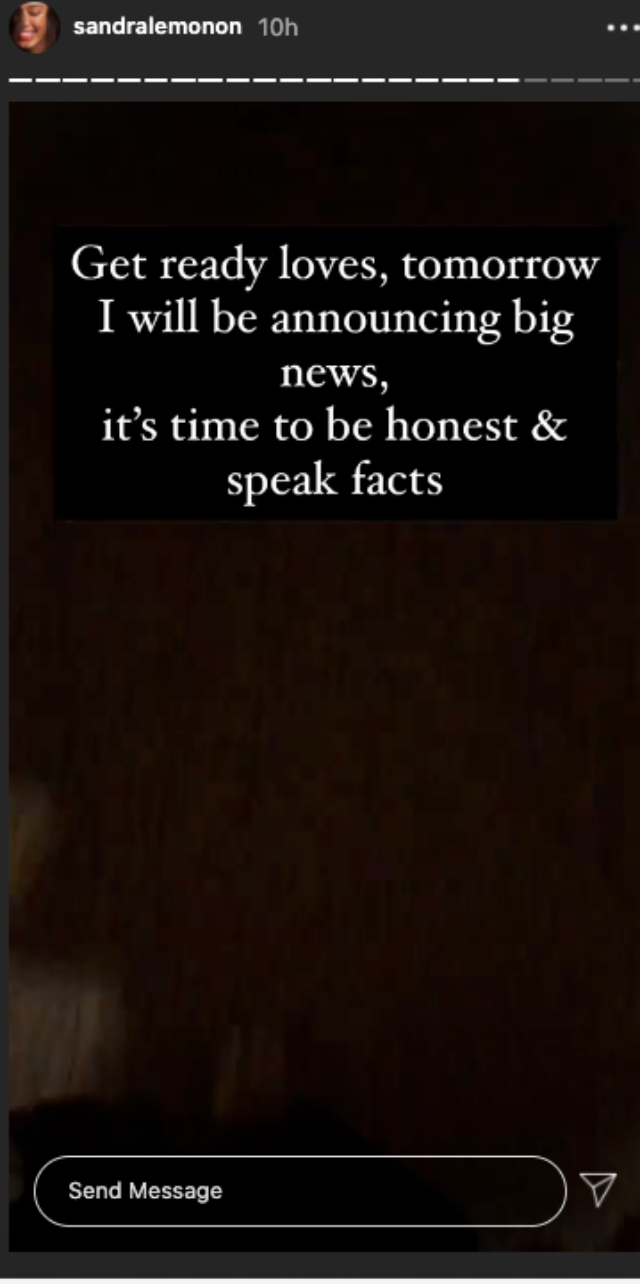 She then followed it up with another post, stating, "The truth always comes out. It's just about timing. Karma is real. Soon. Because we deserve justice."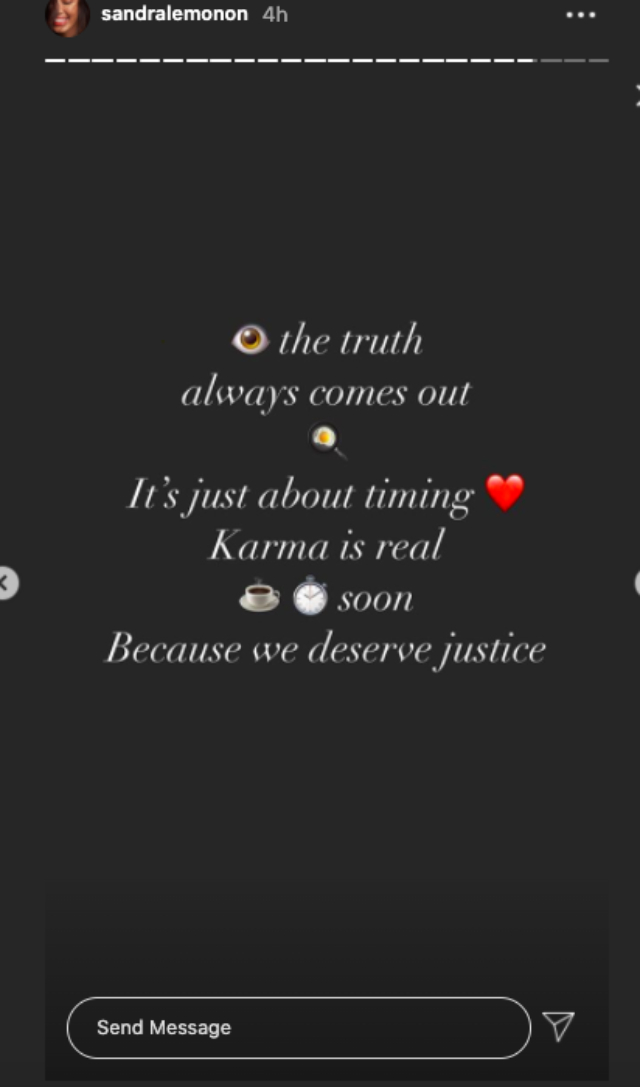 While Sandra has yet to disclose the full story, her most recent Instagram post points to an alleged "injustice" done during Miss Universe Philippines. "I am gathering all my strength to speak up and share the truth. All I want is for us to improve for the next batch of ladies who will be in our shoes & I do not want them to face what we did," wrote Sandra a few hours ago. "Because we can do better and deserve better."
ADVERTISEMENT - CONTINUE READING BELOW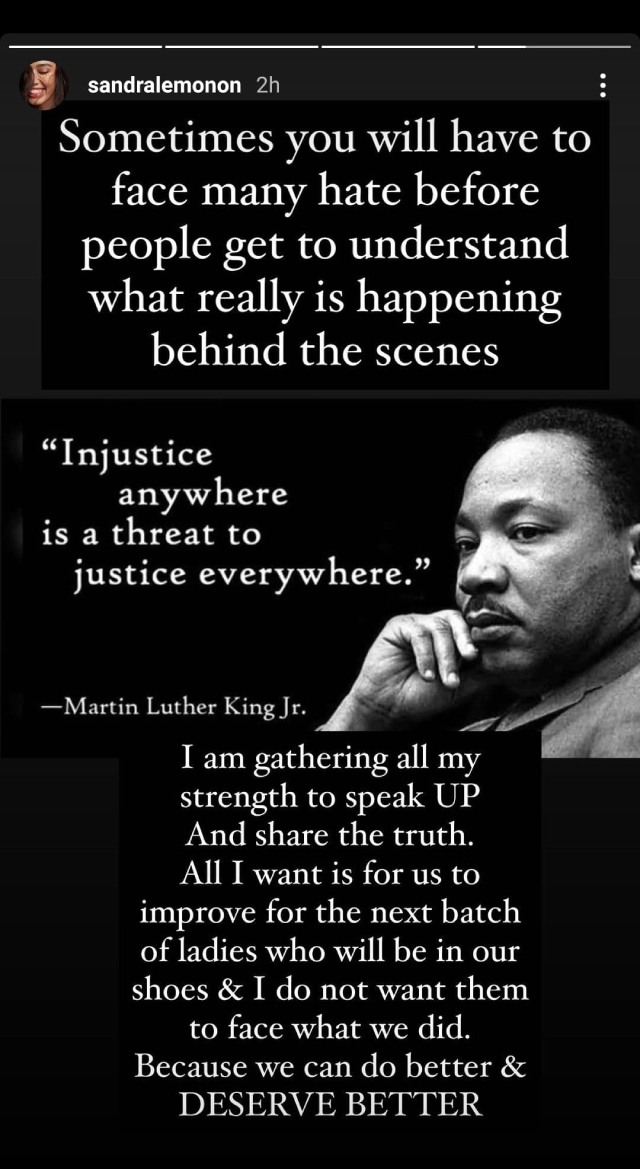 So who exactly is Sandra Lemonon? 
She already competed in the Miss Universe pageant two years ago.
Sandra, who made it up until the Top 16 of this year's contest, had already competed in Miss Universe Philippines once before back in 2018 when the franchise was still under Binibining Pilipinas. She finished under the Top 15 and is actually friends with Miss Universe 2018 Catriona Gray. 
ADVERTISEMENT - CONTINUE READING BELOW
She's a polyglot.
Sandra grew up in Macau to her Filipino mother and French father. There, she attended a Chinese and Portugese school which eventually played a big part in her mixed upbringing. Thanks to this, she's a polyglot who can speak Portugese, English, French, Spanish, Filipino, and even a bit of Cantonese.
ADVERTISEMENT - CONTINUE READING BELOW
She graduated with a Fine Arts Degree.
Sandra finished her education with a Fine Arts Degree from Escola Portuguesa de Macau, an international school located in the the region.
She's an advocate of mental health.
After suffering from depression and anxiety, and surviving abuse as a child, Sandra often uses her pageant platform to open up conversations about mental health. "Our mental health influences how we think, feel and behave in our daily lives. It also affects our ability to cope with stress, overcome challenges, build relationships with people around us, and recover from life's misfortune and hardships," she once wrote on a Facebook post. "If you or someone you know has a mental illness, is struggling emotionally, or has concerns about their mental health, there are ways to get help. Use these resources to find help for you, a friend, or a family member."
ADVERTISEMENT - CONTINUE READING BELOW
She's an avid ally of the LGBT+community.
Sandra has expressed her love and support for the LGBT+ community for countless of times and often posts about it on her social media pages. "To all my LGBTQ+ community fam, you are a big part of why I grew to express my true authentic self with no shame," she wrote on Pride month 2019. "I will NEVER understand what you've went through & go through in a daily basis…But what I can understand is that, LOVE is a universal language and a human right. I will forever support you, up lift you & fight right by you, for what is right, because you most especially deserve to be happy." 
ADVERTISEMENT - CONTINUE READING BELOW
She has trended on social media before.
If the name Sandra Lemonon oddly rings a bell, that's because this isn't the first time the 25-year-old has gone viral on social media. She caught everyone's attention two years ago for her refreshingly frank response during the Q&A stage of Binibining Pilipinas. 
READ MORE ABOUT MISS UNIVERSE PHILIPPINES 2020
When asked of her opinion regarding the "Build, Build, Build" program, Sandra simply replied: "Actually you know what, I studied so much for this Q&A, but sadly that's something that I don't know really much about. But at least I'm here trying to answer a good question. Thank you." Her painfully honest answer shocked the audience and garnered praise from the internet soon after. 
ADVERTISEMENT - CONTINUE READING BELOW
Load More Stories